Navy says basic measures prove effective for stemming the coronavirus aboard warships
by
Caitlin Doornbos
October 6, 2020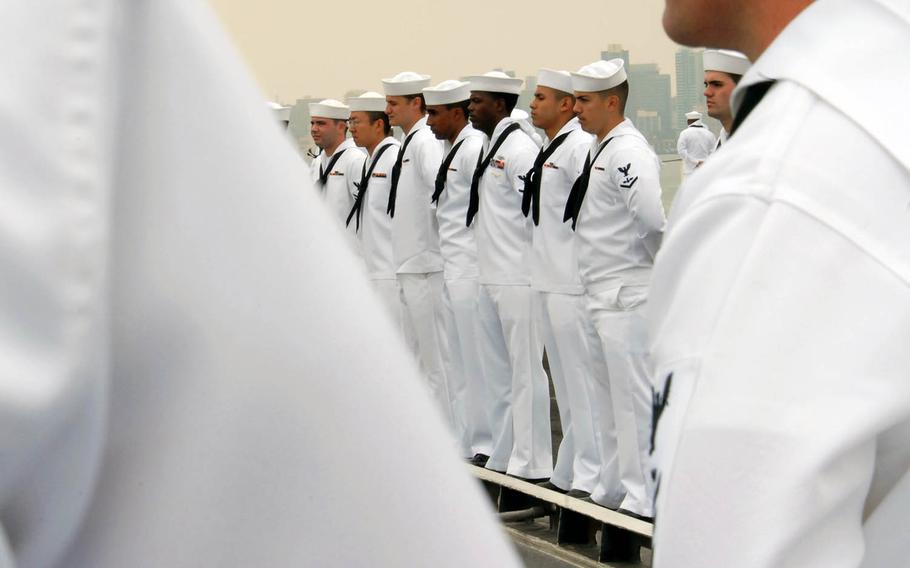 Stars and Stripes is making stories on the coronavirus pandemic available free of charge. See other free reports here. Sign up for our daily coronavirus newsletter here. Please support our journalism with a subscription.
Isolating sailors before they board, keeping warships at sea for extended periods, canceling port visits and other measures have curbed the rate of coronavirus infection aboard Navy vessels, the service announced Sept. 30 in updated operational guidance.
Since the pandemic began, more than 190 ships have had at least one onboard case of coronavirus, but safety measures prevented most from affecting operations, according to the guidance.
"In the majority of those cases, aggressive early action to isolate, quarantine, contact trace and continue strict health-protection mitigation measures has contained the incidence rate onboard to well less than 5%, allowing those ships to fight through and remain on mission," the guidance said.
The reduced spread rate is significant when compared to the March coronavirus outbreak aboard the aircraft carrier USS Theodore Roosevelt, during which more than 1,150 sailors, about 25% of the crew, tested positive. The ship diverted to Guam for a month during its spring patrol as crews were isolated and the ship was sanitized.
The Navy used "fleet lessons from operating in a COVID-19 environment" to develop the updates, the guidance said, referring to the disease the coronavirus causes.
The updated guidance listed personal protective equipment, aggressive sanitization and cleaning, social distancing and reducing the use of confined spaces such as gyms and smoke pits as key precautions that help reduce the virus' spread.
It also laid out best practices for pre-deployment sequestration of sailors to ensure Navy ships get underway without positive cases aboard. For example, all sailors should be tested when they begin and end a pre-deployment restriction-of-movement period, which should last 14 days and take place off the ship.
"We have experienced cases where shifting to ROM-sequester onboard prior to receiving the 14-period ROM test result contributed to outbreaks that impacted planned operations," the guidance said, referring to the official term the Navy uses for pre-deployment sequestrations.
The Navy has also canceled most port visits, keeping ships at sea for a longer time to avoid potential coronavirus exposure. The guided-missile destroyer USS Stout on Sept. 26, with 208 days at sea, beat the previous Navy record.
As proof of the precautions' effectiveness, Deputy Chief of Naval Operations for Operations, Plans and Strategy Vice Adm. Phil Sawyer during a press call Friday referenced a Stars and Stripes report from September that revealed a "small number" of USS Ronald Reagan sailors had tested positive for coronavirus while the aircraft carrier was at sea, U.S. Naval Institute News reported.
"You saw not too long ago a press report where [the Reagan] had some COVID positives onboard, and our procedures, our mitigation, our process changes, everything we've learned since [the Roosevelt outbreak] allowed Reagan to contain that number of COVID people positive onboard to a handful of people. And they continued operations," Sawyer said, according to the USNI News report Friday.
"My point about that is that what we have learned about COVID and have made into operational guidance for our units works. It's not easy, but it works," he said in the report.
Sawyer acknowledged the extra burdens the precautions cause sailors and families as sequestrations and extended underway periods add time away from loved ones, according to USNI News.
"It's a challenge, there's no way around it," he said in the report. "To protect our people, to make them as safe as possible and to conduct the mission that the nation expects of the Navy, we have had to put that additional time away from families onto our sailors."
doornbos.caitlin@stripes.com Twitter: @CaitlinDoornbos