Navy pulls plug on climate task force after Pentagon deems climate change a 'national security issue'
by
Caitlin Doornbos
August 28, 2019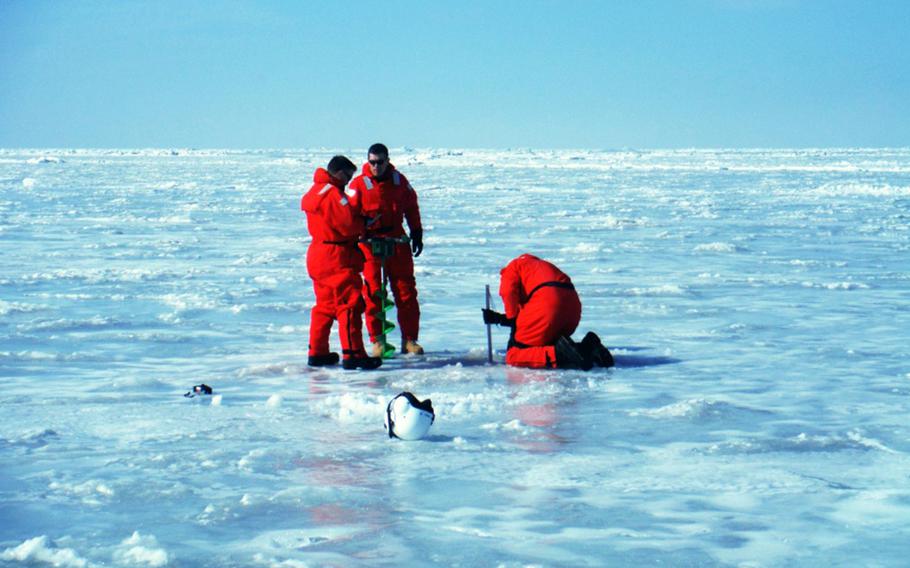 A decade-old Navy task force that researched the effects of and possible adaptations to climate change closed in March, but the news didn't break until this month.
On Aug. 7, E&E News Greenwire reported the service had "quietly" shuttered its Task Force Climate Change five months prior with little public notice.
A Navy spokesperson told the online publication, which covers energy and environmental issues, the program ended because its "functions have been transitioned to existing business processes."
Stars and Stripes' requests for comment from the Navy on the task force closure went unanswered Tuesday and Wednesday.
Created in 2009, the task force was tasked with researching methods to adapt to security challenges caused by climate change, such as rising sea levels, harsh weather and melting icecaps.
A report, "Climate Change Road Map," sponsored by the task force shortly after its creation highlighted how "climate change is affecting, and will continue to affect, U.S. military installations and access to natural resources worldwide."
"[Climate change] will affect the type, scope and location of future Navy missions," the report said. "[T]he Navy acknowledges that climate change is a national security challenge with strategic implications for the Navy."
The task force's closure came two months after a Jan. 10 Defense Department report on climate change effects on defense issues. In the report, the department deemed the phenomenon a "national security issue with potential impacts to DoD missions, operational places and installations."
It listed recurrent flooding, drought, desertification, wildfires and thawing permafrost as climate-caused events that Defense Department installations could be vulnerable to in the coming 20 years. In the Navy alone, the January report said 16 installations are suffering from recurrent flooding, 18 from drought and seven from wildfires.
"DoD must be able to adapt current and future operations to address the impacts of a variety of threats and conditions, including those from weather and natural events," the report said.
The report listed Navy Region Mid-Atlantic and the greater Hampton Roads, Va., area among the most vulnerable to floods.
"Sea level rise, land subsidence, and changing ocean currents have resulted in more frequent nuisance flooding and increased vulnerability to coastal storms," the report said.
A former director of Task Force Climate Change, retired Rear Adm. John White, told E&E News that a task force typically releases a culminating report on its accomplishments or where the group's responsibilities will be assigned before its closure. But no such report was released.
The Navy's Energy, Environment and Climate Change website has been almost completely scrubbed. Three small boxes with links remain on the bottom right of the site, leading to pages for "energy," "environment" and "climate change" – the latter of which is blank, aside from a broken link to "climate change fact sheets."
Emptying the webpage follows a trend of disappearing mentions of climate change-related terms on federal environmental websites since President Donald Trump took office, according to a July 2019 report by the Environmental Data and Governance Initiative.
"Over the thousands of websites we monitor, use of the terms 'climate change,' 'clean energy,' and 'adaptation' dropped by 26% between 2016 and 2018," the initiative reported. "[T]he Trump administration has removed climate change from federal agency websites, a clear policy indicator in line with withdrawing from the Paris Agreement and revoking the Clean Power Plan."
Trump withdrew the United States from the Paris Climate Accord in 2017 and has voiced skepticism about climate change.
"Brutal and Extended Cold Blast could shatter ALL RECORDS — Whatever happened to Global Warming?" the president tweeted Nov. 21 during a major winter storm in the United States.
On Monday, he skipped a Monday G7 session on climate change, but White House press secretary Stephanie Grisham said Trump's absence was due to a scheduling conflict, according to a Tuesday CNN report.
doornbos.caitlin@stripes.com Twitter: @CaitlinDoornbos