Navy, Marines get new ships, missiles and jets in proposed Pentagon budget
by
Tara Copp
February 4, 2016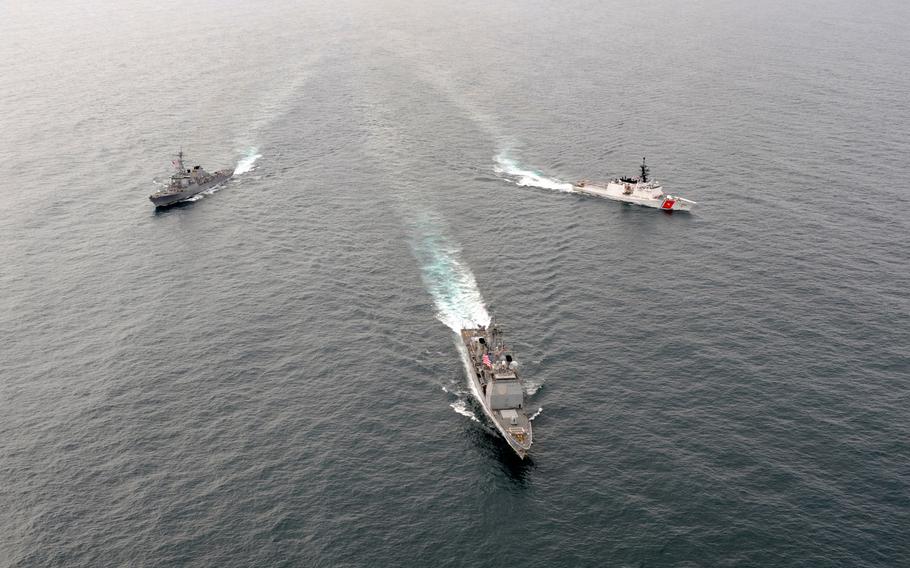 NAVAL BASE SAN DIEGO, Calif. — The Navy is poised to get more ships, jets and hundreds of modified ship-launched missiles in the Pentagon's proposed budget for 2017.
Secretary of Defense Ash Carter on Wednesday said the Defense Department's budget request would seek funding for 10 Aegis-enabled Arleigh Burke class destroyers and nine Virginia Class submarines as part of the Navy's long-term plan to increase its fleet size from 280 ships to 308.
Carter made the announcement while talking with servicemembers on a pier between the USS Spruance, an Arleigh Burke class destroyer, and the USS Princeton, a guided-missile cruiser.
The budget also would add fighters for the Navy and Marine Corps. The request funds 10 additional Joint Strike Fighters for the Navy and three for the Marine Corps during the next five years. It also adds 16 F/A-18E Super Hornets.
Carter did not say how much the additional jets would cost.
But he did say the request for additional aviation was to "give the Navy and the Marine Corps enough both 4th and 5th generation aircraft for today's fights and also for tomorrow's fights."
Carter also announced new technological developments in the capabilities of the SM-6 ship-launched missile. He said the warhead was already used for long-range defense against cruise and ballistic missiles, and recently has proven it offers "a brand new capability."
"We're modifying the SM-6, so in addition to missile defense, it can also target enemy ships at sea," Carter said. "This is a new anti-ship mode that makes the SM-6 basically a twofer."
Carter is seeking $2.9 billion for the program during the next five years, $587 million of which would be used in the 2017 fiscal year to purchase the first 125 of 625 planned missiles.
Copp.Tara@Stripes.com Twitter: @TaraCopp