Navy identifies aviators killed in Florida Super Hornet crash
by
Kat Bouza
March 16, 2018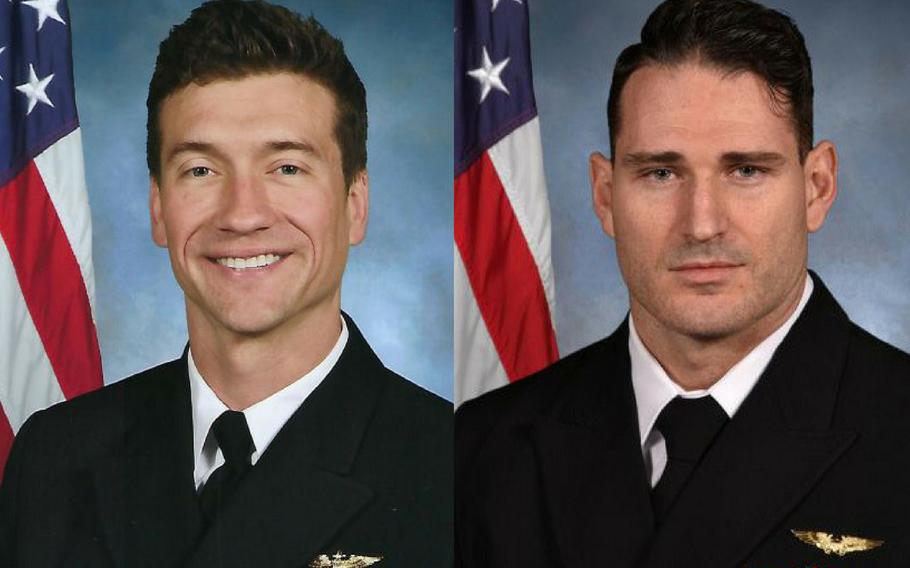 The Navy has identified the two pilots killed when their F/A-18F Super Hornet crashed into the sea near Key West, Fla., Wednesday afternoon.
Lt. Cmdr. James Brice Johnson and Lt. Caleb Nathaniel King — both assigned to the "Blacklions" of Strike Fighter Squadron 213 at Naval Air Station Oceana — died after the aircraft went down on final approach to Naval Air Station Key West at about 4:30 p.m. The squadron was conducting training in the area at the time.
"The entire Blacklion Family is grieving the loss of two great Americans," Cmdr. Kevin Robb, the unit's commander, said in a Navy statement. "Lt. Cmdr. Johnson and Lt. King were phenomenal young men, exceptional naval aviators, and were living models of what honor, courage and commitment really mean."
Johnson was piloting the Super Hornet at the time of the incident, while King was serving as weapons systems operator, the Navy said. Both men had ejected from the aircraft.
The Super Hornet appeared to suffer from a mechanical failure, witnesses said.
"It looked like it was going to land on the runway and then the whole plane went sideways," local resident Barbie Wilson told The Associated Press. "And then I saw fire and it dropped out of the sky."
The wreckage remains in the water as the Navy's Mishap Investigation Board prepares to launch a probe into the cause of the crash.
"Our thoughts and prayers go out to the families and squadron mates of these two aviators," Rear Adm. Roy Kelley, commander of Naval Air Force Atlantic, said in a statement. "A full investigation will be conducted to discover the cause of this mishap."