Navy barbers, ship's store clerks get new title to relate better to civilian world
by
Carlos M. Vazquez II
November 7, 2019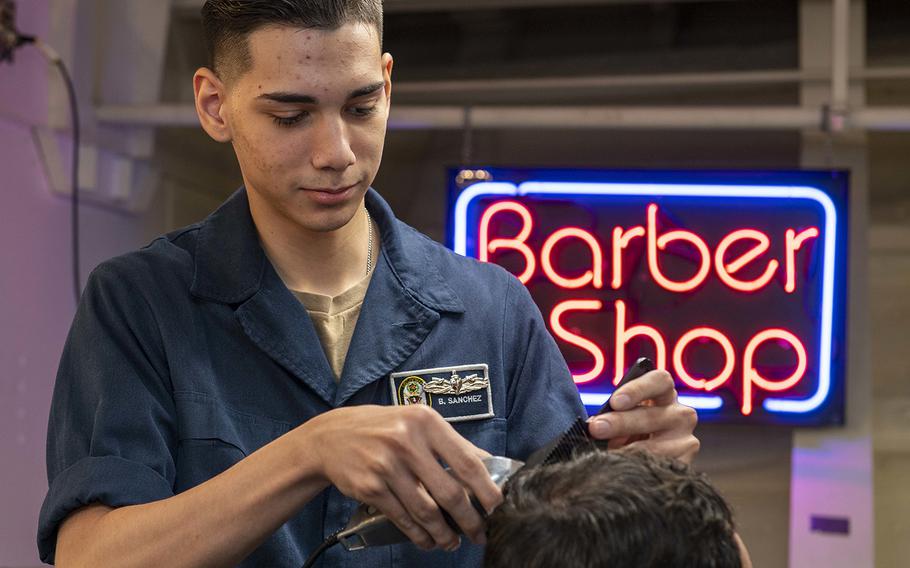 There's a new moniker for sailors charged with jobs like managing a ship's store, cutting hair or doing laundry aboard Navy vessels: retail services specialists.
The change from the old rating — ship's serviceman — took effect Oct. 1 and was made as part of a service-wide effort to align Navy jobs with their counterparts in the civilian world, according to a statement from Naval Personnel Command.
The revision affects only the rating's name itself and will not impact advancement exams, selection boards or career paths, the message said. Sailors' uniforms will keep the same rating badges – a crossed key and quill.
Senior Chief Petty Officer Pablo Ayala, a retail services specialist at Yokosuka Naval Base, Japan, said most sailors in his field were often faced with clearing up confusion when civilians asked about the duties of a ship's serviceman.
"We always have to follow that up with a brief description of what we do," he said in a separate Navy statement. "Retail services specialist will give a better understanding from a non-military perspective of what we do every day to support the fleet."
The change is part of the Navy's "Sailor 2025" initiative, which seeks to modernize how the service recruits, promotes and delivers information to sailors.
The retail services specialist rating took root in 1885, when the tailor rating was established. That was changed to ship's serviceman in 1943 to include other jobs like cobbler, barber and laundryman.
vazquez.carlos@stripes.com Twitter: @StripesCarlos