Navy announces new way for enlisted sailors to become petty officers first class
---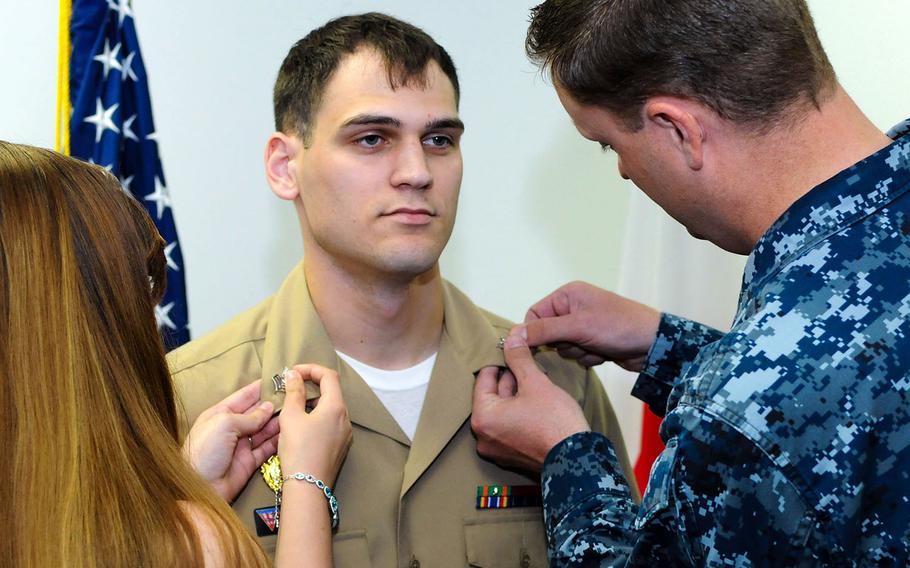 The Navy made permanent this month a pilot program that allows petty officers second class in certain high-demand career fields to advance to petty officer first class.
To qualify under the Advance-to-Position, or A2P, program, petty officers second class must complete necessary training and be within 12 months of transferring to a new command, according to an announcement Monday from the Chief of Naval Personnel.
"The program is intended to improve Fleet readiness and manning through better distribution of our talent," according to a statement from the naval personnel office in Millington, Tenn.
A limited number of billets are available for each promotion cycle and not all career fields will have available slots in the program, according to the Navy.
Eligible candidates must have taken the E-6 exam with posted results.
Only active-duty sailors are eligible for the program and they may apply to sea-duty billets, regardless of their sea-and-shore duty rotation.
However, sailors on shore duty who are due to rotate to sea duty will not be considered for shore-duty billets in this program.
Sailors selected for A2P billets are eligible to wear the petty officer first class rank insignia, a practice called frocking, when they complete all schools and training for the position, according to the personnel office. They will be advanced to the E-6 pay grade when they check into their new duty station.
Petty Officer 1st Class Shawn Fuller, a Navy career counselor on Okinawa, told Stars and Stripes by phone Tuesday that he program is "a great opportunity for sailors to fill priority jobs and make rank."
Interested sailors can get more details by talking with their career counselors or by visiting the MyNavy portal at my.navy.mil.
godbold.theron@stripes.com Twitter: @GodboldTheron
---
---
---
---