National Guard leaders say a Space Force National Guard is needed
by
Corey Dickstein
February 12, 2020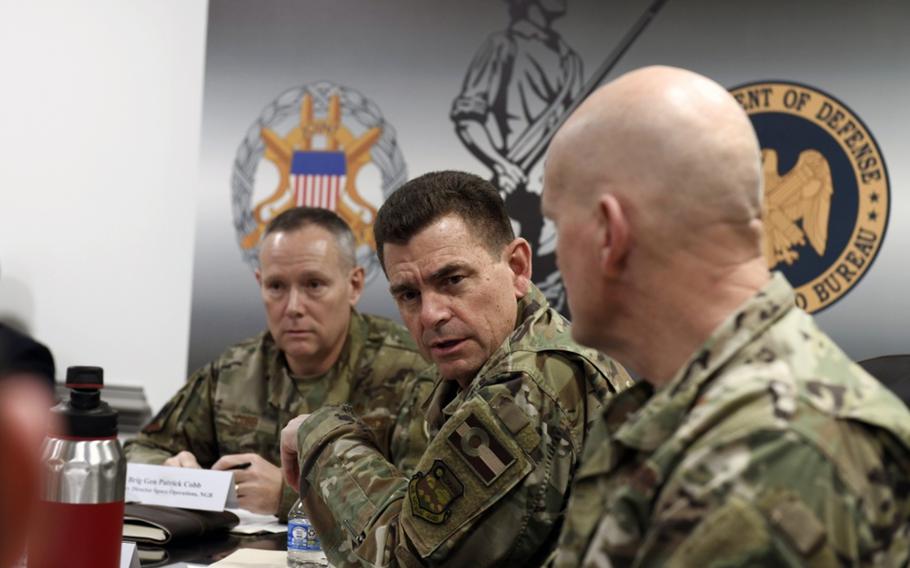 WASHINGTON — Top National Guard leaders want the Pentagon to create a Space Force National Guard, which they said Wednesday was needed to ensure continuity between guard space operators and their active-duty counterparts who will soon join the new military branch.
Most of the National Guard's almost 1,500 space-focused troops would be moved into a Space Force National Guard so they can keep pace with changes certain to occur as the Space Force, established late last year, grows and develops its own culture, techniques and procedures, six National Guard generals told reporters at the Pentagon.
"Personally, I don't see how we have a Space Force without a Space Guard," said Air Force Maj. Gen. Michael Loh, the adjutant general for the Colorado National Guard. "I really don't."
Air Force Brig. Gen. Torrence Saxe, the adjutant general for the Alaska National Guard, added: "I don't think they would function very well if we didn't have a Space National Guard."
The National Guard's current space operations force is small but growing, with some 1,100 Air National Guard troops in space operations and another 300 or so Army National Guard members. It has units that conduct space missions in Colorado, California, Florida, Alaska, New York, Ohio and Arkansas, and is in the process of establishing such units in Hawaii and Guam.
Guard space operators are involved in a variety of operations, including space intelligence, homeland missions such as missile defense, and offensive electronic warfare, the generals said.
Guard planners have proposed limiting Space Force National Guard operations to those nine states and territories who already have or will soon have space capabilities. They said attempting to have a Space Force National Guard in all 50 states and four territories, which all have Army and Air National Guards, would not be cost effective to taxpayers.
"We're not looking to stand up 54 Space [Force] National Guards," said Air Force Maj. Gen. James Eifert, the adjutant general for Florida's guard. "The concern it would be creating this huge, bureaucratic overhead is really not what we envision as how it would be and operate."
The generals said officials in Defense Secretary Mark Esper's office are debating the merits or structure of a Space Force reserves component. They are required to report their plans for such an organization to Congress by late March.
Already, top generals from many of the states that have space forces have talked with lawmakers about the need to establish a Space Force National Guard.
Army Maj. Gen. David Baldwin said he hopes Pentagon officials determine on their own that they should build a space guard, but if not, he and other top guard leaders would lobby congressional lawmakers directly to add it into the fiscal year 2021 National Defense Authorization Act, which sets Pentagon policy.
"It is being received very well by the members on The Hill," Baldwin said. "We are hopeful .. we don't have to [lobby Congress], but we are prepared to do that."
Pentagon leaders are in the process of building the Space Force, the first new branch of the military established since the Air Force in 1947. Gen. Jay Raymond, the chief of space operations, is now the only official member of Space Force, but officials expect it to grow to about 6,000 troops during the next year, beginning with the transfer of Air Force airmen who work on space missions. Army and Navy troops are also expected to move into the new military service.
The Space Force on Monday unveiled a $15.5 billion budget request for fiscal year 2021, which made no mention of a National Guard or reserves component. However, Air Force senior leadership, which oversees the Space Force within the Air Force Department, has backed a Space Force National Guard publicly.
The National Guard leaders said the lack of clarity is concerning, as they are prepared to begin planning for a Space Force National Guard as soon as possible.
"We are a proven model. We feel like it's a pretty simple solution," Eifert said. "We're not big fans of another yearlong study to examine the same things we have already spent some time studying. We feel like it's a pretty simple solution, we'd like to be part of the solution, and we would like to move forward with it."
dickstein.corey@stripes.com Twitter: @CDicksteinDC