NAS Pensacola digs out after Hurricane Sally, hopes to restart pilot training soon
by
Corey Dickstein
September 18, 2020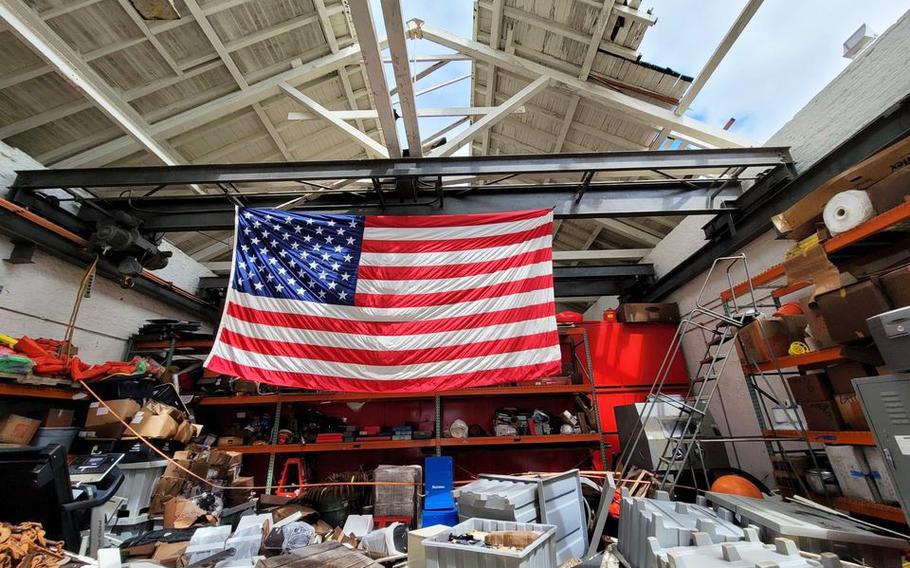 WASHINGTON — The airfield at Naval Air Station Pensacola was set to reopen Friday, though recovery efforts from Hurricane Sally will continue for weeks at the training base on the Florida Panhandle, a base spokesman said.
Officials at the installation were still assessing damage Friday after the Category 2 storm dumped 2 feet of rain on the air station and unleashed punishing 105 mph winds that lasted for hours. Base access was restricted Friday to only those whose jobs were mission essential and on-base residents, said Jason Bortz, a spokesman for NAS Pensacola.
Sally left dozens of buildings damaged, blowing roofing off aircraft hangars and on-base homes, and downed hundreds of trees across the post. But Bortz said there were no reports of injuries among the people who rode out the storm on base.
"That's a really big win for us, is that with all the trees that fell down all over the base, no one has reported any serious injuries of any kind," he said Friday from the air station, where power remained out for much of the post. "It's going to be a while before we really know exactly the extent of the damage, but we're coming together as a family at Naval Air Station Pensacola, and we're getting great support."
There was other good news, Bortz said. Initial inspections revealed no major damage to the aircraft housed at the base, which were placed in heavily fortified indoor hangars ahead of the storm's arrival Wednesday morning.
He said the base's airfield was expected to open Friday afternoon, when some flights were scheduled to arrive at the base.
NAS Pensacola rests on the Gulf of Mexico directly south of the city of Pensacola in Escambia County, which state and federal officials have said this week took some of the worst of Hurricane Sally. The storm made landfall near Gulf Shores, Ala., about 25 miles west of the air station, and crept along the Gulf Coast at about 3 mph throughout Wednesday.
The air station employs some 16,000 military troops and 7,400 civilian Defense Department employees. It also hosts several thousand aviation students at any given time. NAS Pensacola is home to various units including Naval Aviation Schools Command, the Naval Air Technical Training Center, Marine Aviation Training Support Group 21 and 23, and the headquarters of Naval Education Training Command.
It is also home to the iconic Navy flight demonstration team, the Blue Angels, whose F/A-18 Hornet fighter jets are housed at the base.
Bortz said the air station took dangerous winds for more than 12 hours during the storm. He said officials were working Friday to get normal operations at the base up and running as quickly as they could. Navy Seabees were expected to arrive Saturday to help with cleanup and repair efforts.
Photos of some of the damage on base posted on Facebook show water and wind damage that forced Naval Hospital Pensacola to close to the public at least through Friday. Other photos show damage to several buildings on post.
One photo shows a construction barge from waters off the coast that was blown up onto a beach at the base during the storm. Bortz said the barge did not damage anything, but another construction barge struck the bridge leading from Pensacola to the air station's main entrance. It only inflicted minor damage, and the bridge remains open, Bortz said.
Officials hope to return aviation students to school and flying as quickly as possible. As soon as the Navy can safely return students to class, it will do so, Bortz said.
"They may go back to training as we're doing repairs on the buildings," he said. "As long as the buildings are safe, we're going to get our students back to training. It's essential that they are training."
dickstein.corey@stripes.com Twitter: @CDicksteinDC