Mullen backs Gates on arms sales to Taiwan
by
baronk@stripes.osd.mil Kevin Baron
June 4, 2010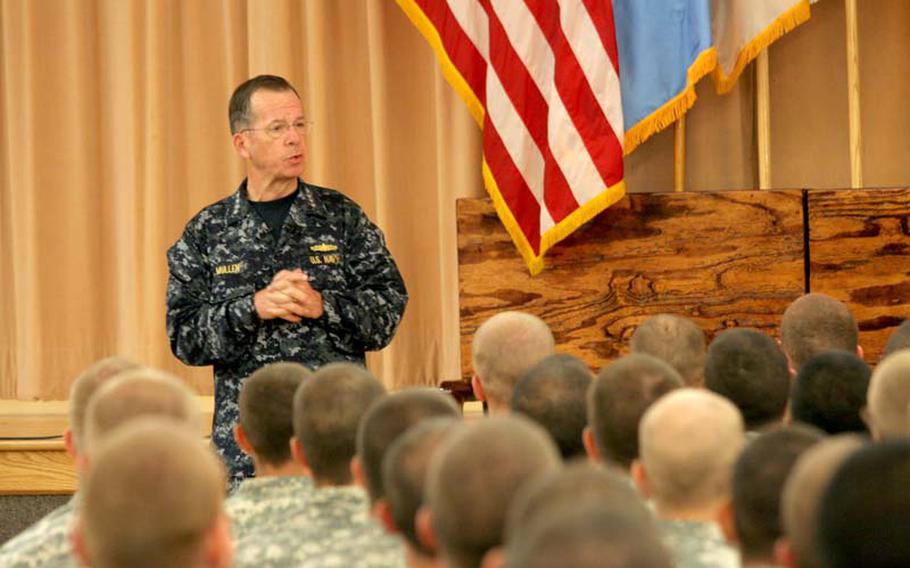 FORT BENNING, Ga. – U.S. arms sales to Taiwan will continue, Admiral Mike Mullen said, despite their effect of closing off military relations with China.
"The Taiwan arms sale is one that we have been committed to and will continue to be committed to," he said.
Mullen, chairman of the Joint Chiefs of Staff, on Friday backed Defense Secretary Robert Gates who said one day earlier that China's political leaders were open to a visit, but their military was not. Gates is in Singpore at a conference of Asian defense ministers. En route, he told reporters that China had rebuffed Pentagon requests for a China visit during the around-the-world trip.
"From what I see ... I would certainly agree with his assessment that it is the military that's holding us back," Mullen said.
The chairman and secretary have said for months that they are eager to jumpstart Chinese military relations, which lag behind all other areas of U.S.-China government interactions.
Last month, Secretary of State Hillary Clinton led a major U.S. delegation to China that focused primarily on economic issues. In that party, Pacific Command's 4-star Adm. Robert Willard led a military contingent, but quietly and below the cabinet level.
On Friday, Mullen made his case that the chill is not for his lack of trying.
"The criticality of the military-to-military relationships with the Chinese can't be overstated," he said. "It has gone through fits and starts. I've engaged several of their leaders in recent years."
"The whole idea of that engagement and relations is to understand each other better, understand where we're headed and to ask hard questions. We're not going to agree on everything, we certainly don't, but to improve that relationship so that we can have a better understanding of what our priorities are, of creating a sustained secure environment, certainly in that part of the world."
But when asked if the $6 billion U.S. arms sale to Taiwan was too high a cost, Mullen held firm the U.S. would not waiver.
"China is a global power and there are global implications for China's lack of transparency in what they're doing with their defense investment," he said.
baronk@stripes.osd.mil
---
---
---
---