More than 800 Army officers undergoing new, expanded battalion commander assessment at Fort Knox
by
Corey Dickstein
January 23, 2020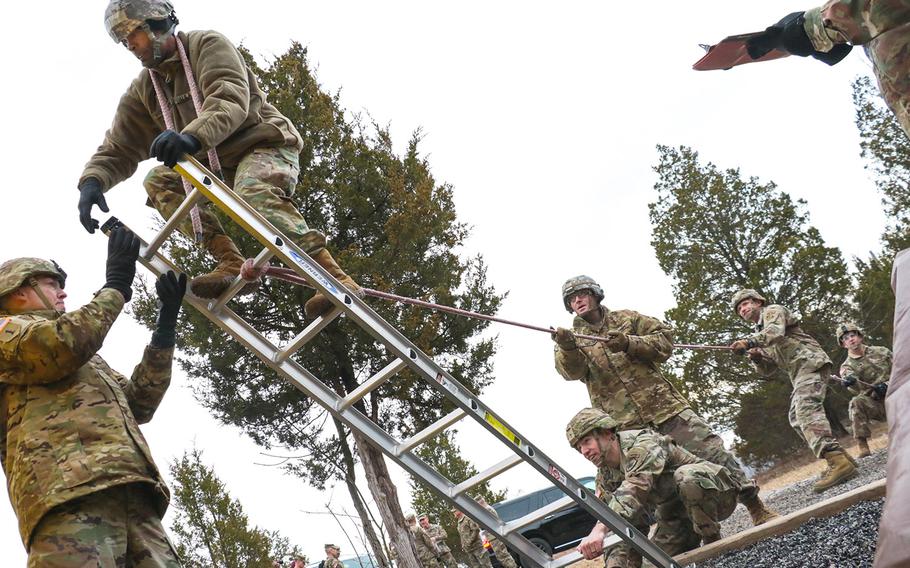 WASHINGTON — The Army will evaluate some 816 majors and lieutenant colonels during the next few weeks at Fort Knox in Kentucky using its new, in-depth assessment program to determine who will be selected to command battalions across the service in 2021.
So far, two groups of officers competing for some 450 battalion command jobs opening next year have completed the new, five-day testing period called the Battalion Commander Assessment Program, or BCAP, Army officials said Thursday. The program began Jan. 15 and is slated to be completed by Feb. 9. It aims to choose the leaders of battalions – formations typically of 300 to 800 soldiers – using a holistic analysis of eligible officers that evaluates their mental and physical capabilities and readiness to lead a large unit of soldiers.
Gen. James McConville, the Army's chief of staff, said a change was needed because the old system of evaluating potential battalion commanders, which dated back to 1975, relied too heavily on past evaluations of the candidates by their superiors.
The new testing adds additional physical fitness testing, evaluations by a team of psychologists and a blind panel, in which senior Army officers, including at least three generals, conduct a blind interview of the potential candidates to assess first-hand their preparedness for command. It also includes evaluation surveys filled out by more than 17,000 soldiers, primarily subordinates and peers of the candidates.
"We've had a very, very good process," McConville said Thursday, speaking to reporters at the Pentagon by video conference during his visit to Fort Knox. "But we want the absolute best leaders in place because parents are going to send their sons and daughters to serve in the Army, and we want to make sure they are taken care of and are treated with dignity and respect and they have the opportunity to excel in the Army – that's a function of leadership."
McConville said he has long considered battalion commanders the "most consequential" individuals in the entire Army because they are responsible for the training and developing of young soldiers. He also said commanders who conduct the job successfully are fast-tracked to critical strategic thinking positions and, later, to command brigades -- formations of 3,000 to 4,000 soldiers.
The Army is considering similar expanded evaluations for how it selects brigade commanders and its most senior noncommissioned officers -- command sergeants major.
The Army ran a pilot BCAP during the summer with 27 officers at Fort Benning in Georgia, which Maj. Gen. Joseph P. McGee, the director of the service's Talent Management Task Force, said proved the new program could be effective.
The officers chosen for battalion command out of the pilot program in many cases were not the same officers who would have been selected for command under the previous system, McGee said. He credited the assessments with highlighting "blind spots" in command candidates' abilities that would not have been apparent without the expanded evaluations.
"By bringing all that information in what we found is we would have driven very different decisions about who we would have put into command, and we were able to screen out some who were just not ready to command for a variety of reasons," McGee said. "Plus – every candidate who went through that experience said this is a better way to pick battalion commanders. Every general officer who was on the panel said this is a better way to pick battalion commanders."
McGee declined to discuss precisely what the evaluating officers and the psychologists would be looking for in successful candidates. He said revealing those details could undermine the process. But the new program is being shaped by similar evaluations that Army special operations units have long used to choose their leaders, he said.
Candidates who are deemed through the process ready to command a battalion but not assigned to one of the open 450 or so positions will be placed on an alternate list, and could be selected if a position unexpectedly opens up during 2021.
Candidates not chosen for battalion command could have up to two additional attempts to be selected. The Army gives officers three attempts to be chosen for command. McGee said when the officers are evaluated in the future, their failure at selection for 2021 will not be considered a mark against them.
"It just means you have things you need to work on," McGee said. "It's a great developmental opportunity for officers to see themselves better and work on themselves."
For example, McConville said, an officer might look great on paper and interview well, but if surveys from subordinates indicate that officer has a short temper or other issues, it could be a red flag that likely would not have been raised previously. If the new process picks up on such an issue, that officer would be advised to work on that problem at the conclusion of the five-day assessment.
"Every once in a while you have a great performer who is very, very good, but they have some holes in their swing – maybe how they treat people, and they don't even know it," the general said. "This is going to give us the capability to give some very smart, high-performing officers some feedback that [they] might want to watch … to continue to progress."
dickstein.corey@stripes.com Twitter: @CDicksteinDC