More National Guard troops are activated as Trump supporters force their way into US Capitol
by
Corey Dickstein
January 6, 2021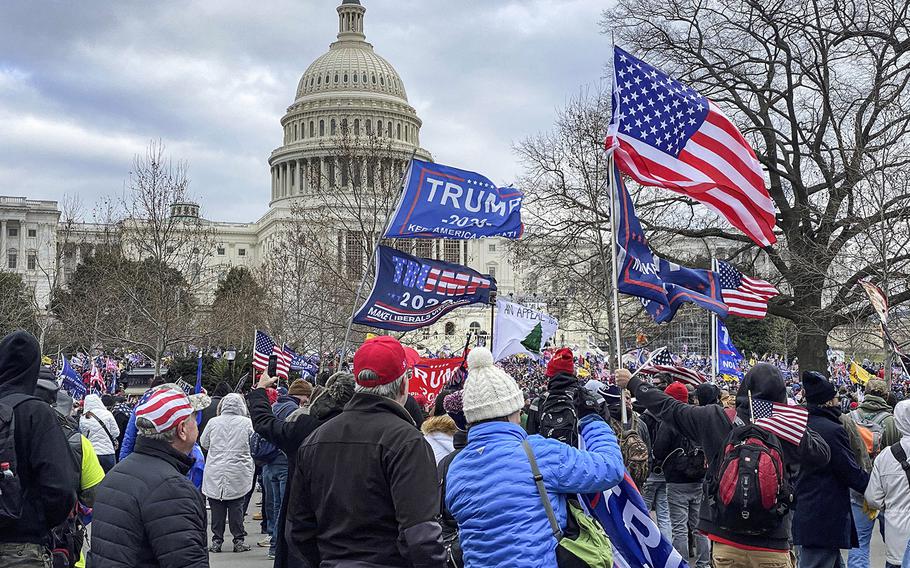 The entire D.C. National Guard was activated Wednesday to help federal law enforcement ward off a mob of President Donald Trump's supporters who stormed the U.S. Capitol, breaking windows and forcing a halt to proceedings to certify the presidential election results.
Some 1,100 D.C. National Guard troops were quickly mobilized Wednesday afternoon, Army Secretary Ryan McCarthy said, as Trump backers, who echoed the president's unsubstantiated claims of mass election fraud, entered the building as both chambers of Congress were voting to certify President-elect Joe Biden's victory. It was not immediately clear how the Guard troops would be employed, as military officials declined to provide specific details about the sudden activations.
An undisclosed number of National Guard troops from at least one other state also were headed to Washington, officials said.
Live video from the scene showed Trump supporters fighting with police, breaking windows and entering chambers of Congress after security officials had removed lawmakers amid the violence. Washington police said one person was shot inside the U.S. Capitol during the incident.
About 340 D.C. National Guard troops had been activated Monday to support crowd and traffic control during the pro-Trump rallies, which officials feared could turn violent. None were stationed on the Capitol grounds.
Acting Defense Secretary Christopher Miller said Wednesday that he agreed to activate D.C.'s entire Guard force after he and Army Gen. Mark Milley, the chairman of the Joint Chiefs of Staff, had separately spoken with Vice President Mike Pence, Senate Majority Leader Mitch McConnell, R-Ky., and House Speaker Nancy Pelosi, D-Calif. Those top U.S. officials were all at the Capitol when the mob ascended on the building.
"We are prepared to provide additional support as necessary and appropriate as requested by local authorities," Miller said in a statement. "Our people are sworn to defend the Constitution and our democratic form of government, and they will act accordingly."
While state National Guards can be activated by governors, the D.C. Guard falls under McCarthy's authority, as the Army's top civilian.
A D.C. Guard spokeswoman declined to provide details of any new missions being assigned to the city's National Guard, saying the law enforcement response would be led by the Department of Justice.
Virginia Gov. Ralph Northam also said Wednesday that he would send some of his National Guard into Washington to help with the response. A Virginia National Guard spokesman, Cotton Puryear, declined to provide how many troops would be activated, where they would be sent or what they would be assigned to do. Puryear cited security concerns.
Defense officials would not say whether National Guard troops would be armed or wear protective equipment. The initial 340 troops activated earlier this week were deployed without firearms or other weapons and without body armor.
Washington Mayor Muriel Bowser said Wednesday that she had implemented a curfew for the entire city from 6 p.m. until 6 a.m. Thursday. She said no one other than "essential workers" would be allowed to be outside in public during the curfew.
"The behavior that we are witnessing [at the U.S. Capitol] is shameful, unpatriotic and above all it is unlawful," Bowser said. "Anyone who has engaged in these activities [and] who continues to engage in these activities will be held accountable. There will be law and order, and this behavior will not be tolerated."
Dickstein.corey@stripes.com Twitter: @CDicksteinDC