Military's top court will look at Bergdahl conviction, consider Trump's and McCain's influence
by
Corey Dickstein
November 6, 2019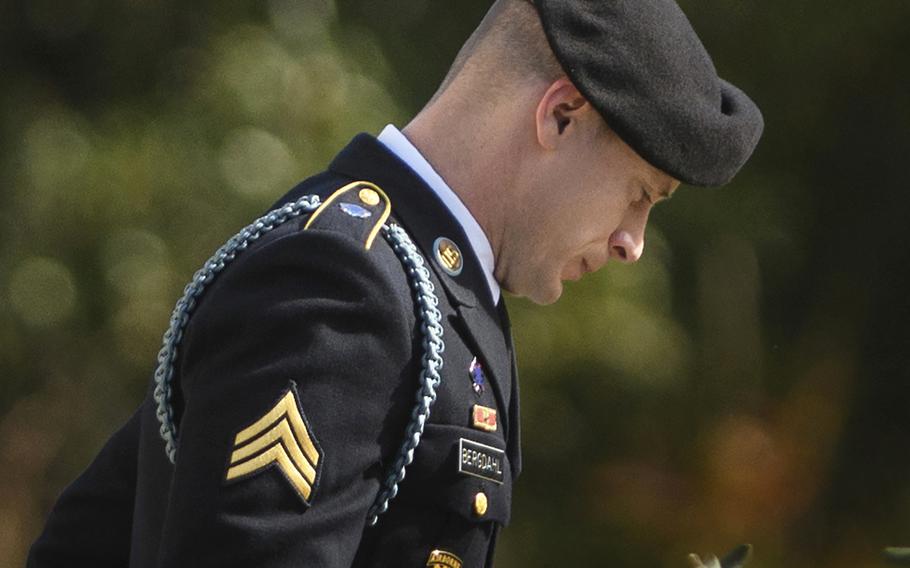 WASHINGTON — The U.S. military's top appellate court will consider whether former Army Sgt. Bowe Bergdahl received a fair trial in 2017 when he was convicted of abandoning his Afghanistan post and endangering troops after he was repeatedly ridiculed as a traitor by President Donald Trump.
The Court of Appeals for the Armed Forces on Monday granted a Bergdahl petition to review the case of the ex-soldier who spent five years in Taliban captivity after walking off his Paktika province post in 2009.
The five-judge panel announced it would examine Bergdahl's contention that his case was tainted before his court-martial by apparent unlawful command influence from scores of comments levied at him by Trump as a presidential candidate and statements by the late Sen. John McCain that called for Bergdahl to be punished.
The court's decision to review the case comes about two years after Bergdahl pleaded guilty in late October 2017 to the charges and he was sentenced to a reduction in rank to E-1 private, the forfeiture of about $10,000 in pay and a dishonorable discharge after a weeklong trial. The decision by the judge, now-retired Army Col. Jeffery R. Nance, to spare Bergdahl prison time was largely interpreted as a mitigant to Trump's campaign trail rhetoric, though Nance never explained his sentencing decision publicly.
Trump almost immediately lamented Nance's decision via Twitter, calling Bergdahl's lack of prison time a "complete and total disgrace to our country and to our military."
Bergdahl's civilian attorney, Eugene Fidell, has long sought the dismissal of all the charges and later the convictions against his client, arguing Trump's comments precluded his ability to receive a fair trial because members of the military – including Nance – fall under the president's command.
In July, the U.S. Army Court of Criminal Appeals denied a Bergdahl petition to dismiss his convictions. However, one member of the three-judge panel dissented, writing he supported dismissing Bergdahl's dishonorable discharge, citing "the taint of post-trial unlawful command influence" due to Trump's tweet just after sentencing.
The CAAF did not provide a hearing date for Bergdahl's appeals petition in a short announcement of its decision to consider his case. Lawyers for Bergdahl will have at least 30 days to submit their arguments for dismissal of the charges and convictions. Government lawyers also will have at least 30 days to respond.
The CAAF consists of five civilian judges nominated by presidents and confirmed by the Senate. All five judges now serving on the court are military veterans. Only the Supreme Court can review cases following CAAF consideration.
At the conclusion of the sentencing trial following Bergdahl's guilty plea, prosecutors sought a 14-year prison term and appeared stunned by Nance's sentence. But the judge had hinted earlier in the proceedings that he would consider Trump's comments as mitigating evidence, calling them "conclusory, condemning and disparaging." Earlier in court proceedings during Bergdahl's case, Nance called McCain's threats to host Senate hearings if Bergdahl was not punished "ill-advised," but the judge said they did not amount to unlawful command influence.
Bergdahl, who is now 33, admitted in court that he left Observation Post Mest in eastern Afghanistan on June 30, 2009 in an attempt to walk to a larger base where he said he wanted to alert military brass of problems that he perceived within his chain of command. Instead, he was captured by Taliban insurgents within hours of leaving his post and eventually smuggled into Pakistan where he was held and tortured by Taliban-linked Haqqani Network terrorists for five years.
In 2014, he was freed in a controversial prisoner swap for five former Taliban commanders who had been held at the U.S. Detention Center at Guantanamo Bay in Cuba since 2001. The exchange, conducted by former President Barack Obama's administration without the approval of Congress, immediately drew the ire of congressional Republicans.
During his high-profile court-martial at Fort Bragg in North Carolina, Bergdahl apologized for his decision to leave his fellow soldiers, calling his decision naïve and admitting it placed American troops unnecessarily in harm's way. Evidence in court showed at least three servicemembers were severely wounded during operations to recover Bergdahl in the weeks after he disappeared.
dickstein.corey@stripes.com Twitter: @CDicksteinDC