Military families to address Congress about troubled DOD program for special needs children
by
Rose L. Thayer
February 4, 2020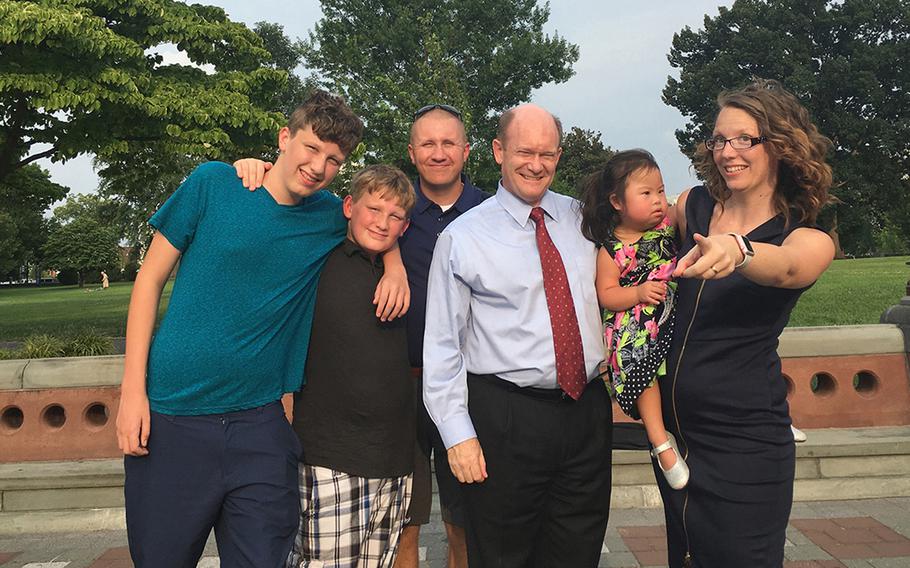 Army spouse Austin Carrigg has prepared a statement that she will deliver Wednesday before Congress about the Defense Department's Exceptional Family Member Program, which is intended to help military families with special needs children.
Carrigg said she isn't nervous about public speaking, but she is concerned about how to squeeze everything that is wrong with the program into a five-minute statement.
"The struggle with EFMP is that it's so many different things," she said from her home in Washington, D.C. "How do we tell them everything that's broken and all the ways that they're failing our families in five minutes?"
EFMP is a mandatory enrollment program for family members of active-duty military personnel who have special needs to ensure that service members receive duty assignments in locations that offer support to that family member while also providing resources and a service plan. Special needs can range from diabetes to mental and learning disabilities to rare diseases, cancer and heart conditions. About 132,500 family members were enrolled in the program as of February 2018, according to information from the Government Accountability Office, which released a report on the program later that year.
Wednesday's hearing before the House Armed Services Committee will be the first time in more than a decade that House members will get an update on EFMP, and lawmakers aim to better understand the program, how it supports military families and how the Defense Department evaluates its effectiveness and efficiency, said Monica Matoush, the Democratic spokeswoman for the House committee.
"In addition, the committee seeks to learn how service members are assigned orders with an EFMP designation and the potential impact of this designation on assignments and career progression, as well as understand the challenges and opportunities of implementing EFMP from a DOD and service perspective," she said.
A dozen people representing the service branches, the Defense Health Agency, military advocacy groups and military families will speak before the committee's subpanel on military personnel. Speakers are divided into two discussion panels — one with five advocates and nonprofit representatives and the other with seven government officials.
In Carrigg's testimony, she said she plans to tell lawmakers about her own personal experiences. She and her husband, 1st Sgt. Joshua Carrigg, have two of their three children in the program and have continually fought to get them the care they need. They've moved five times in his 17-year career – once forced to move while their infant daughter was recovering from open heart surgery.
With their baby not cleared to fly, Carrigg had to take all three children on a five-day train ride from Boston to Joint Base Lewis-McChord, Wash., because the couple couldn't afford the child care costs required if they lived separately long enough for the baby to fully recover. When Carrigg arrived at Joint Base Lewis-McChord, she learned it would take more than a year to receive some of the medical services that her children need.
"I wish I could say that my family is alone in the things that we've been through and the experiences that we've had but we aren't," Carrigg wrote in the testimony. "I've spent the last seven years advocating for families like mine, being there to help families find resources when their local military services wouldn't or couldn't help them."
Karen Ruedisueli, director of health affairs for the nonprofit advocacy organization Military Officers Association of America, plans to outline some of the medical challenges EFMP families face, including long wait lists for services and misinformation about what services are available at each base.
"The medical screening effectiveness is important for families to make sure that where they're headed will have what they need in terms of medical care," Ruedisueli said. "Even on the flip side of the issue, it's really important that the screening process is right and that it doesn't prevent families from going to locations where there are adequate resources."
Outside of medical care, EFMP also includes the educational services available for children in the program.
Becky Porter, president and CEO of the Military Child Education Coalition, will testify Wednesday to share the educational advocacy organization has seen an increase in reports from families across the military experiencing difficulty getting their children into special education programs.
"We're not placing blame, but helping lawmakers know what's going on for military families," she said.
Accessing special education services can be problematic for all children, though it is especially daunting for military families who must move frequently, Porter said. By the time they petition schools for assessments and services, the family moves and it happens all over again.
"For special education needs of military families, if we get it right for military kids, the likelihood we get it right for the rest of the country is increased," she said.
Lawmakers also will receive an update on the implementation of a 2018 GAO report on EFMP, which called on the Defense Department to improve its oversight of the program, Matoush said.
Jackie Nowicki, director of K-12 education at the GAO and author of the report, will provide testimony on the progress that the Defense Department has made on three recommendations, which focus on better evaluation and performance metrics to improve analysis and service gaps among the services.
In Carrigg's testimony, she will include the stories of other military families that she has tried to help navigate EFMP and ask Congress to step in, overhaul the program and stop them from facing unnecessary hardships.
"Caring for children like ours is overwhelming, we learn to live with a higher threshold of stress than our peers who do not have children with disabilities," she wrote. "The skill set to remain calm under constant pressure, while juggling life or death decisions, is a skill we know the military needs and our families practice daily."
thayer.rose@stripes.com Twitter: @Rose_Lori