Military bases have been 'spared the worst' of Hurricane Dorian's wrath
by
Rose L. Thayer
September 6, 2019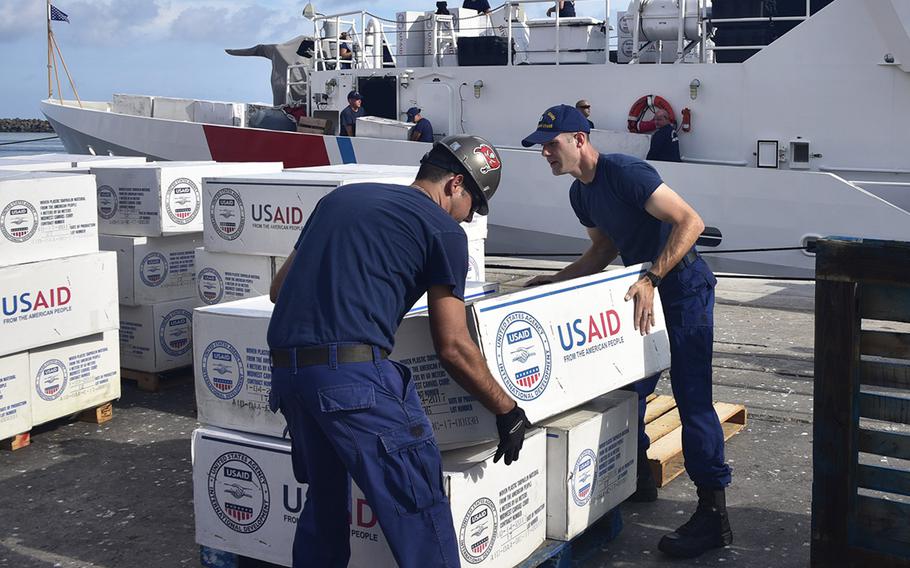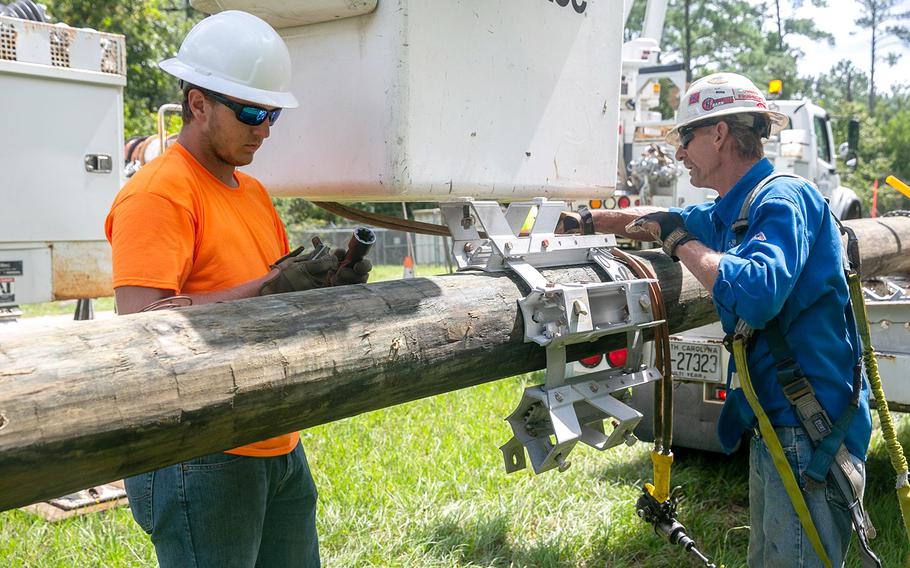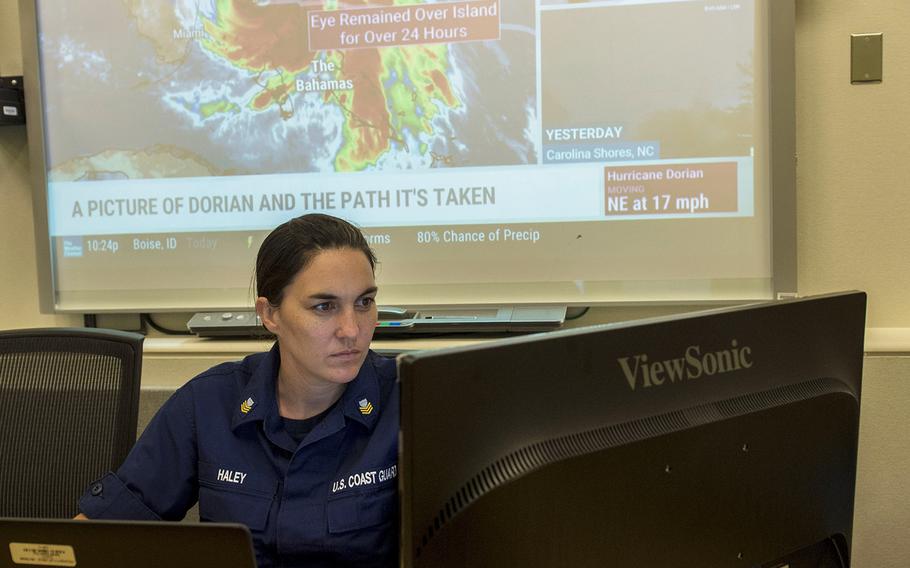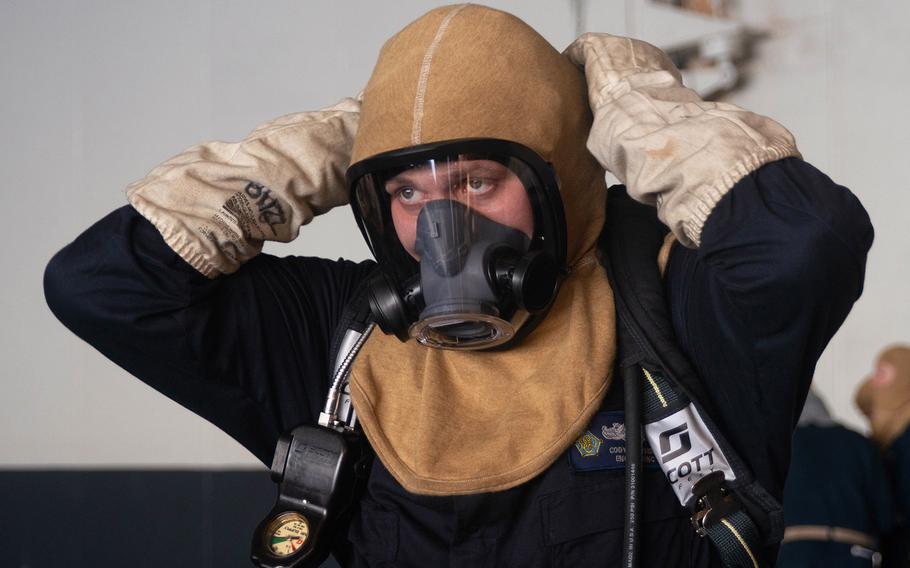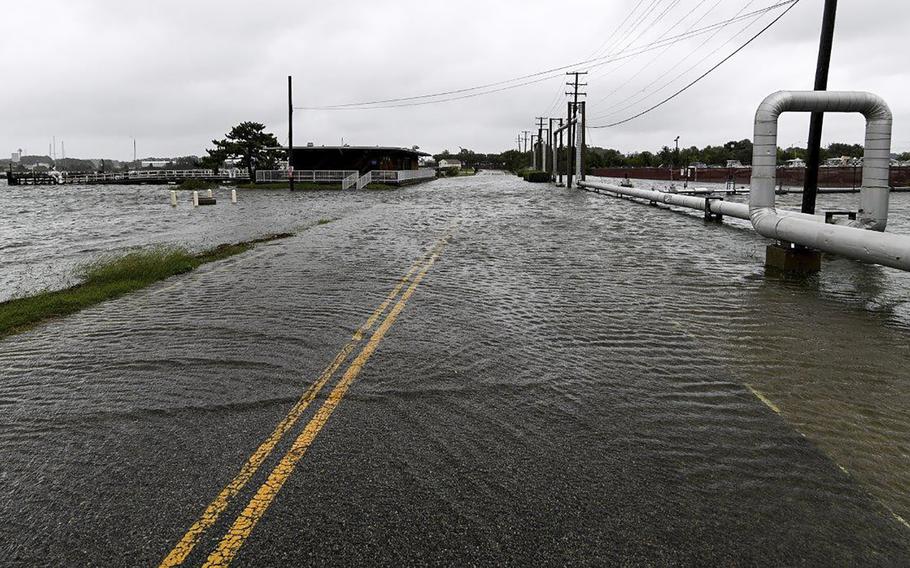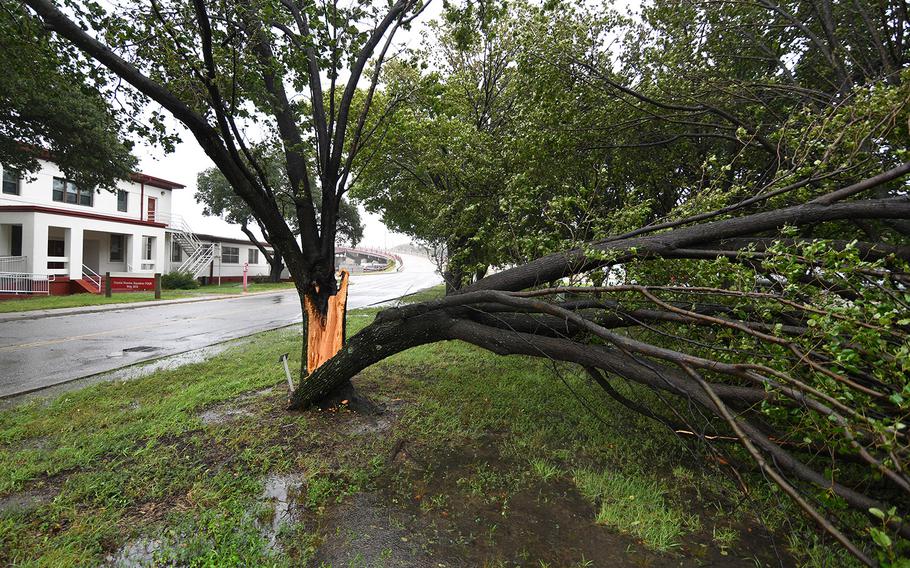 No flooding, injuries or significant damage have yet been reported at military bases and the National Guard in most states have begun to drawdown personnel as Hurricane Dorian finishes its trek along the U.S. East Coast and moves out to sea.
The Virginia coastline remains in the final throes of Dorian-related weather, but bases there has not seen any major impacts, Beth Baker, spokeswoman for Navy Region Mid-Atlantic said Friday.
"The Hampton Roads installations are faring very well," she said.
Chambers Field at Naval Station Norfolk remained open while the airfield at Naval Air Station Oceana closed Thursday and Friday.
One power outage at Joint Expeditionary Base Little Creek-Fort Story left about 34 residents in family housing without electricity due to a tree falling on a power line, Baker said. Power was later restored.
"We are looking at when it will be safe to open the port back up to bring the fleet home safe," she said.
In advance of Dorian, more than 26 ships and about 110 aircraft were evacuated, as well as more than 820 personnel living in low-lying coastal areas on and around the five bases in the region.
The storm, now a Category 1 hurricane, is expected to clear the area by Friday evening.
Joint Base Langley-Eustis, Va., also issued a partial evacuation of the base and was operating Friday with mission-essential personnel only. A 6-foot storm surge was forecasted for near the base Friday afternoon along with about 2 to 4 inches of rain.
"As we continue to monitor the storm, I understand you are all waiting for decisions on when the base will be restored to full operations and return our evacuated residents," said Air Force Col. Clinton Ross, base commander. "I am grateful for your patience as we maneuver our way around this storm."
Like officials in Virginia, base commanders in more southern states impacted by Dorian earlier in the week are crediting preparation as key to a smooth return to normal.
Maj. Gen. Dale Alford, commander of Camp Lejeune, N.C., said they were "spared the worst of the impacts" and on Friday morning, he dispatched damage assessment teams through the base, where no flooding or injuries were reported.
About 50 people chose to ride out the storm in shelters opened on base, said Nat Fahy, spokesman for Camp Lejeune.
The Marines at Camp Lejeune are still recovering from last year's Hurricane Florence, which did cause significant flooding on base, and Alford is encouraging his team to get into facilities still covered with tarps from Florence immediately.
"I appreciate the hard work already done by our teams and tenant command partners to get our installations back up and running," Alford said. "I'm looking forward to getting back to the business of training our warriors to do our nation's bidding."
During the height of preparations, more than 8,100 National Guard members were activated in Florida, Georgia, South and North Carolina, and Virginia conducting preparations, staging supplies and standing by with recovery assets such as high-water vehicles and aviation assets.
Florida and Georgia have begun to draw down the number of personnel activated, said Master Sgt. Michael Houk, spokesman with the National Guard Bureau in Washington, D.C.
"We can expect a significant drop in overall numbers in coming days once local authorities determine how much help is required. Florida and Georgia are in the process of transitioning to normal operations, but they still remain available to their neighbors should they need a hand," he said.
However, North Carolina has activated about 200 more servicemembers since Thursday, bringing the state total to about 521. It has 181 high-water vehicles on standby, but has conducted very few missions as of Friday, said Lt. Col. Matt DeVivo, spokesman for the North Carolina National Guard. Possible missions through Sunday could include search and rescue, evacuation support, supply distribution and debris removal.
"As Hurricane Dorian moves out, National Guard forces will move in to provide whatever support if necessary and we'll stay as long as we're needed," Houk said. "Passage of the storm puts us in a transitional period in which some states, like North Carolina, will right-size their response."
The Defense Department, which alerted about 2,700 servicemembers earlier this week to potential hurricane recovery missions, continued Friday to stage high-water clearance vehicles, engineers and aircraft throughout the southeast, should civil authorities request the help, said Maj. Faith Laughter, spokeswoman for U.S. Army North, which is overseeing Dorian-related operations in the United States.
"We are working closely with FEMA and state officials to ensure federal military forces remain prepared to respond appropriately," she said.
Before hitting the East Coast, Hurricane Dorian devastated the Bahamas with about 30 people reported dead – a number that is expected to rise as authorities gain entry to locations previously inaccessible due to the storm.
U.S. Northern Command and the Coast Guard sent assets to the islands to help with search and rescue efforts, improve transportation and damage assessment. As of Friday morning, the Coast Guard has rescued more than 200 people and has eight ships staged near the Bahamas ready to help with further response efforts.
Additionally, the Rhode Island National Guard sent three C-130J transport aircraft to the Bahamas as part of its partnership with the Royal Bahamas Defence Force. The two agencies have worked alongside each other since 2005 in a joint training capacity with previous training efforts focused on disaster preparedness, cybersecurity, civil disturbance, engineering, medical and aviation capabilities.
Twitter: @Rose_Lori