Midshipmen establish study group for Satanic Temple beliefs at US Naval Academy
---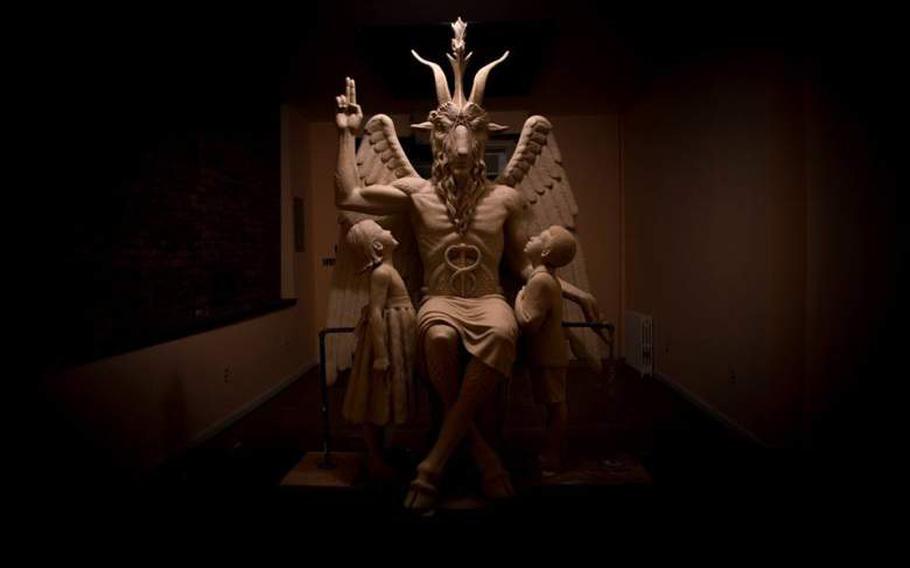 WASHINGTON — Midshipmen at the U.S. Naval Academy who have beliefs associated with The Satanic Temple now have a study group available to them, according to the military institution.
A space for a study group at the academy, located in Annapolis, Md., was requested by students with "beliefs aligned with those practiced by The Satanic Temple" so they could gather and share their views, according to a statement issued Thursday by Cmdr. Alana Garas, a Naval Academy spokeswoman.
An internal email sent out to the student body Oct. 8 stated "satanic services" would be starting at the academy, Garas said. However, the announcement was not reviewed or approved by the school's command chaplain nor did it represent the U.S. Naval Academy's Command Religious Program, according to Garas.
But the students' request was for a space to conduct a study group, not to hold satanic services, according to Garas.
"The USNA Command Religious Program provides for the exercise of diverse beliefs. Arrangements were being made to provide the Midshipmen with a designated place to assemble as chaplains facilitate for the beliefs of all service members, a responsibility outlined by Navy instructions," Garas said in the statement.
The Satanic Temple is a separate organization from the Church of Satan, which was founded in 1966 by Anton Szandor LaVey in San Francisco. The Satanic Temple, an atheist religious organization that is politically active, gained IRS tax-exempt status as a church in May and is headquartered in Salem, Mass.
"Midshipmen have the right to assemble to discuss their beliefs as they choose, but, to be clear, in accordance with Department of Defense policy, military members will not engage in partisan political activities, and will avoid the inference that their activities may appear to imply DoD approval or endorsement of a political cause," Garas said.
The 20 religious groups at the Naval Academy that meet regularly and are facilitated by the USNA Religious Programs include the Protestant Midshipmen Club, Latter Day Saints Student Association, Muslim Midshipmen Club, Buddhist, Jewish Midshipmen Club and the Knights of Columbus, according to Garas.
---
---
---
---