Medal of Honor Society honors Parkland heroes, veteran charities, California lifesaver at ceremony
by
MICHAEL S. DARNELL
March 26, 2019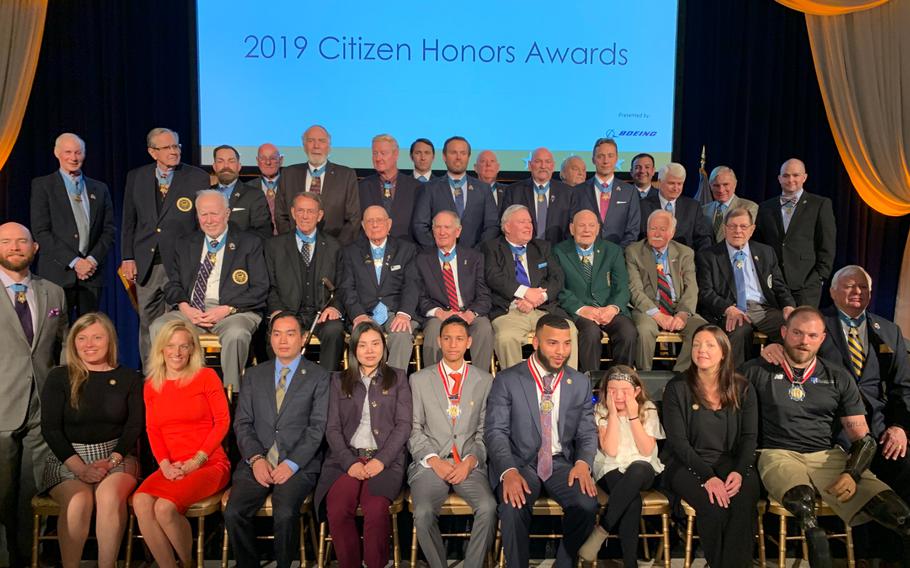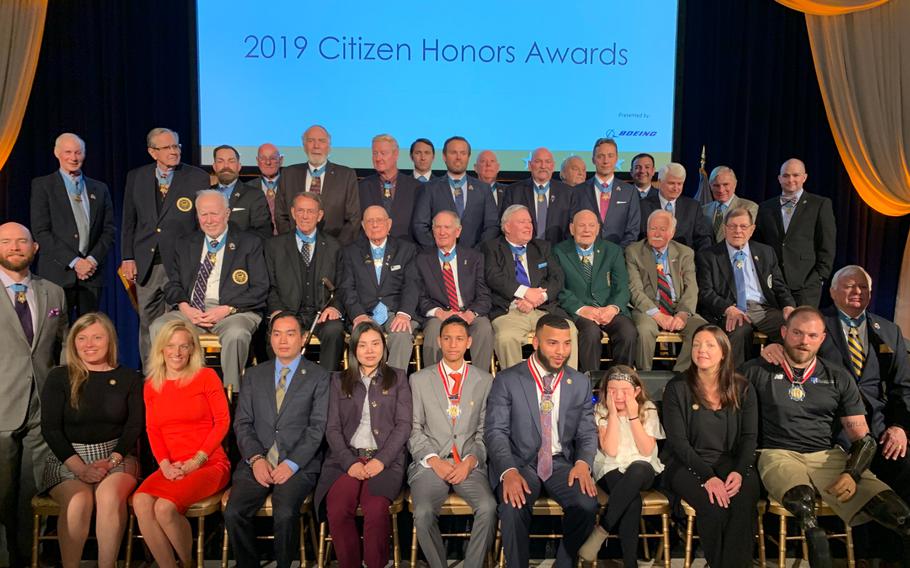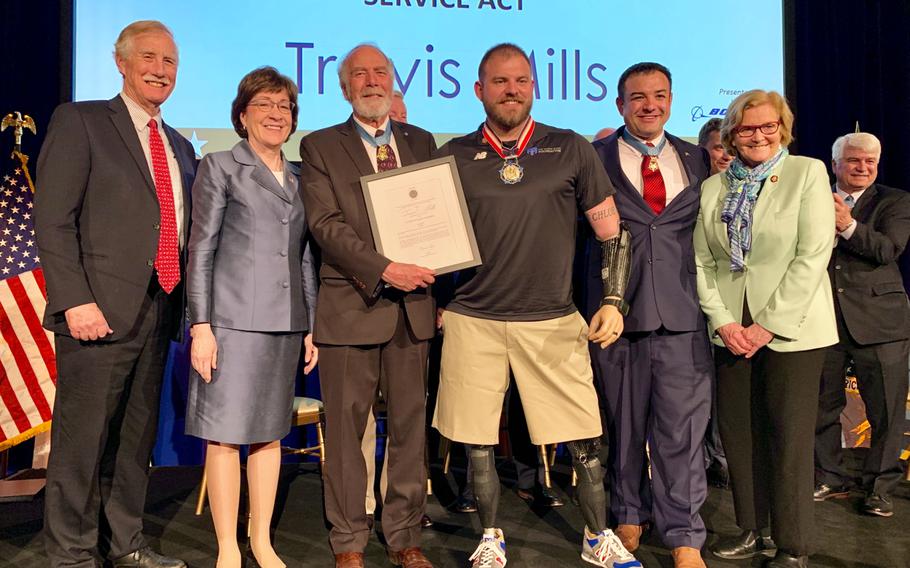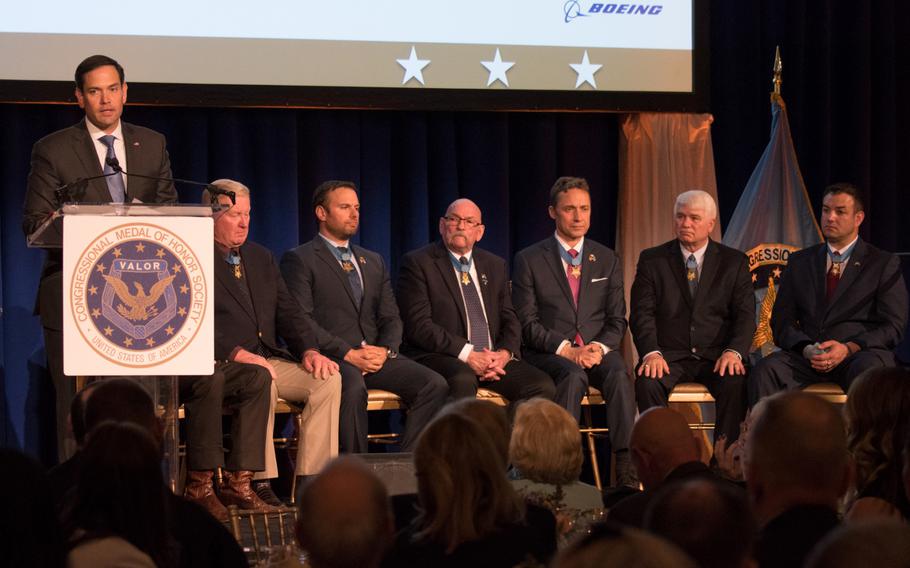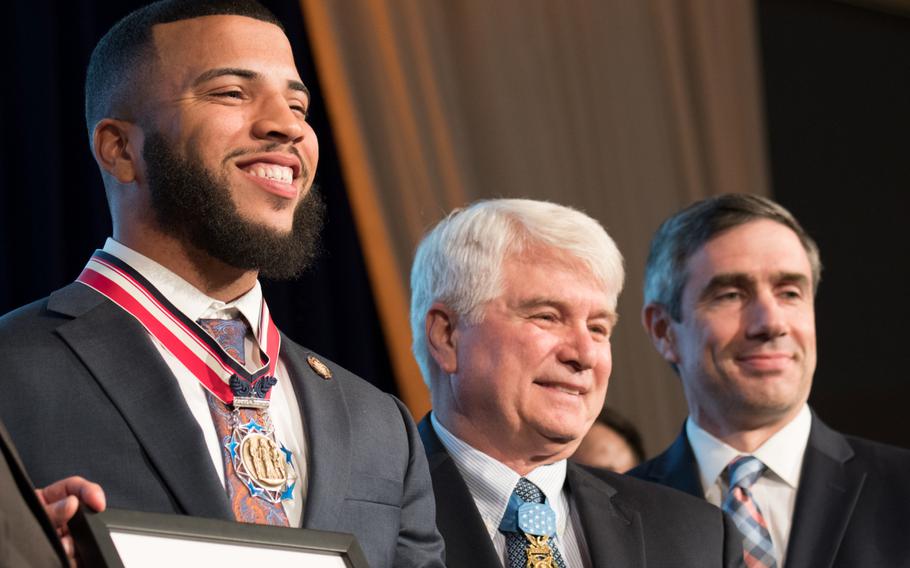 WASHINGTON — A group of Marjory Stoneman Douglas High School students and faculty credited with saving lives during a 2018 school shooting in Parkland, Fla., were among those recognized Monday at a special ceremony.
Of those three honored at the Congressional Medal of Honor Society's 2019 Citizen Honors Awards banquet, only one was in attendance — because Anthony Borges is the only one who survived that fateful day.
Borges, only 16 at the time, is credited with saving the lives of 20 of his classmates by barricading the door to their classroom with his own body, even as he was shot several times through the door. He was shot five times and has undergone more than a dozen surgeries.
Honored posthumously at the banquet were Peter Wang, the Junior Reserve Officers' Training Corps student killed while helping classmates escape, and Marjory Stoneman assistant football coach Aaron Feis, who died shielding students from the shooter.
The Congressional Medal of Honor Society presented Borges with a medal during the ceremony at the Institute of Peace in Washington. The wife and daughter of Feis accepted the award on his behalf, as did the parents of Wang.
The society awards Citizen Honors each year, recognizing community members who have accomplished great feats of heroism, or have dedicated enormous amounts of time to help others.
This year, the society also recognized the heroism of Blaine Hodge, a Bakersfield, Calif., native who was severely injured in 2018 after defending a woman from a machete-wielding attacker at a Starbucks. Hodge and the woman survived, thanks to his intervention.
"It's very comforting," Hodge said of the ceremony. "I'm not very good with the praise, but neither are these other guys. It really just shows you, no matter how compassionate you decide to be … you're not alone."
Travis Mills — an Army veteran who began helping post-9-11 veterans recover from injuries after losing parts of both legs and arms from an IED attack in Afghanistan in 2012 — was also recognized. Mills was honored for his work with the Travis Mills Foundation, which provides Maine getaways to veterans suffering from service-related injuries, according to its website.
Mills, like Hodge, wasn't overly fond of being the center of attention, but the former staff sergeant said he was grateful the foundation was recognized for its efforts.
"People recognizing me? I'm not as comfortable with that," Mills said. "I don't think I do anything special. I'm able to have a great team at the foundation behind me, helping me lead the way and give these families something to hope and believe in."
Every year, the society also recognizes a service organization that supports military and veteran causes. Healing Household 6, a nonprofit in Jacksonville, N.C., that provides financial and other resources to caregivers of wounded veterans, received the Community Service Hero Award.
"You do not have to have a Medal of Honor or be in war to do something great for our country," said Drew Dix, Medal of Honor recipient and president of the society. The honorees, he said, were proof of that fact.