Medal of Honor recipient Ty Carter tours America
by
Toshio Suzuki suzuki.toshio@stripes.com
September 3, 2013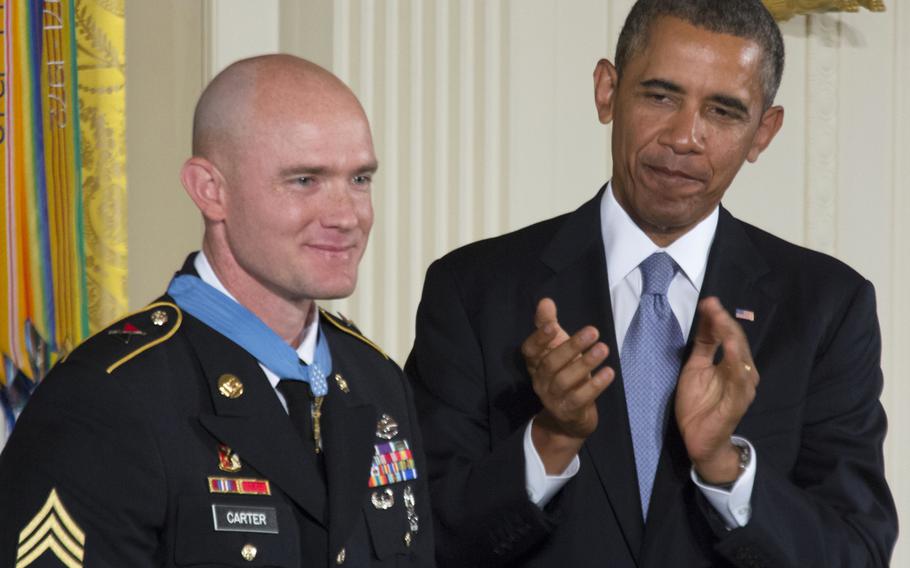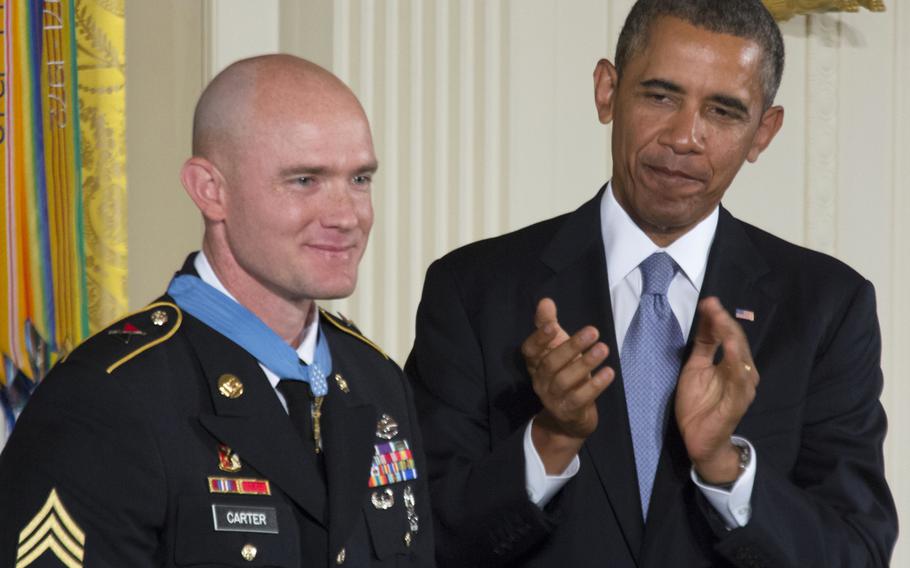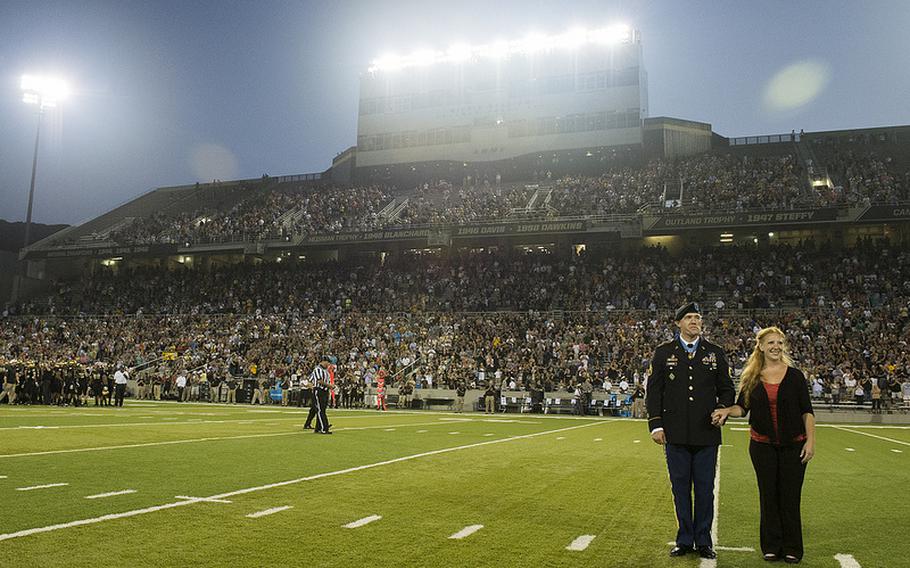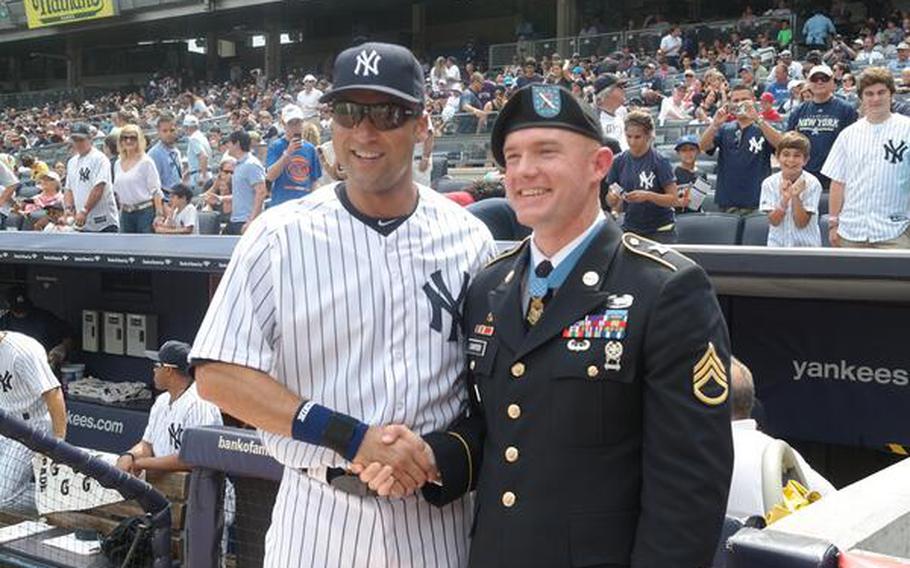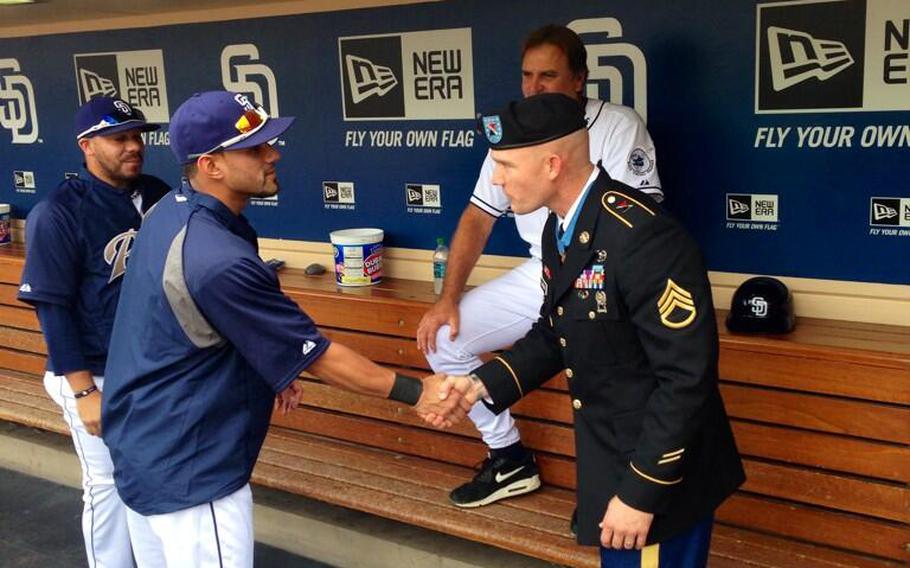 Since President Obama called him a "true American hero" last week in presenting him with the Medal of Honor, Army Staff Sgt. Ty Carter has been a busy soldier.
In New York City alone, Carter appeared on the Late Show with David Letterman, visited the 9/11 Memorial and shook hands with Derek Jeter before a game at Yankee Stadium.
The trip moved west for Labor Day as Carter threw out the ceremonial first pitch—in full Class A uniform—for the San Diego Padres baseball game at Petco Park.
During his lengthy sit down with Letterman on Wednesday, Carter described the battle at Combat Outpost Keating that led to his recognition for valor.
At one point, Letterman asked Carter about being knocked unconscious during the firefight: "It felt like I got slapped in the face, and then when I opened my eyes and I could start hearing again … and then I looked around and I remembered, and then I started checking myself for holes."
Eight men were killed in the fight, which was launched from the surrounding mountainsides.
The father of three also explained the excitement of getting a call from the president when he first learned about receiving the Medal of Honor.
"He sounds just like he does on TV," Carter explained to the laughing audience, "'Cause you never know."
Carter's NYC tour looked like this the next three days: bagpipes and color guard for visit to 9/11 Memorial on Thursday; Army football home opener at West Point on Friday; and waving to the fans at Yankee Stadium on Saturday.
Hand-shaking, standing ovations when appropriate and photo opportunities with his wife, Shannon, were the norm at all these events.
For the holiday Monday, Carter made his latest sporting appearance at the Padres home game against the San Francisco Giants.
While it seems most are eager to honor and say thank you to Carter for his service—he's one of only eight men to receive the Medal of Honor for heroism in the Afghanistan War—Padres, Yankees and Army football fans should be extra happy to see him.
The home team has won at every game Carter has visited so far.
suzuki.toshio@stripes.com Twitter: @toshjohn