McKenzie: Iraqi army is making strides, but still wants US help to fight ISIS
by
Caitlin M. Kenney
June 18, 2020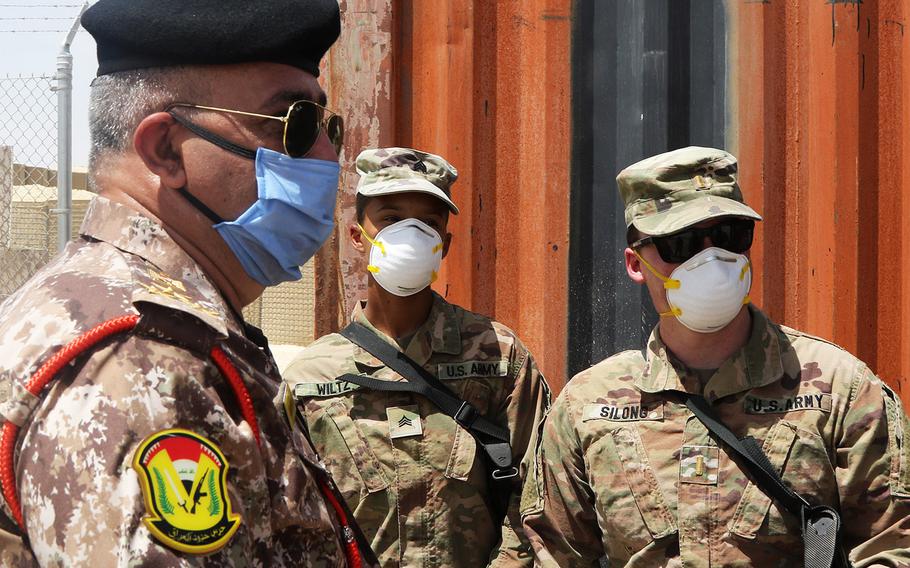 WASHINGTON — The Iraqi army is now good enough to fight the remaining Islamic State fighters, but American forces will probably have a continued presence in the country to support counter-terrorism operations for the foreseeable future, Marine Gen. Kenneth McKenzie, the commander of U.S. Central Command, said Thursday.
"[The Iraqi army] needs to be good enough to fight and finish ISIS. It needs to be good enough to contribute to the stability and security of Iraq…And in my judgment [Iraq] is making huge strides toward there," he said during a webinar that was part of the Aspen Security Forum, an annual event hosting expert discussions on national security and foreign policy issues.
ISIS fighters continue to be a threat to Iraq even after the collapse last March of their territorial control on land in Iraq and Syria last, McKenzie said. But the Iraqi army has 250,000 soldiers and while it does not need to be capable of fighting a major Western military, it is "good enough to fight effectively against ISIS," he added.
Because of that progress, the United States has been able to reduce some of its forces in Iraq that are there to provide support to the military, according to McKenzie. The United States has about 5,200 troops in the country as part of an international coalition to fight against ISIS, The Washington Post reported. There is also a "significant counter-terrorism component" of the Iraqi army that U.S. forces work with in addition to their support of its main army, according to McKenzie.
The governments of Iraq and America started negotiations June 12 about the future of American troops in the country. After an American drone strike in Iraq killed Gen. Gen. Qassem Soleimani, the commander of Iran's elite Quds Force of the Islamic Revolutionary Guard Corps in January, the Iraqi parliament voted to have U.S. troops withdraw from Iraq. The United States now stations its troops at fewer Iraqi bases, The Washington Post reported.
McKenzie also said he has begun to see a spike in rocket attacks in the country against American forces by Iranian proxies, but the Iraqi army has been "very aggressive" in responding to these attacks.
"It's my belief that Iran and it's proxies are beginning to turn to [rocket attacks] because they see they've been unable to prevail in the political realm in Iraq," he said.
While the United States supports having a smaller force in the country, the CENTCOM commander does not believe American troops will be completely withdrawn from Iraq.
"I don't know what that number is going to be, but there is no appetite on the part of the Iraqis for a precipitous withdrawal of U.S. forces. They don't want it because they know that we still provide very, very good support for them as they continue operations against ISIS," McKenzie said.
He said the final number of forces will be worked out in consultation with the Iraqi government.
Kenney.Caitlin@stripes.com Twitter: @caitlinmkenney