McHugh: Uncertain budget, global demands have Army at 'ragged edge'
---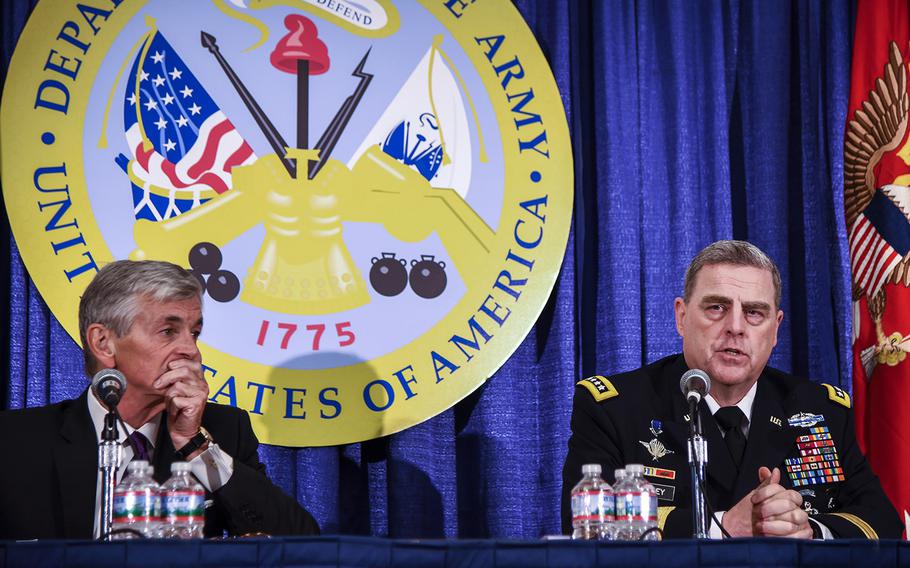 WASHINGTON – The Army's top civilian on Monday urged Congress to provide the military every cent it can as instability around the world forces soldiers to expand their training to combat increasing threats.
Army Secretary John McHugh said Monday that the number of missions and the questions about money have left U.S. forces at "the ragged edge" of its ability to prepare.
Unpredicted fighting around the globe following the U.S. drawdowns in Iraq and Afghanistan, including the rise of the Islamic State, Russian intervention in eastern Ukraine and the rapid rise of terrorism in Africa, have forced the Army to spend more money on training soldiers to withstand a wider variety of threats, McHugh said, speaking at the annual conference of the Association of the United States Army.
Outside the United States, the Army has about 180,000 soldiers stationed in some 140 locations serving on dozens of missions, which include advising Afghan and Iraqi security forces, reassuring NATO allies in Eastern Europe and training alongside partners in South Korea and Japan. Those missions have stretched U.S. forces and become more tenuous with the lingering uncertainty about the defense budget and a stopgap resolution to keep the federal government open, which is set to expire Dec.11.
McHugh said the number of missions and the questions about money has left U.S. forces at "the ragged edge" of its ability to prepare.
"We are in an extraordinarily rare position in American history where are our budgets are coming down but our missions are going up," he said, noting the Army operates on a$120 billion budget, which has decreased from a high of $144 billion in 2010. "My greatest fear is what comes next — what don't we see that's heading toward us at this moment? What don't we see that will face us and our allies? And, will we be agile and ready enough?"
Gen. Mark Milley, Army Chief of Staff, listed Army readiness as his No. 1 priority since he became the service's top officer in August.
"The world outside the boundaries of the United States -- the velocity of instability is increasing as we sit here … it is increasing," Milley said Monday, speaking alongside McHugh. "There are a lot of things going on around the world today that present a very real threat to the security of the United States and the security of our interests… So as we look to the future, it's incumbent that we maintain our abilities and capacities as a military."
For the Army, it means shifting its training focus from the counter insurgency operations its conducted in Iraq and Afghanistan the last 14 years to focusing on a "hybrid threat" --terrorism and conventional warfare with near-peer forces from nation-states, Milley said.
That's forced a major shift in training focus and increased partnership with National Guard and Reserve units.
"We're an Army of 18 divisions, not an Army of 32 brigades and 10 divisions," Milley said, counting the Reserve and Guard units. "We're 18 divisions and 60 brigades. We're 980,000 strong today, not 490,000 strong. We're a total Army with three components. And that's fundamental."
At major training centers – such as the National Training Center at Fort Irwin, Calif. or the Joint Readiness Training Center at Fort Polk, La. – where soldiers have spent the last 14 years focusing on countering insurgencies in Iraq and Afghanistan, newly designed "decisive action" rotations have included regular Army units working with Reserve and National Guard units to prepare to face an enemy with similar capabilities.
That type of "tough, realistic training" conducted by all three Army components is the only way to ensure the Army is prepared for its next battle, said Gen. Robert Abrams, commander of the Army Forces Command.
"Over the last 14 years, we've demonstrated that the United States Army cannot meet the demands of the nation without the total force," Abrams said at the AUSA conference. "…There are countless examples of successful partnerships that are contributing significantly to building readiness. It is through these types of exercises that we build readiness together."
Only through training, Milley said, will the Army be ready to operate on the ground – where wars are ultimately decided.
"At the end of the day, the first and opening shots of any conflict are likely fired from the sea or from the air, but the final shots are usually delivered on the ground -- delivered by soldiers or Marines, or Special Forces soldiers," the general said. "… Ultimately wars are decided on the ground, (and) at the end of the day it's still going to be necessary to close with and destroy your enemy."
dickstein.corey@stripes.com Twitter: @CDicksteinDC
---
---
---
---