McCain urges midshipmen to 'defeat those who would worsen our divisions'
by
Ken-Yon Hardy
October 31, 2017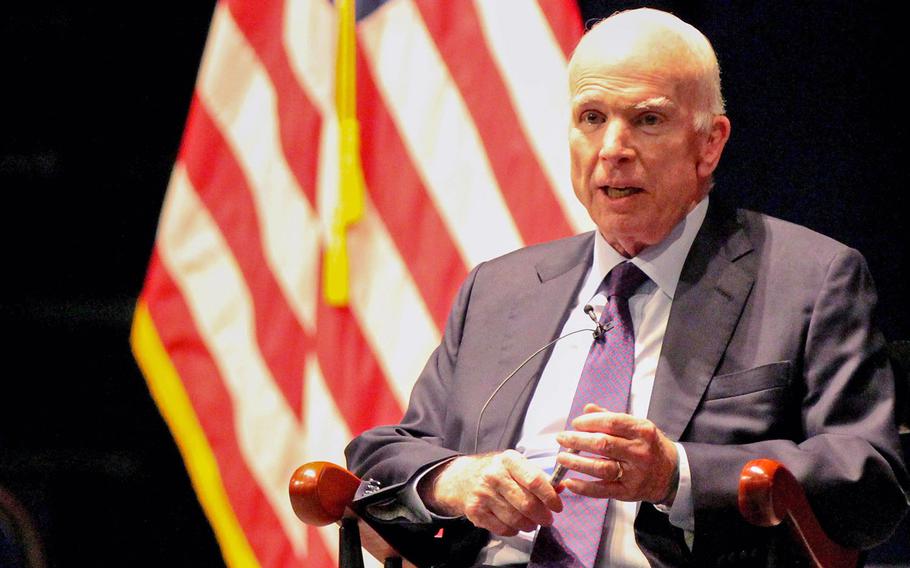 ANNAPOLIS, Md. — Sen. John McCain thanked U.S. Naval Academy midshipmen Monday for their sacrifice to the nation and urged them to oppose those seeking to sow divisions within the nation.
"We have to fight against propaganda and crackpot conspiracy theories," the Arizona Republican said. "We have to fight isolationism, protectionism and nativism.
"We have to defeat those who would worsen our divisions," he said. "We have to remind our sons and daughters that we became the most powerful nation on earth by tearing down walls, not building them."
McCain, a former Navy pilot who graduated from the academy in 1958, told the crowd it was time to, "wake up."
He said he believed Americans are capable of doing better.
"I've seen it," McCain said. "We're hopeful, compassionate people and we still have leaders who will uphold the values that make America great and are a beacon to the oppressed."
McCain, 81, who was diagnosed with an aggressive form of brain cancer in July, has been an outspoken critic of polarization in American politics, stressed the importance of service and American values during his 17-minute speech, his first at the Annapolis campus since 2012
"I know what you will risk and what you will receive in return," McCain said. "I know America is lucky to have you and that you think of yourselves lucky to serve America, even in the worst of times.
" … In order to serve this country is to serve its ideals," he said. "The ideals to consider that every child on earth is molded in an image of God and (granted) dignity, life, liberty and the pursuit of happiness. It's a noble cause. It is your cause. And it is worth living and dying for."
hardy.kenyon@stripes.com Twitter: @kenyonhardy