McCain re-election bid could gird defense hawks
by
Travis J. Tritten
April 7, 2015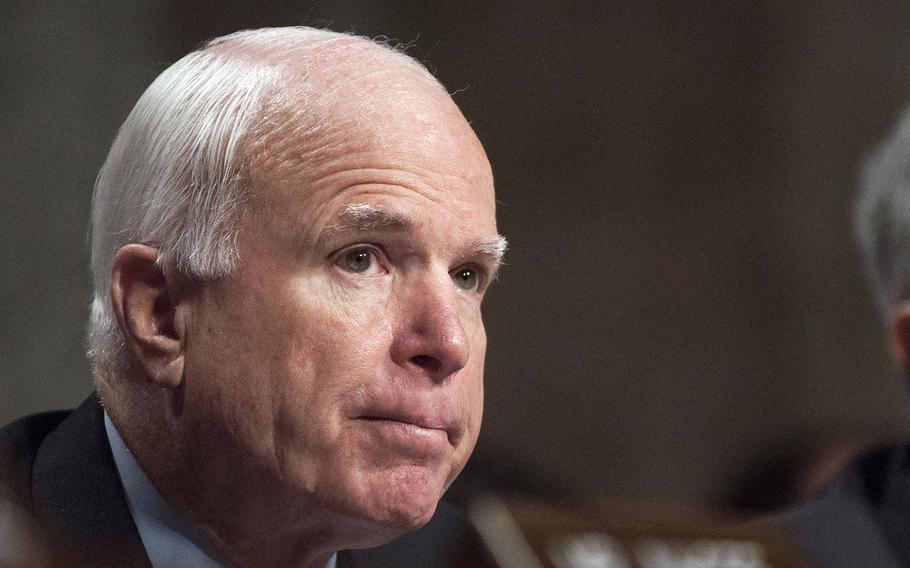 WASHINGTON — If John McCain has his way, the Arizona Republican will spend most of his 80s in the Senate.
McCain's announcement this week that he will seek a sixth Senate term may not have surprised those familiar with his schedule and marathon Senate Armed Services Committee hearings — he boasted convincingly of 18-hour workdays — and it means one of the loudest Capitol Hill voices on military issues could remain firmly in place.
The decision comes as McCain and other hawks in the Senate are pressing for big increases in the Defense Department budget and wrangling with fiscal conservatives who support mandatory spending caps to decrease federal spending and debt. It is a debate on U.S. spending priorities that has defied quick solutions.
"There is a faction within the Republican party that is more concerned about fiscal matters than they are about defense," Jerry Mayer, associate professor in the School of Policy, Government and International Affairs at George Mason University.
The tea party particularly has tagged McCain as a political enemy. But the senator is "always someone who says, 'How can we get more in there?'" to strengthen the defense budget, Mayer said.
McCain, 78, became chair of the Armed Services Committee in January and has hammered home his position that spending caps will weaken the military and its ability to deal with burgeoning threats overseas. He and fellow committee members have advocated for a $611 billion base defense budget, far above the $523 billion allowed under the mandatory cap this year, and more than the cap-busting White House budget.
After a run for president in 2008, McCain remains one of the most visible and vocal lawmakers on Capitol Hill.
"This is a guy who doesn't give up easy," Mayer said. "The same type of endurance that got him through horrible years as a prisoner of war is keeping him in the Senate when others who have been in as long as he are saying, 'It is time to get out.'"
So far, McCain and his fellow hawks appear to be losing the political fight to eliminate the defense budget cap, which is often referred to as sequestration. Republicans recently passed a budget plan sticking to the $523-billion set by the cap and instead pumping up an emergency war fund, a method McCain initially derided as a "gimmick" but then supported.
The public should not overestimate McCain's influence on defense issues, said Gordon Adams, a professor of foreign policy at American University in Washington.
"I think he is a key voice. I am not so sure he is going to move the traffic when it comes to cutting a budget deal," Adams said.
However that debate plays out, McCain is likely to be successful in his Arizona re-election bid. Tea party candidates ran against him in the past and may do so again, but the senator is a popular political figure with deep ties and vast experience.
"The reality is I think it is going to be very hard to push him out," Adams said.
A bigger question may be whether McCain holds onto the Armed Services chairmanship, where he has sway over much of the military legislation that moves through the Senate.
Adams said McCain has shown himself as an activist chairman during his first few months with the gavel, going at a variety of other issues such as acquisition reform.
The GOP will have more seats up for election in 2016 than the Democrats and will be competing for votes during a presidential election year, which could shift the dynamic. Adams said the Republican Party is not guaranteed to hold onto the Senate majority, meaning McCain would lose his chairmanship even if re-elected. Sen. Jack Reed, D-R.I., would then be in line to take over the committee and set the agenda.
It would be a blow to McCain's power on the Hill. But Adams said the spry 78 year old shows no signs of slowing or winding down his political career.
"I think speculating on the absence of John McCain is probably not very fruitful," he said.
tritten.travis@stripes.com Twitter: @Travis_Tritten
---
---
---