Mattis urges people to wear face coverings and 'work together to beat COVID'
by
Joseph Ditzler
June 23, 2020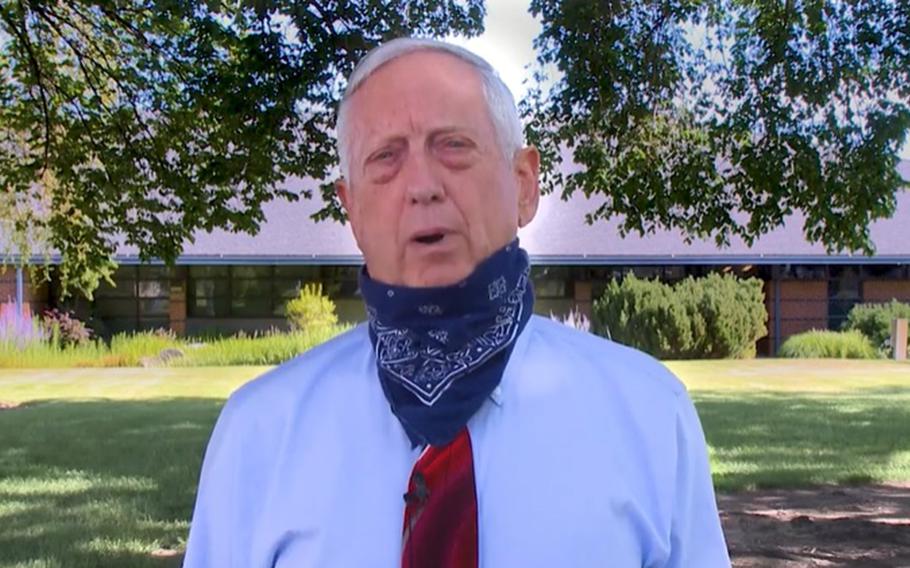 Stars and Stripes is making stories on the coronavirus pandemic available free of charge. See other free reports here. Sign up for our daily coronavirus newsletter here. Please support our journalism with a subscription.
Former defense secretary and retired Marine general Jim Mattis has appeared in a pandemic public service announcement urging listeners in his hometown to wear face coverings.
"I'm here to talk about that nasty little virus, COVID," he says in a video released Monday by the central Washington city of Richland, near the Oregon border. COVID-19 is the disease caused by the coronavirus. "We got introduced to it about six months ago, and it's clear this little bugger is not going away on its own."
Mattis, a blue bandana around his neck, called on his "friends and neighbors" to cover their faces in public and to heed the advice of Dr. Amy Person, a county health official, to achieve Washington Gov. Jay Inslee's plan for reopening the state.
The video was also posted on the KXLY website, the TV station that serves nearby Spokane, Wash., and Coeur d'Alene, Idaho. Mattis is a Richland native.
He served as defense secretary under President Donald Trump from January 2017 to January 2019, after a long Marine Corps career that included command of Marines in Afghanistan and Iraq and overseeing all American troops in the Middle East as chief of U.S. Central Command.
Mattis resigned from his defense secretary post in late December 2018 following Trump's decision to withdraw U.S. forces from Syria. The president insisted Mattis had been fired.
In a widely publicized open letter published June 3 in the wake of civil rights protests, Mattis wrote that "Donald Trump is the first president in my lifetime who does not try to unite the American people — does not even pretend to try. Instead he tries to divide us."
Trump hit back with a series of tweets in which he called Mattis "the world's most overrated General."
ditzler.joseph@stripes.com Twitter: @JosephDitzler