Mattis: New Afghanistan strategy will be ready by mid-July
by
Tara Copp
June 13, 2017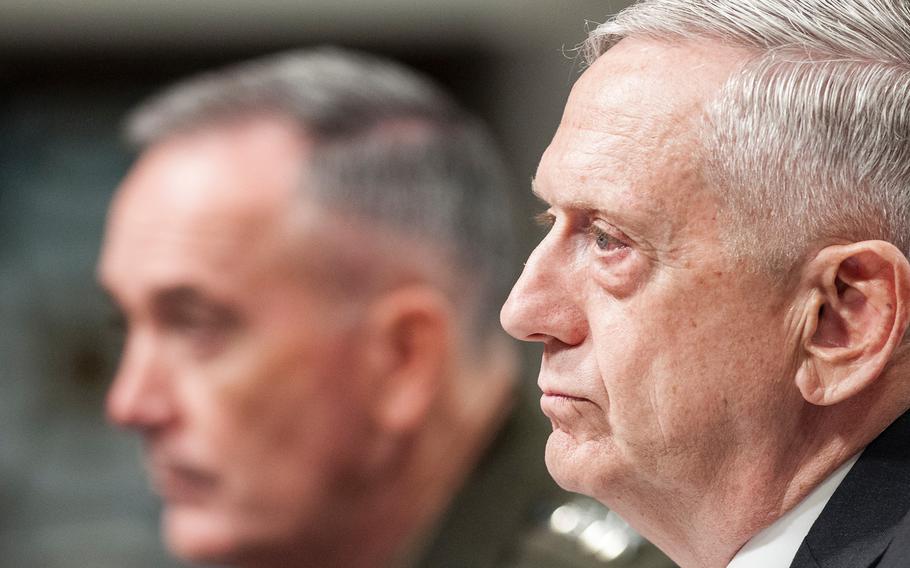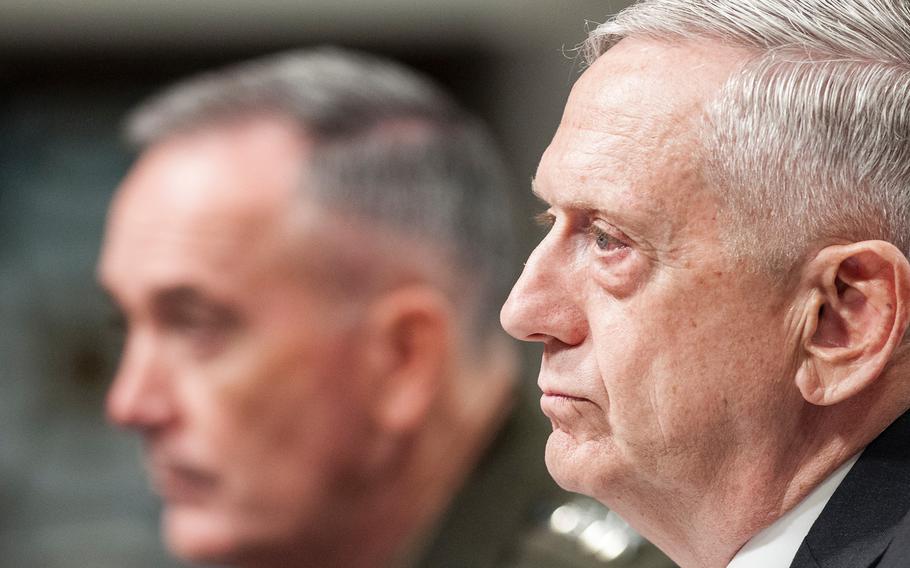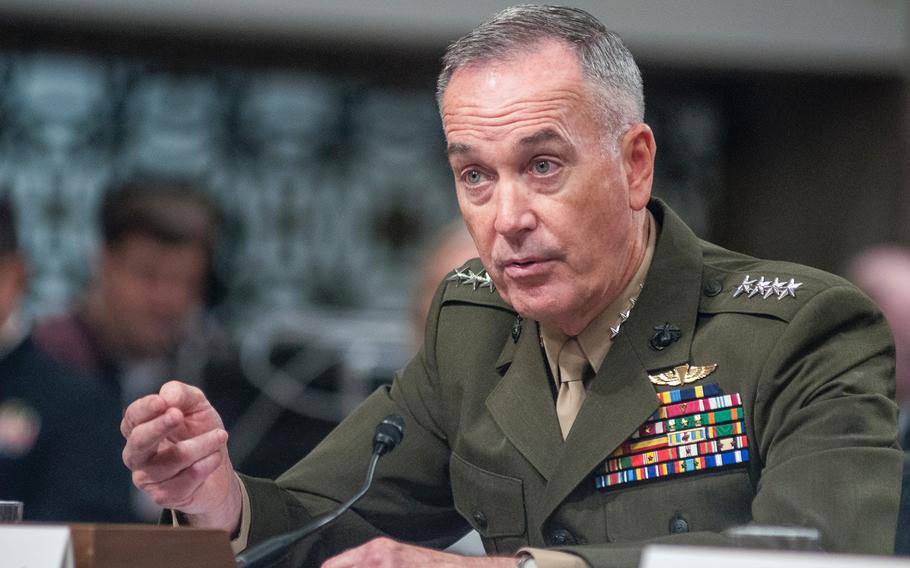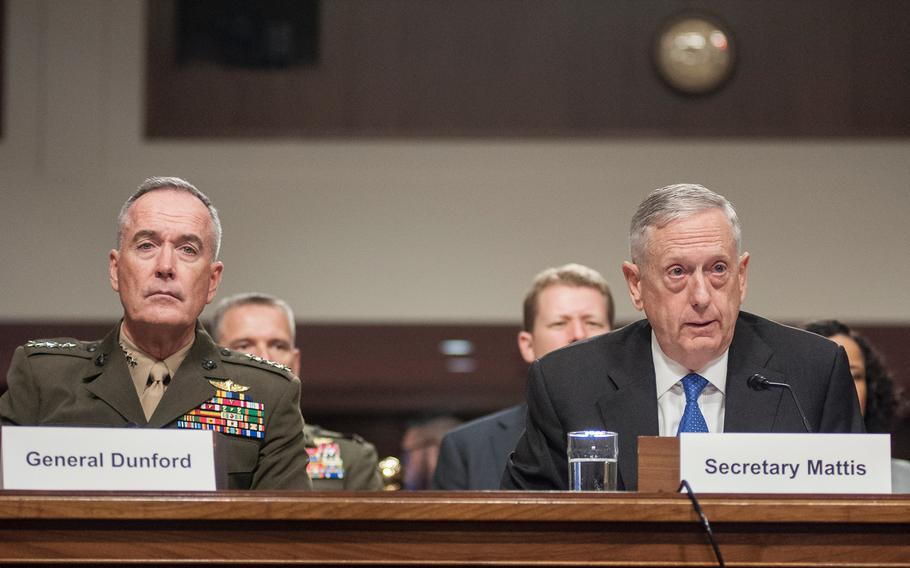 WASHINGTON — Secretary of Defense Jim Mattis said Tuesday that the White House would deliver its revised strategy for Afghanistan by mid-July, amid growing frustrations on Capitol Hill that the country's security is worsening with no plan of action in sight.
Mattis appeared before the House and Senate Armed Services Committees in hearings late Monday and early Tuesday to discuss the department's 2018 budget needs, but faced repeated questioning by the lawmakers over the Pentagon's vision for Afghanistan.
Since April, six U.S. servicemembers have been killed in eastern Afghanistan, where the United States is working with Afghan forces to conduct counterterrorism operations against the Taliban and Islamic State forces there. On Saturday, three members of the 101st Airborne Division, Sgt. Eric M. Houck, 25, Sgt. William M. Bays, 29, and Cpl. Dillon C. Baldridge, 22, were killed when one of the Afghans who they were advising opened fire on them. The Taliban has claimed responsibility for the attack.
"We just lost three brave Americans," said Sen. John McCain, R-Ariz., the committee chairman. "We're now six months into [President Donald Trump's] administration, we still haven't got a strategy for Afghanistan."
"Let's not ask these families to sacrifice any further without a strategy, which we can then take and implement and help you," McCain said. "I'm fighting as hard as I can to increase defense spending. It's hard when we have no strategy to pursue."
The Trump administration has been pressing NATO allies to contribute additional forces for the Afghanistan fight even as the United States weighs options on how many more of its own troops it will send. At the House hearing on Monday night, Mattis said the additional U.S. forces requested for Afghanistan would likely be composed of more trainers and advisers. On Tuesday, he told members of the Senate that he anticipates the administration's plan to be complete in roughly one month.
"I believe by mid-July we will be able to brief you in detail," Mattis told the Senate committee. "We are scrambling to put it together."
Mattis and Marine Gen. Joseph Dunford, chairman of the Joint Chiefs of Staff, were at the Capitol Hill hearings in support of the Pentagon's $639 billion defense budget proposed for 2018. The budget includes $574.5 billion in the base budget and $64.6 billion to fund overseas contingency operations.
Both men were also questioned at length about the administration's lack of a wider security strategy, including how to handle North Korea's pursuit of nuclear weapons and how it would address a wide-range of concerns over Russia. Questions on Russia ranged from concerns about cyber attacks, its continued aggression in Europe and its recent movement of forces in southern Syria toward a training base where U.S. forces operate.
Mattis said North Korea and Russia are part of a larger national security strategy review, which also is not yet complete.
This weekend the Russian defense ministry announced its forces had reached the Iraqi border close to Tanf in Syria, where the United States has a base to train and conduct operations with Syrian rebels fighting ISIS.
"As far as the Tanf situation," Mattis said. "That was another operating area that we had. I did not anticipate that the Russians would move there. We knew it was a possibility. I did not anticipate it at that time but it was not a surprise to our intelligence people who saw the potential for them to move out in that direction."
U.S. warplanes have launched airstrikes three times against what they have identified as pro-government forces that have come to close to the U.S. base. Last week, an F-15E Strike Eagle fired on an Iranian-made drone that had dropped a munition on coalition forces patrolling near the base.
Dunford said the pro-government forces have not impacted U.S. operations at the Tanf base nor the ability to move trained forces north to conduct operations against ISIS.
"The media reports of us being encircled are not accurate," the general said. "We still have freedom of movement outside of the Tanf area … we are not limited from moving up toward the Euphrates River valley."
copp.tara@stripes.com Twitter:@TaraCopp