Mattis: Impact of Qatar blockade on US operations 'very complex'
by
Tara Copp
June 12, 2017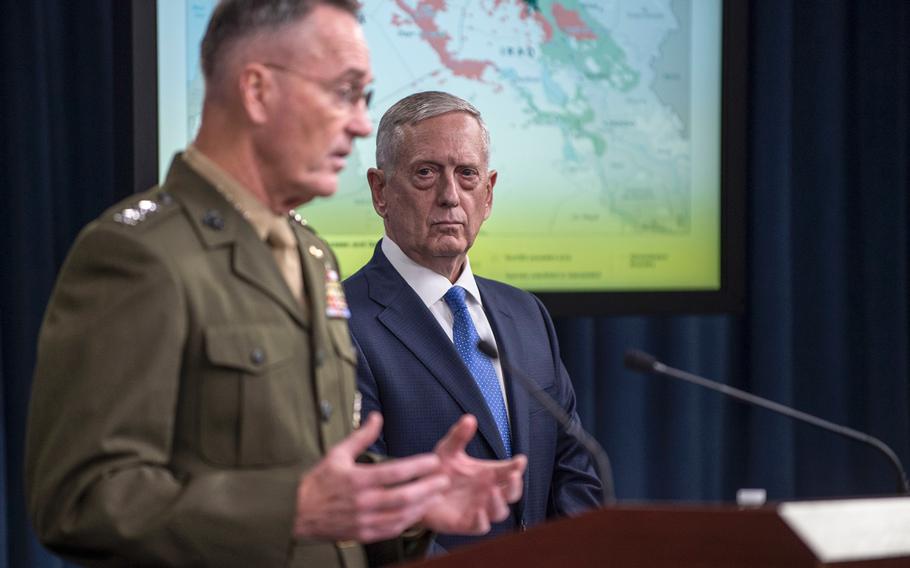 WASHINGTON — Defense Secretary Jim Mattis told House lawmakers Monday night that President Donald Trump's administration is trying to get key Middle East allies to ease their blockade of Qatar, where the United States maintains its largest regional military base.
During a House Armed Services Committee hearing on Trump's proposed 2018 defense budget, Mattis was questioned on the recent decision by Saudi Arabia, the United Arab Emirates, Egypt and Bahrain to cut ties with Qatar and impose a travel and trade ban on the tiny Persian Gulf country, accusing it of financing terrorism.
Their decision to blockade Qatar was praised last week by Trump as Secretary of State Rex Tillerson was urging caution and for all parties to negotiate a solution. Qatar hosts Al Udeid Air Base, which houses 11,000 U.S. military personnel and serves as a headquarters for U.S. Central Command, which directs operations in Iraq and Syria against the Islamic State.
Pentagon officials have said the blockade has not affected daily operations, so far.
However, Navy Capt. Jeff Davis, a Pentagon spokesman, said last week that "the evolving situation is hindering our ability to plan for longer-term military operations. Qatar remains critical for coalition air operations in the fight against ISIS and around the region.
Monday night on Capitol Hill, Mattis was asked about the apparent difference in policy.
"Why the disconnect between what Secretary of State Tillerson said about the situation and what the president has said?" asked Rep. Adam Smith, D-Wash.
Smith also questioned why the United States would take issue with Qatar and not Saudi Arabia, given that country's ties to 15 of the 19 hijackers on 9-11.
Mattis defended Trump, saying the president's recent visit to Saudi Arabia had encouraged the four nations to work together and the president had come back focused on how to cut off terrorist funding.
Mattis said each of the nation's had its own goals and motives in their counterterrorism operations, but he thought there was enough common ground between them to eventually ease the Qatar blockade.
"It's a very complex situation," Mattis said. "… It has been a challenge. It's not tidy, I admit it."
Marine Gen. Joseph Dunford, chairman of the Joint Chiefs of Staff, and Under Secretary of Defense David Norquist, the Pentagon's new comptroller, also attended the hearing Monday night to discuss the $639 billion defense budget proposed for 2018. The budget includes $574.5 billion in the base budget and $64.6 billion to fund overseas contingency operations.
copp.tara@stripes.com Twitter:@TaraCopp