Marine private sentenced to three years after attempting to bring illegal firearms onto Offutt AFB
by
Wyatt Olson
January 15, 2020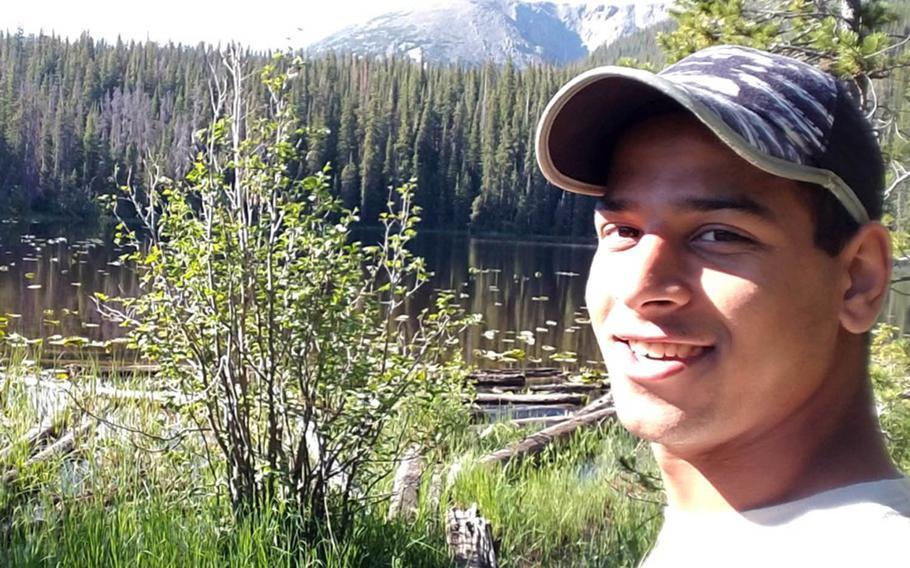 MARINE CORPS BASE HAWAII — A Marine Corps private arrested in May after attempting to bring illegal firearms onto an Air Force base in Nebraska was sentenced to three years in prison under a plea agreement finalized Tuesday in Hawaii.
Pfc. Ali Al-kazahg, stationed at Marine Corps Base Hawaii, was arrested May 31 after being stopped by gate guards at Offutt Air Force Base near Omaha.
Al-kazahg pleaded guilty to possessing unlawful firearms modifications in the form of devices designed to make a semi-automatic weapon function like a machine gun. Security personnel searching his car found a bump stock for a rifle and another similar device, dubbed a "switch," used to render semi-automatic Glock pistols into fully automatic weapons.
Prosecutors on Tuesday described another item found as a "probable" silencer, although the defense objected that it was a purely cosmetic device that did not suppress the sound of gunfire.
Al-kazahg also pleaded guilty to making false official statements to his sergeant in Hawaii and the gate guard at Offutt, along with fraudulent enlistment, in which he did not disclose to the recruiter he had once been arrested and rejected from enlistment into another service.
Under the agreement, the charges of carrying a concealed weapon, communicating threats, unauthorized absence, violation of a lawful general regulation and dereliction of duty were dropped.
Al-kazahg, a native of Nebraska and the son of Iraqi refugees, was home on leave at the time of the arrest.
In a pre-sentencing statement Tuesday, Al-kazahg said he was going into Offutt AFB to first work out at the gym and then to meet a woman on base he had chatted with online. He said he lied to the guard about not having guns because he wanted to avoid any hassle.
The Omaha World-Herald newspaper reported soon after the arrest that gate guards had stopped Al-kazahg for questioning because his name appeared on a law enforcement watchlist.
His name was on a "be on the lookout" bulletin because the private had allegedly told another Marine he would "shoot up the battalion, starting at the barracks" if he received discipline for misconduct, the newspaper said. He also mentioned specific Marines as targets, the newspaper said.
The topic of threats was not brought up during the lengthy Tuesday hearing.
Barely audible and holding back sobs, Al-kazahg apologized prior to sentencing.
"I made mistakes that I wish I could take back," he said. "I hope my family, friends and fellow Marines will be able to forgive me."
Al-kazahg's attorneys introduced a half-dozen character witnesses before sentencing, each testifying via telephone from Nebraska, including his sister, foster-care mother and a high school buddy.
Nedhal Al-kazahy, his younger sister, described her brother as protective of her and almost always upbeat — despite the tumult of them and four other siblings being put into foster care when the state declared their parents unfit to care for them.
Defense attorney Capt. James Larkin told the court that Al-kazahg had been placed in more than 30 different foster homes while growing up, where at times he was "beaten" and "neglected."
Larkin argued for a lighter, 24-month sentence than the 36 months prosecutors had proposed before Capt. Ann Minami, the judge hearing the case.
Prosecutors contended that Al-kazahg's history of lying was the antithesis of the integrity central the Marine Corps ethos.
Long-time friend Trevor Reilly told the court that Al-kazahg had struggled somewhat after being stationed at Marine Corps Base Hawaii in August 2018. Al-kazahg called him at one point, feeling distraught that someone had thrown raw bacon on his bunk in the apparent belief that he was a Muslim.
Reilly said that while that episode "broke him down," Al-kazahg revealed no "hint of retaliation."
olson.wyatt@stripes.com
Twitter: @WyattWOlson