Longtime special operations generals take reins of CENTCOM, SOCOM
by
Corey Dickstein
March 30, 2016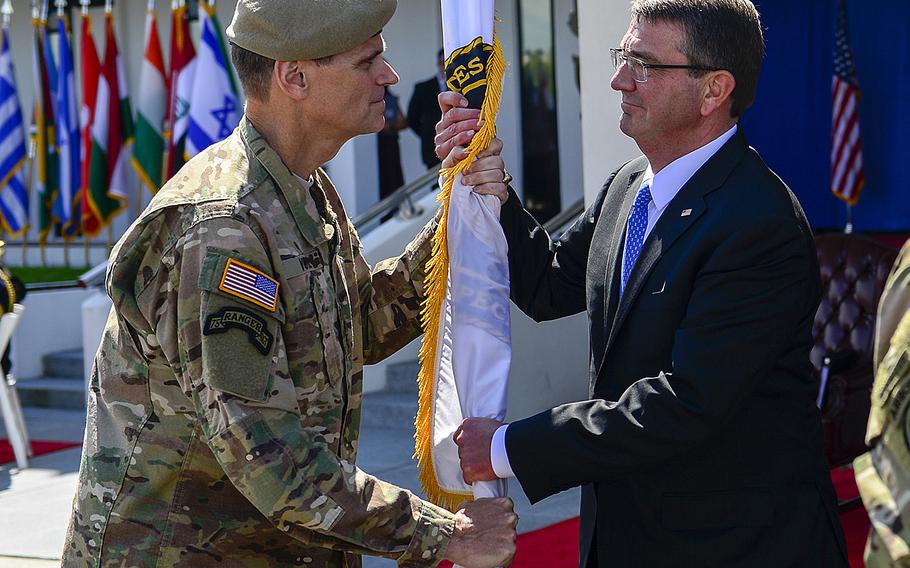 WASHINGTON — Two of the American military's most in-demand combatant commands changed hands Wednesday in separate ceremonies at MacDill Air Force Base, Fla., where U.S. Central and Special Operations Commands are headquartered.
Defense Secretary Ash Carter hailed 1980 West Point classmates Army Gens. Joseph Votel and Raymond "Tony" Thomas as "true pioneers" and "innovators" in their secretive world of American special operations, as they took command of CENTCOM and SOCOM, respectively.
Votel, 58, took the CENTCOM reins from retiring Army Gen. Lloyd Austin after leading SOCOM since June 2014. Thomas, 57, has most recently served as the commander of Joint Special Operations Command, the headquarters that commands the military's most elite counterterrorism organizations including the Navy's SEAL Team Six and the Army's Delta Force. Thomas followed Votel as the JSOC chief, as well.
"The character, vision, and leadership of both Tony Thomas and Joe Votel has been tested over 15 years of war and proven over more than three decades of preparation," Carter said on Wednesday. "… The relentless drive of these two leaders to excel, to adapt, and to learn from the past – both from failures and success – has helped U.S. special operations forces become the absolute envy of the world."
Carter's choice of Votel to succeed Austin, a 40-plus-year veteran of the Army's conventional forces who led CENTCOM for more than three years, has been largely hailed as an appropriate move by Pentagon and Capitol Hill leaders.
CENTCOM, which overseas American military efforts in 20 countries throughout the Middle East into central Asia, has leaned heavily on special operations forces through its wars in Afghanistan and Iraq. Votel will now oversee the U.S. missions to train Afghan security forces and hunt down terrorists in Afghanistan as well as its fight against the Islamic State group in Iraq and Syria.
Carter said Votel's extensive knowledge of the region and his existing relationships with leaders of the region's partner nations were among the reasons he was selected for the job.
Thomas, Carter said, was an easy choice for SOCOM chief.
The secretary described the general, who has commanded several units within the Army's elite 75th Ranger Regiment and Delta Force, as "one of our toughest, battle-tested leaders in special operations."
In his new job, Thomas will oversee about 70,000 special operators from the Army, Navy, Air Force and Marine Corps who are tasked with conducting a wide variety of classified operations ranging from counterterrorism to humanitarian assistance to training indigenous forces in remote locations.There are about 10,000 American special operators deployed to some 80 countries worldwide, Carter said.
Austin, who is set to retire next week, was lauded by Carter as one of his "generation's most accomplished soldiers, statesmen, and strategists."
As CENTCOM chief, the 62-year-old general oversaw America's air war against Islamic State militants and its efforts to train indigenous forces in Iraq and Syria for since 2014. He spent extensive portions of the last 13 years in Iraq, where he was awarded a Silver Star for combat valor as a brigadier general in 2003 and later in 2011 as the top commander in the country oversaw the U.S.'s military pullout there.
"It's one of the highest compliments in the Army to be called 'a soldier's soldier'," Carter saidWednesday. "For more than four decades, Lloyd Austin has not only demonstrated what it means to be a soldier's soldier, he has come to define it."
dickstein.corey@stripes.com Twitter: @CDicksteinDC