Lightning strikes hit runway of already damaged Offutt Air Force Base in Nebraska
by
Rose L. Thayer
April 11, 2019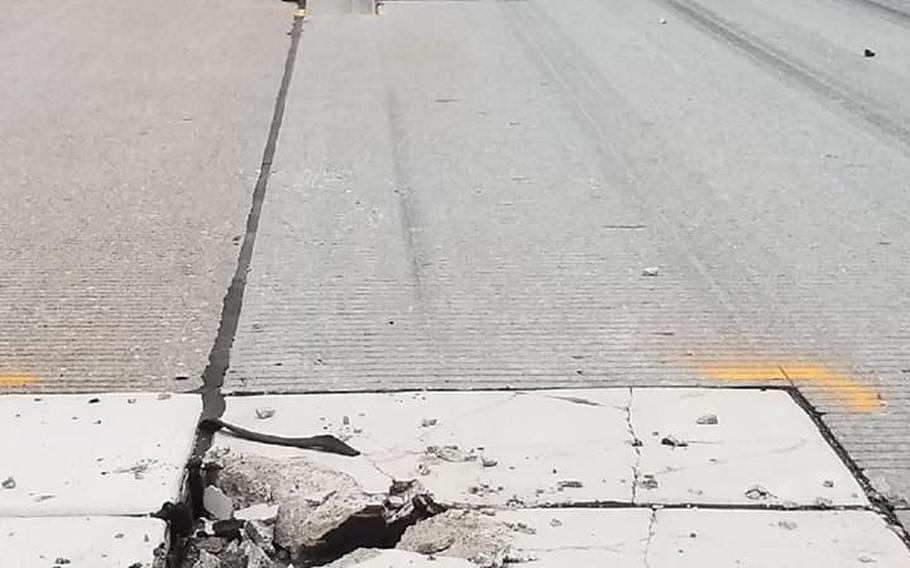 AUSTIN, Texas — Lightning strikes during a severe storm Wednesday night damaged the runway at Offutt Air Force Base in Nebraska, where extreme weather has kept officials on the defensive in recent weeks.
Still in the early stages of recovery from mid-March flooding, base engineers spent Thursday morning repairing nearly a dozen 3- to 5-inch gashes in the runway caused by lightning strikes, Col. Michael H. Manion, commander of 55th Wing, posted to Facebook.
In advance of the overnight storm, which produced quarter-inch-sized hail, the base on Wednesday evacuated eight of its fleet of C-135s, a fixed-wing reconnaissance aircraft. The base has about 45 aircraft and the remainder were housed in hangars overnight. The aircraft were scheduled to return Thursday afternoon following repairs to the runway, said Ryan Hansen, spokesman for the 55th Wing, which oversees operations at the base.
The damaged runway was just one of many repairs underway as the southeastern Nebraska base is still assessing damage caused by flooding that began March 15 when snowmelt in areas north of the base overwhelmed the banks of the Missouri River. Home to U.S. Strategic Command, the base sits just west of the Missouri River near the city of Bellevue. About one-third of the base sat underwater for days.
"The recovery process is going to be very long," Hansen said.
The base is now in a 90-day assessment of facilities. Once complete, they will have a better idea how many facilities can be retrofitted, renovated or must be demolished.
Officials are also monitoring for the potential for more flooding, Hansen said.
By Thursday morning, the risk of flooding had downgraded to barely minimal, said David Pearson, a hydrologist with the National Weather Service in the Omaha Valley.
"We see an increase in the river, but it's not going to get to a level that will impact the base directly," he said. "However, the challenge will be getting through this wet season over the next couple months. We can get into a rainy pattern and the river is already high.
"We are in a better spot than we were," Pearson said.
Offutt isn't the only Air Force base in recovery mode. In October, Hurricane Michael ravaged Tyndall Air Force Base in Florida, causing millions of dollars of damage.
The Air Force has said it needs nearly $5 billion to recover from natural disasters that occurred in fiscal year 2019. Air Force Secretary Heather Wilson said last month that without Congress providing supplemental funding, the service will struggle to recover at the two bases and the entire service will take a hit to meeting critical facility upgrades and readiness requirements.
Looking to mitigate the damage of future natural disasters, a group of senators on Thursday introduced the Requiring Every American Defense Installation to Nullify Environmental Stresses for Security, or READINESS, Act of 2019. Sens. Brian Schatz, D-Hawaii, Jerry Moran, R-Kan., and Jack Reed, D-R.I., said the legislation will protect military bases from extreme weather events by requiring them to prepare for potential disasters and other risks posed by severe changes in environmental conditions.
If passed, the bill would require bases to create resilience plans that include current risks and threats to military resilience resulting from extreme weather, changes in sea level, flooding or wildfires, future risks and threats and risk mitigation projects, according to a news release from the senators about the READINESS Act. It also requires service secretaries to review resilience plans every five years.
"The Department of Defense has requested billions of dollars in emergency funds to fix bases that have been damaged by extreme weather and heavy flooding," Reed said in the statement. "We must be proactive about enhancing the resiliency of our military installations, thereby lowering disaster-related losses. This bill will ensure that our bases are planning for the impacts of extreme weather and will enhance the military's ability to wisely invest in building resilient systems and infrastructure that are better protected from severe storms, floods, and other impacts of climate change."
The Marine Corps is also struggling to recover after last year's particularly tough hurricane season. Hurricane Florence in September damaged large portions of Camp Lejeune in North Carolina.
thayer.rose@stripes.com Twitter: @Rose_Lori