Lawmakers to stage hearing aboard USS Dwight D. Eisenhower
---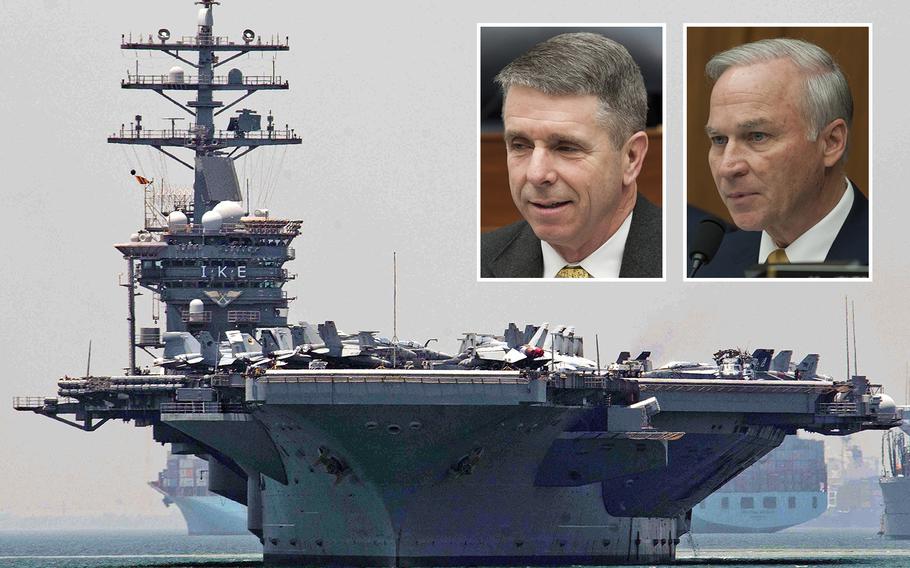 WASHINGTON – Nothing makes a statement quite like an aircraft carrier, just ask the House Armed Services Committee.
In what appears to be a first, committee lawmakers will trade in the Capitol's wood paneling and marble for battleship gray when they hold a hearing this month aboard the USS Dwight D. Eisenhower. The location is meant to underscore members' call for more Navy ships and spending.
Up to 42 members of Congress may gather on the massive warship docked at Norfolk Naval Station to hear testimony from Navy captains about the dangerous state of Navy readiness, according to Rep. Randy Forbes, R-Va.
Forbes, the chairman of an Armed Services subcommittee that oversees the Navy, is organizing the event – and is also locked in a re-election battle for the Virginia district that includes the base.
"Too often, hearing testimony is scrubbed by the White House before getting to Congress — we want unvarnished opinions and the farther we get from Washington the more candid the views are likely to be," Forbes said in a written statement to Stars and Stripes.
Armed Services and other House committees occasionally hold field hearings but the sworn testimony scheduled aboard the Eisenhower on May 23 appears to be unique, according to committee and congressional staff. The naval base is about three to four hours driving time south of Washington.
Forbes' Seapower subcommittee and the Armed Services Readiness subcommittee, led by chairman Rep. Rob Wittman, R-Va., were making plans Wednesday for the trip to Norfolk.
Four or five captains were expected but not yet confirmed to give testimony at the hearing, in addition to attendance by Adm. Phil Davidson, of Fleet Forces, Forbes' staff said. It was still unclear how many of the members will attend but staff believed it would be less than the 42 who sit on the subcommittees.
"The Navy's readiness and force structure shortfalls are real and dangerous," Forbes said. "We are seeing the shrinking fleet directly impact the readiness of our sailors. Fewer ships and growing threats mean longer deployments and greater strain on sailors and their families."
The subcommittee chairman has spearheaded a proposed House defense budget that adds $2.3 billion more into Navy shipbuilding programs than the Obama administration requested in its proposed budget. It would be the biggest spending since the end of the Cold War, Forbes said.
A bigger Navy has also become central to Forbes' re-election bid in southern Virginia where he faces State Delegate Scott Taylor in the Republican primary. Taylor is a former Navy SEAL and an Iraq war veteran.
His staff told Stars and Stripes that the upcoming hearing has no connection to the campaign and that the timing is meant to influence debate on Capitol Hill as lawmakers hammer out defense spending plans for the coming year.
In a recently released campaign video, Forbes is standing in front of a museum ship criticizing the Obama administration for a 272-ship fleet and "dismantling" the service.
The service has seen some signs of strain. It extended the USS Harry S. Truman carrier strike group's deployment in the Middle East this month despite a goal of sending sailors home after a seven-month tour. Last fall, the Navy withdrew a carrier from the region breaking a steady presence for the first time since 2007.
Navy Secretary Ray Mabus has said he focused on boosting shipbuilding from an average of five per year to 14 during his tenure under President Barack Obama and put the fleet on the path to reach 300 by 2020.
Forbes has said he wants 350 ships during his subcommittee hearings and in the campaign video.
Wittman, the Readiness subcommittee chairman, said the captains who will testify are watching a dwindling fleet and sailors who are suffering under the strain of less training and longer deployments.
"If Congress is to address the readiness obstacles that successive cuts in defense spending have caused, we need a clear, unadulterated view of what's really happening," Wittman said in a written statement to Stars and Stripes. "The testimony that these mid-level officers will offer is absolutely invaluable in that regard."
Rep. Joe Courtney of Connecticut, the top Democrat on Forbes' subcommittee, said he supports the trip to Norfolk because it will give lawmakers a more "holistic" view of complicated Navy issues.
"Having been to the Norfolk area twice to explore these issues myself, I know the value of talking to our Navy leaders and sailors in their own element," Courtney said is a statement released to Stars and Stripes.
tritten.travis@stripes.comTwitter: @Travis_Tritten
---
---
---
---