Lawmakers: Funding disruptions that fueled readiness crisis, deadly accidents must stop
by
Claudia Grisales
July 17, 2018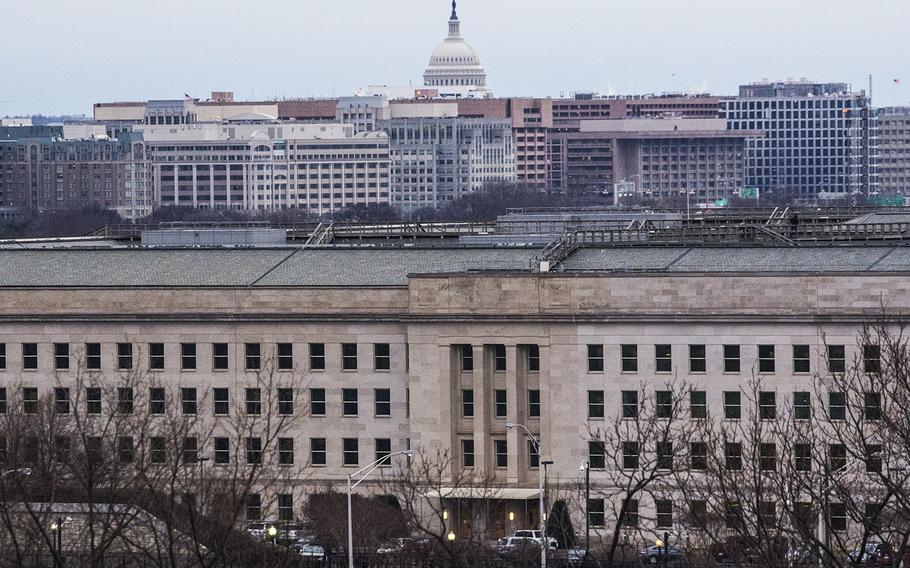 WASHINGTON — The House on Tuesday passed several legislative measures to draw attention to defense funding disruptions that some lawmakers contend have helped fuel a crisis in military readiness.
As two annual defense bills are negotiated by members of Congress, House lawmakers debated several resolutions that argued gaps in military spending, which resulted in nine temporary funding measures in recent years, have led to a rash of ship and aircraft crashes that killed dozens of servicemembers.
The sponsors, who were all Republican members of the House Armed Services Committee, hoped their resolutions would encourage Congress to stay on track passing this year's defense policy and spending plans, which are nearing the final stages of the congressional bill process. Unlike a legislative bill, a resolution is a non-binding measure and expresses a chamber's commitment on a particular issue.
"Failing to provide full, on time, stable funding increases the risk to our servicemembers and aids our adversaries," said Rep. Liz Cheney, R-Wyo., a key sponsor on one of the House resolutions considered Tuesday. "We must stop forcing our men and women in uniform to pay the price for our dysfunction."
In all, the House on Tuesday considered three House resolutions – H.Res. 995, H.Res. 998 and H.Res. 994 – that state the United States is facing its most complex and grave threats since World War II and a lack of funding puts servicemembers and national security at risk. More so, as a result of spending disruptions, readiness shortfalls face the Navy and Marine Corps. Next week, the lower chamber is slated to consider similar measures for the Army and Air Force.
Since the 2011 Budget Control Act, defense and non-defense funding has been held to budgetary caps in an attempt to rein in spending and address the climbing U.S. deficit. With that effort in place, lawmakers have looked at reduced spending for the military, and struggled to pass on-time budgets, resulting in a series of stopgap spending bills otherwise known as continuing resolutions.
"Continuing resolutions clearly harm our troops, and there have been far too many of them in recent years," Rep. Mac Thornberry, R-Texas, chairman of the House Armed Services Committee, said Tuesday, following passage of the resolutions. "The House has now voted to reject doing further damage this fall and to fully fund our military on time for the first time in a decade. To do anything less is a clear breach of faith with our troops and abdication of Congress's responsibility under the Constitution."
This year, Congress reached a two-year deal to lift the spending caps, which has sped up consideration of the defense policy and spending plans. The National Defense Authorization Act, which sets policy, is now in conference committee to hammer out House and Senate differences in their approved versions of the bill. The House passed its defense appropriations bill last month by a 359-49 vote, while the Senate has yet to vote on their measure.
Rep. Adam Smith, D-Wash., the ranking Democrat on the House Armed Services Committee, argued the Cheney resolution, H.Res. 995, was "100 percent accurate," though the funding problems are born of competing interests on Capitol Hill.
"We want a balanced budget. We want tax cuts. And we don't want to cut spending," Smith said. "And oh, by the way, we're roughly $22 trillion in debt and running up a deficit that is projected to go up over $1 trillion going forward."
Rep. Bradley Byrne, R-Ala., said the military has seen recent gains, which are critical as a great power competition with Russia and China rises as a concern.
"We have planes that can't fly, ships that can't sail and troops that can't deploy," Byrne said. "Over the last two years, members of the House Armed Services have fought tirelessly to ensure our military gets the level of funding they need, not only to fix our current readiness crisis but also to build up our force to a size to match the current threat environment."
grisales.claudia@stripes.com Twitter: @cgrisales