Lawmakers, advocates urge change after the killing of Spc. Vanessa Guillen
by
Nikki Wentling
July 21, 2020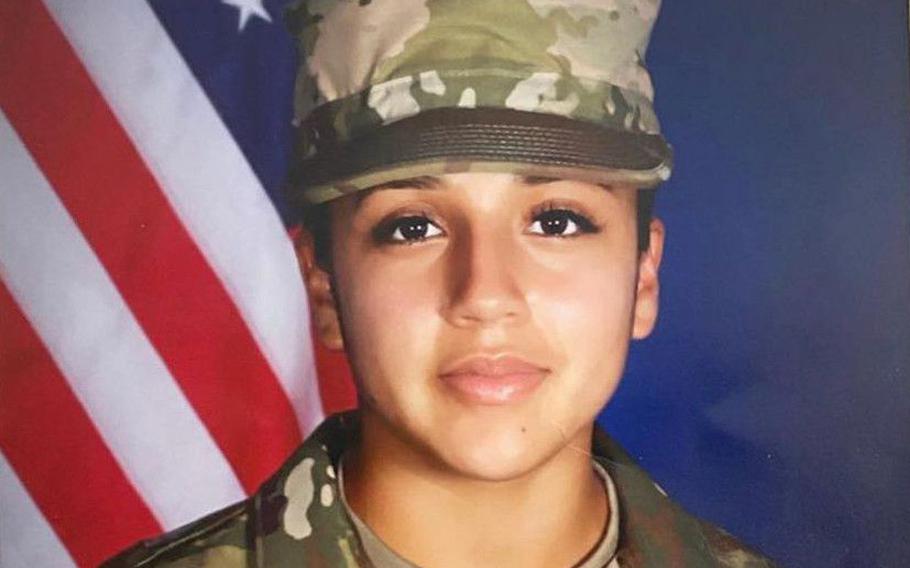 WASHINGTON — Lawmakers and advocates — all women — called for change Tuesday to the military's handling of sexual harassment and assaults and described the recent killing of a female soldier as a "watershed moment" and a "reckoning" against a scourge of sexual violence in the armed forces.
A dozen or so women gathered in front of the Capitol on Tuesday morning, many holding signs showing Spc. Vanessa Guillen against the backdrop of a Mexican flag. The signs read, "Ni una mas" and "Justicia for Vanessa." The hashtag #NiUnaMas, meaning "not one more woman dead," became a rallying cry in Mexico against the murder of women.
Guillen, a 20-year-old small arms repairer stationed at Fort Hood, was killed by another soldier April 22. She was reported missing in late April, and her remains were found more than two months later about 20 miles from the base. Guillen's family has said that she faced sexual harassment on base but was too afraid to report it.
"She felt so unsafe going to her command to make any kind of report… she knew she may receive harassment or retaliation," said Rep. Sylvia Garcia, D-Texas. "It's time we put a stop to this. This can never happen again."
Spc. Aaron Robinson, a fellow soldier, is believed to have killed Guillen with a hammer in an arms room, and then moved her body to a site along the Leon River. When confronted June 30 by local law enforcement in Killeen, Texas, Robinson shot himself in the head and died. A civilian suspect, Cecily Aguilar, 22, was being held without bail on three federal charges related to helping Robinson, her boyfriend, mutilate and hide Guillen's body.
Guillen's family criticized the Army Criminal Investigation Command for not responding fast enough to find Guillen. They've demanded a congressional investigation into what happened.
The gathering near the Capitol on Tuesday was the launch to what advocates called a "Justicia for Vanessa Day of Action." They encouraged female service members and veterans to use the hashtag #IamVanessaGuillen to continue sharing their own stories of sexual harassment and assault while serving in the military. A rally was planned for Tuesday afternoon in downtown Washington.
"Some have likened this movement surrounding Spc. Guillen's death as a 'Me Too' moment for the military, but I believe it's far bigger than this," said Rep. Julia Brownley, D-Calif., leader of the Women Veterans Task Force. "Now is when we say, 'Not one more' regarding the systemic sexual violence in our military. The culture of misogyny is killing service women and men alike."
Specifically, lawmakers and advocates want to change the chain of commands' involvement in investigating and prosecuting sex crimes in the military.
An amendment to the fiscal 2021 National Defense Authorization Act, which is being debated in Congress, would require the commandants of U.S. service academies to follow the recommendations of independent prosecutors in cases of sexual harassment and assault – removing those decisions from the chain of command. The measure is established as a four-year pilot program to test the idea of using independent prosecutors in these cases.
According to Pentagon data released in January, reports of sexual assaults at military academies were up 27% last year, reinforcing a disturbing trend at the elite institutions for the past few years.
Rep. Elaine Luria, D-Va., a graduate of the U.S. Naval Academy, opposed the pilot program when it appeared in last year's NDAA. This time, she'll vote for it, she said.
"I was part of the problem," Luria said Tuesday. "I feel like I need to be part of the solution. I believe in the chain of command, but we must do more. We must create an avenue to help women feel safe."
Advocates present Tuesday, including Melissa Bryant with the American Legion and Lindsay Church with Minority Veterans of America, called for more comprehensive legislation to remove commanders' influence and bias from sexual assault investigations.
"We stand here to demand change," Church said. "This all-too-familiar nightmare must stop. How many service members must die before we realize commands can't investigate themselves?"
The Guillen family and their attorney, Natalie Khawam, plan to create legislation that would establish an independent agency where service members could report sexual assault and harassment, rather than going through their chain of command. They plan to release details of the bill July 30, the day after the family is expected to meet with President Donald Trump at the White House.
Wentling.nikki@stripes.com Twitter: @nikkiwentling