Kaine implores senators to ensure measure stripping bases' Confederate names remains in NDAA
by
Corey Dickstein
July 28, 2020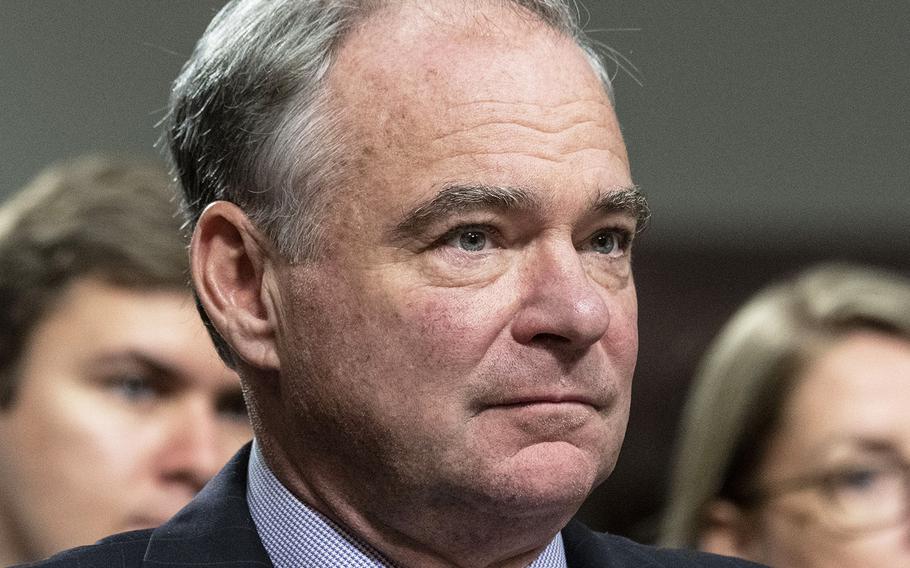 WASHINGTON — Sen. Tim Kaine on Tuesday urged other lawmakers not to cave to President Donald Trump's demands to remove a measure from the annual defense authorization bill that would strip the Confederate names from 10 Army posts.
The Virginia Democrat called the provision to rename those installations a negligible issue among others in the 2021 National Defense Authorization Act, versions of which were passed last week by overwhelming majorities in the Senate and the House. Kaine's plea came after Trump threatened a veto of the legislation, which sets annual Pentagon policy and spending priorities, and tweeted Sen. Jim Inhofe, R-Okla., assured him the base renaming measures would be stripped from the final version of the NDAA.
"We should not be playing 'Mother May I' with the president," Kaine said during a hearing of the Senate Armed Service Committee to examine nominees for two key four-star military commands. "We should do what we're going to do. And then we should let the president do what the president's going to do. But I don't think we should let a minor issue dominate and slow down this bill."
Kaine's appeal was echoed Tuesday by two other Democrats on the committee, Alabama's Sen. Doug Jones and Sen. Tammy Duckworth of Illinois. The trio pointed to critical measures in both versions of the bill aimed at improving U.S. national security, including a 3% pay boost for troops, growing the size of the military and investing in new ships, airplanes and other modern weapons.
Kaine did not solicit the opinions on the issue of either general who testified Tuesday. Those generals, Air Force Lt. Gen. Glen VanHerck and Army Lt. Gen. James Dickinson, received seemingly universal support from the committee and they are expected to be confirmed easily to serve as commanders of U.S. Northern Command and U.S. Space Command, respectively. Dickinson would be the first Army officer to lead the Pentagon's top space operations command.
The Senate and the House last week passed separate versions of the NDAA, both of which called for the renaming of the 10 southern Army posts named during the Jim Crow era of the early 1900s for Confederate generals from the Civil War. The Senate's version gives the Army three years to study the issue and change the names, while the House version would force name changes in one year. Both chambers passed their versions of the bill by more than a two-thirds majority, which would be needed by both legislative bodies to override a presidential veto. Negotiators from both chambers will now spend the coming months working to reconcile differences in their versions of the legislation.
Inhofe, chairman of the Senate Armed Service Committee, has repeatedly voiced his opposition to use legislation to force the Army to change the names of the installations in question. They are Camp Beauregard and Fort Polk in Louisiana; Fort Benning and Fort Gordon in Georgia; Fort Bragg in North Carolina; Fort A.P. Hill, Fort Lee and Fort Pickett in Virginia; Fort Rucker in Alabama, and Fort Hood in Texas.
On Tuesday, he defended his position, saying he agreed with Trump that efforts to strip the names equate to attempts to change U.S. history.
"Now, I was stationed many years ago in Fort Lee, Va.," said Inhofe, an Army veteran. "So, I have a little bit of personal background in that. I think there are a lot of people who just legitimately don't want to disregard the history of this country as it actually happened. And, that's a legitimate concern."
Trump argued last week that renaming those installations dishonored World War I and II veterans who trained at those posts before deploying overseas. He has said previously the installations would never be renamed while he was president.
But Duckworth offered her own take on the issue, having spent time at Fort Rucker, where she learned to fly helicopters.
"I love Fort Rucker [and] … I had some wonderful times there," said Duckworth, a retired Army lieutenant colonel who lost both of her legs while flying UH-60 Black Hawks in Iraq. "But I certainly did not appreciate being posted to a base named for a traitor who raised arms against our nation."
Jones said he saw renaming the posts — including Fort Rucker in his state — as a serious issue, which should remain in the final version of the bill, even if Trump's veto threat stands.
"If the president wants to continue to be on the wrong side of history on that point, then that's his prerogative," he said. "But this committee, as well as the Senate of the United States and the House of Representatives have decided they are going to be on the right side of history on this"
dickstein.corey@stripes.com Twitter: @CDicksteinDC