VIDEO
Japanese missile-defense unit to train at Yokota, local media say
---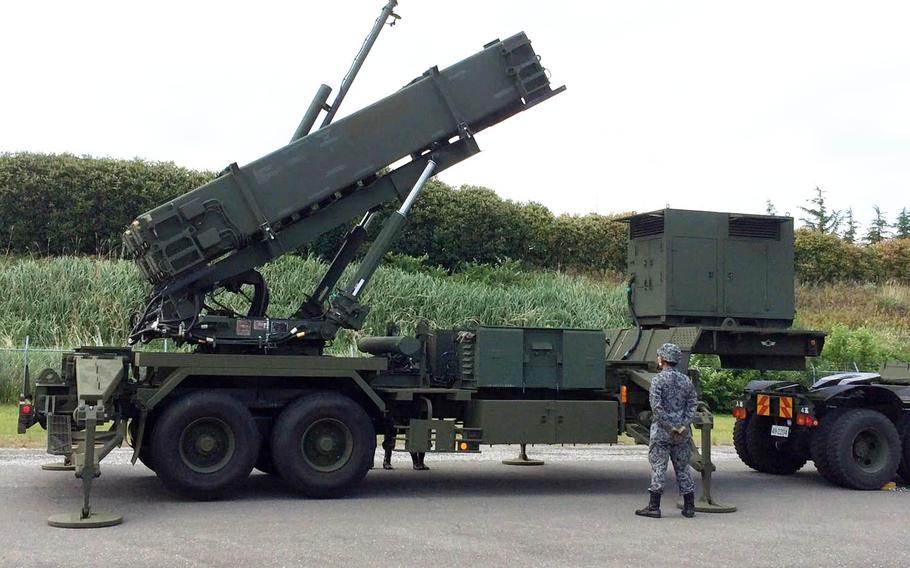 YOKOTA AIR BASE, Japan — A Japanese Patriot Advanced Capability-3 missile interceptor will deploy next month to the headquarters of U.S. Forces Japan and the 5th Air Force in Tokyo, Japanese media reports say.
Training with the PAC-3 will be part of efforts to counter North Korean missile threats, the Asahi Shimbun newspaper reported Thursday.
The nuclear-armed communist regime has conducted numerous missile tests this year that appear to be preparation for strikes on U.S. bases in the Western Pacific.
A spokesman for Japan's Defense Ministry said he could not confirm that the training would take place, and Air Force officials did not immediately respond to questions about it.
However, Asahi reported that the PAC-3 deployment is part of a series of measures agreed to at a Japan-U.S. summit meeting in May to "take concrete action" to improve defense against North Korea's nuclear and missile programs.
U.S. forces at Yokota work alongside Japan's Air Defense Command, which oversees the nation's air defense.
Japanese PAC-3 launchers are already positioned a few miles from Yokota at Iruma Air Base, headquarters of Japan's 1st Air Defense Missile Group. The group has about 600 airmen and an undisclosed number of launchers in the prefectures that surround Tokyo — Saitama, Chiba, Ibaraki and Kanagawa.
Last month, the group's commander, Col. Akira Ito, told Stars and Stripes his unit is responsible for protecting metropolitan Tokyo – an area that is home to 36 million people, including tens of thousands of American servicemembers, civilians and their family members.
U.S. facilities in or near the Japanese capital include Yokota; Camp Zama, headquarters of U.S. Army Japan and I Corps (forward); Naval Air Facility Atsugi, home to Carrier Air Wing 5; and Yokosuka Naval Base, homeport of the 7th Fleet.
The Yokota training will involve a Japan Air Self-Defense Force PAC3 launcher, radar and fire control system while procedures are briefed to Air Force personnel, Asahi reported.
Misawa Air Base, in northern Japan, was considered a training site but Japanese officials decided on Yokota to "show strong Japan-U.S. coordination and … intent for metropolitan air defense," the newspaper reported.
Stars and Stripes reporter Hana Kusumoto contributed to this report.
robson.seth@stripes.com Twitter: @SethRobson1
---
---
---
---