Iraqi pilot killed in F-16 fighter crash in Arizona
by
Chad Garland
September 6, 2017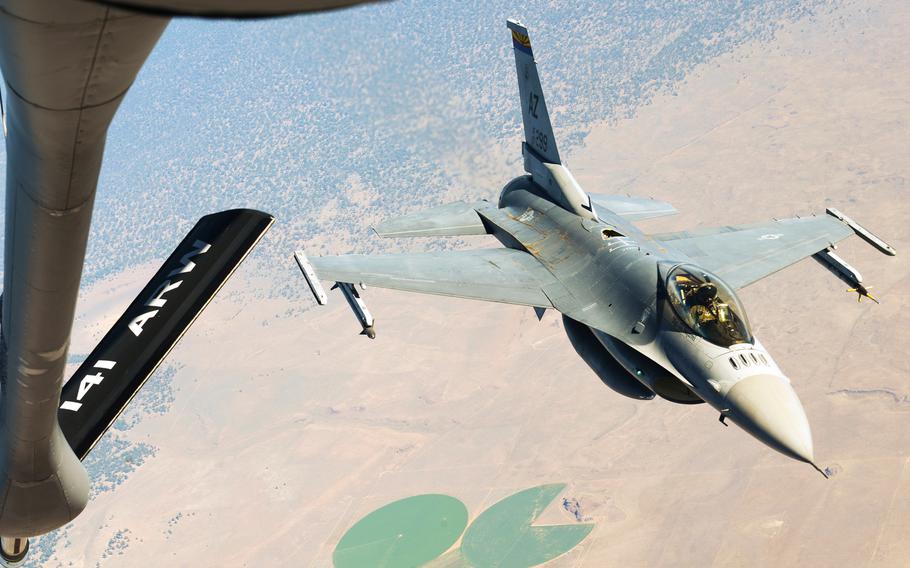 IRBIL, Iraq — The Iraqi air force on Wednesday identified a pilot killed in a training accident this week in the United States, where the U.S. military is training the country's pilots to take on Islamic State.
Maj. Noor Faleh Rassan Al-Khazali was killed when he crashed an F-16 he was piloting Tuesday afternoon in Arizona, the Iraqi military said in a statement.
"We express our deep sorrow over the loss of this hero," it said in a Facebook post that commended Khazali's commitment to the country and his successful completion of earlier pilot training courses.
The Iraq-owned fighter jet, based at the Arizona Air National Guard's 162nd Wing at the Tucson International Airport, crashed about 20 miles northwest of the town of Safford, Ariz., a wing spokeswoman said in a statement. The wing, one of the Air National Guard's largest with a fleet of more than 70 F-16s and nearly 1,500 personnel, is home to a program that has trained pilots from more than 25 countries flying the F-16, according to its fact sheet.
Iraqi pilots started training at the base in late 2012. The military did not immediately respond to questions about how many Iraqi pilots are currently training in the United States.
Khazali was conducting a routine training mission, 1st Lt. Lacey Roberts said. The U.S. Air Force has assembled a safety board to investigate the crash, which is the second involving an F-16 from the 162nd Wing and the third F-16 crash in Arizona since mid-2015. An Iraqi brigadier general was killed when his F-16 crashed during night training near Douglas, Ariz., in July 2015.
In late 2014, after the Islamic State captured swaths of territory in Iraq and Syria, the U.S. began delivering the first of 36 F-16s that Iraq had on order to the Tucson base instead of an Iraqi air base in Balad, located about 40 miles north of Baghdad, because of the looming ISIS threat there.
Now the group is losing ground as forces in Iraq and Syria continue to retake territory. The militants have lost more than 30,000 square miles in both countries where a U.S.-led coalition has supported local forces with thousands of air and artillery strikes, as well as training, equipment, intelligence and advice.
garland.chad@stripes.com Twitter: @chadgarland