Inquiry results into helicopter's show of force over DC protesters expected this week; Guard going home
by
Corey Dickstein
June 8, 2020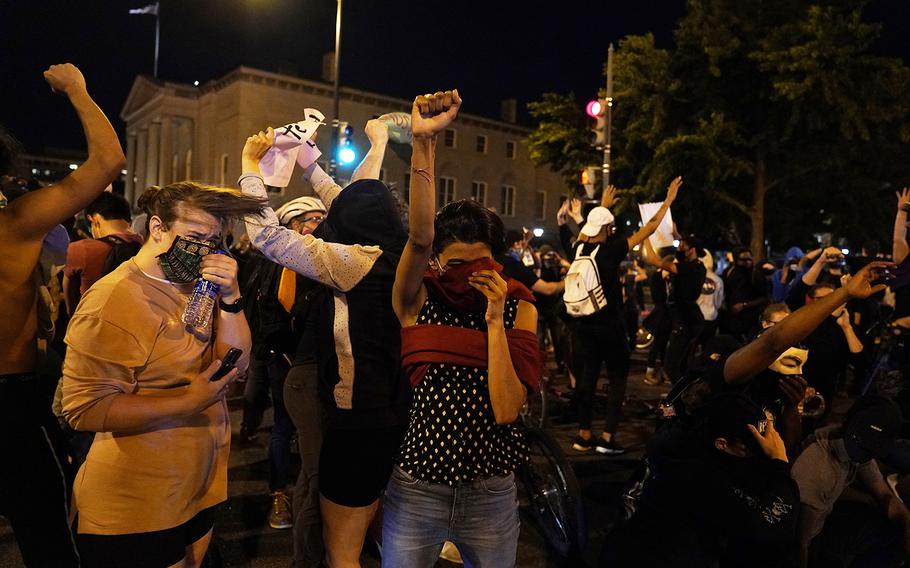 WASHINGTON — An investigation into the use of a D.C. National Guard helicopter over protesters Monday night in Washington could be completed this week as Guard troops from outside the city are sent home, the Army's top civilian said.
The UH-72 Lakota helicopter's low flight over demonstrators in a so-called show-of-force maneuver typically used to intimidate enemy fighters on battlefields was not authorized by top Pentagon officials, Army Secretary Ryan McCarthy told reporters on Sunday. The command investigation, known as a 15-6 inquiry, could be completed by midweek, he said.
"The utilization of helicopters was authorized by me to the National Guard to observe and report," McCarthy said, explaining he did not order the aircraft to fly aggressively. He declined to comment further on the incident until the inquiry was completed.
The investigation's findings could come after some 4,000 National Guard troops from at least 10 states leave Washington, where they were deployed last week to help law enforcement officials respond to protesters after some demonstrations grew violent. McCarthy on Sunday issued orders for those National Guard soldiers and airmen to return to their home states after large protests over police brutality and institutional racism on Saturday in the national capital were peaceful.
National Guard officials said about 2,700 Guard troops from outside D.C. remained in the city on Monday and all were expected to leave by Wednesday.
The influx of those troops from various states last week meant Pentagon officials did not have to move active-duty forces onto Washington's streets, an action at times championed by President Donald Trump, but which Defense Department leaders said they opposed. Nonetheless, the Pentagon massed some 1,600 active-duty troops, including about 700 infantrymen from the Army's 82nd Airborne Division, on the city's outskirts. McCarthy on Sunday told reporters that Pentagon leaders "came right up to the edge" of sending those troops into Washington. They have now all returned to their home installations of Fort Bragg, N.C., and Fort Drum, N.Y.
By Wednesday, only the nearly 1,300 soldiers and airmen of the D.C. National Guard will remain on duty in the national capital, officials said. It was unclear how long those local Guard troops would remain activated.
However, the pilots who were at the helm of the Lakota have been grounded since Wednesday, when the probe into their actions was launched. McCarthy said grounding those pilots was standard procedure during a 15-6 investigation.
Trump took to Twitter last week to defend the pilot's actions, video of which spread across social media showing the helicopter's rotors sending debris flying, breaking tree branches and demonstrators below it scattering.
"The problem is not the very talented, low-flying helicopter pilots wanting to save our city, the problem is the arsonists, looters, criminals, and anarchists, wanting to destroy it (and our Country)!" Trump tweeted Thursday.
The D.C. Guard's commanding general, Army Maj. Gen. William Walker, said the helicopters, which featured medical markings, had no orders to "disperse the crowd." Instead, they were under direction to fly over the crowds to "observe and report" on the makeup and temperament of demonstrators and provide medical evacuation capability, if needed, he said.
"As you know, that air space [over Washington] is restricted. So, who else could do it but us?" Walker said. "So, we have permission to fly all the way to ground level and land to pick up injured people. So that's why that Medevac aircraft was used. So, the investigation will confirm if it was proper use, but I had authority and it's on us to provide the answers."
Pentagon officials on Sunday said Walker, McCarthy and Gen. James McConville, the Army's chief of staff, were expected to answer lawmakers' questions this week about the military response to nation-wide protests sparked by the killing of a handcuffed black man, George Floyd, by a white Minneapolis police officer on May 25. The officer has since been fired and faces charges in the death, including second-degree murder.
But House Armed Services Committee leaders have said they want to hear directly from Defense Secretary Mark Esper and Army Gen. Mark Milley, the chairman of the Joint Chiefs of Staff. In a tweet on Friday, committee Democrats — including Chairman Adam Smith of Washington state — said Esper and Milley "refused to testify."
"This is unacceptable," the House Democrats wrote in an accompanying statement. "We insist that they appear before our committee. Our military leaders are sworn to be accountable to the people of this country, and Congress is constitutionally responsible for oversight. They must appear and testify on these crucial matters in order to meet that responsibility."
The Pentagon on Saturday, more than 24 hours after the House Democrats tweet, issued a statement that the Pentagon's top civilian and military officer had not "refused" to testify and were in discussions via their legislative affairs team with House Armed Services Committee leaders on the issue.
In the meantime, the Pentagon stated McCarthy, McConville and Walker would be made available to the committee. McCarthy said Sunday that he expected to speak with committee members Monday or Tuesday.
Staffers for the House Armed Services Committee did not immediately respond Monday to requests for comment on the status of a hearing or briefing with Pentagon leaders. The committee's schedule for the week did not include a hearing to consider the military response to the protests, as of early Monday afternoon.
McCarthy on Sunday said he could provide lawmakers with the answers that they were seeking.
"I think I'm in a good position to be able to explain a lot of these decisions, and [Maj.] Gen. Walker is the commander," the Army secretary said. "I think we're pretty well suited to explain our actions over the course of basically from Friday, the 29th [of May], to today."
dickstein.corey@stripes.com Twitter: @CDicksteinDC