Initial standards for the coming Army Combat Fitness Test are unveiled
by
Corey Dickstein
September 27, 2019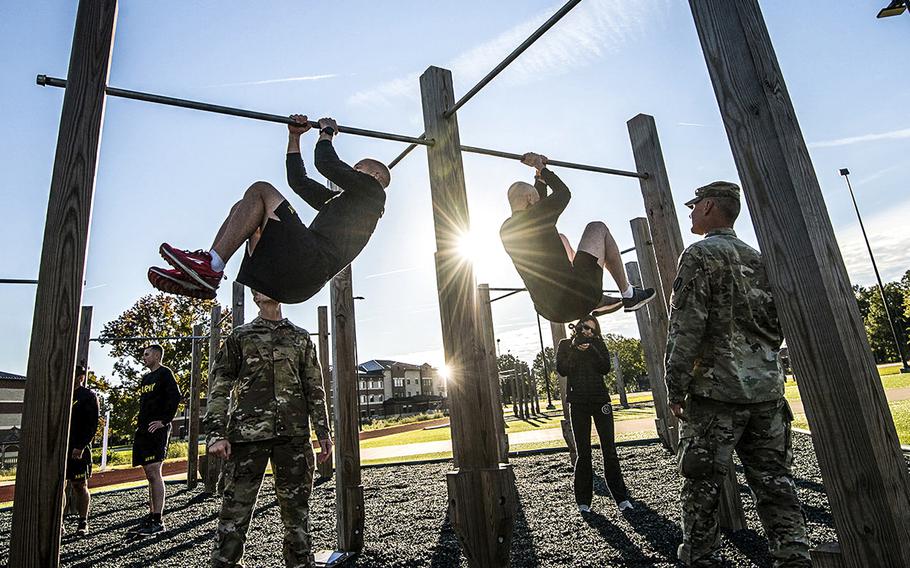 WASHINGTON — To ace the new Army Combat Fitness Test, a soldier would need to deadlift 340 pounds, launch a medicine ball 12.5 meters backwards, complete 60 hand-release pushups, finish the new sprint-drag-carry event in 1:33 minutes, execute 20 hanging leg tucks and run two miles in 13:30 minutes.
The Army on Friday revealed its initial sets of standards that soldiers must achieve to pass its new-age fitness test billed by service leadership as an age- and gender-neutral assessment of soldiers' ability to conduct physical activities that they would face in combat. The six-event test is slated to become the Army's official physical evaluation in October 2020.
After conducting testing at more than 60 battalions in recent months, Army leaders grouped military occupational specialties, or MOS, into three levels with different scoring requirements based on the typical physical demands of those jobs. They identified the groups of MOS by colors — gold for ones with "moderate physical demands," grey for ones with "significant physical demands," and black for ones with "heavy physical demands."
Soldiers with jobs in the gold category, which includes specialties such as dental, logistics and public affairs, are required to achieve a minimum score of 60 points in each event to pass. Sixty points are awarded for deadlifting 140 pounds, for reaching 4.5 meters on the standing power throw, for completing 10 hand-release pushups, for finishing the sprint-drag-carry in three minutes, for executing one leg tuck and for running two miles in 21 minutes, according to Army documents.
For soldiers with jobs in the grey category, which includes military policemen, combat medics and air crews, among others, the minimum requirement is a score of 65 points in each event. The Army will award 65 points for deadlifting 180 pounds, for reaching 6.5 meters on the standing power throw, for completing 20 hand-release pushups, for finishing the sprint-drag-carry in 2:30 minutes, for executing three leg tucks and for running two miles in 19 minutes, the service said.
Soldiers in black category jobs — such as infantrymen, artillerymen, tankers, Special Forces and combat engineers — will be required to score at least 70 points in each event. The Army will award 70 points for deadlifting 200 pounds, for reaching 8 meters on the standing power throw, for completing 30 hand-release pushups, for finishing the sprint-drag-carry in 2:10 minutes, for executing five leg tucks and for running two miles in 18 minutes, the documents show.
A perfect score is 600, which was first achieved last month by Maj. Timothy Cox in an unofficial test at Fort Bliss in Texas, according to the Army.
Senior officials have said the new test, which will be administered to recruits before they complete basic training starting in the coming months, will help ensure the Army is prepared for major combat operations against a near-peer competitor such as Russia or China.
They have stressed for several years that the current Army Physical Fitness Test of pushups, situps and a two-mile run is outdated and ineffectual at assessing a soldier's ability to perform his specific job. That test has been used since 1980.
"Physical fitness is fundamental to sustained Army readiness," Sgt. Maj. of the Army Michael A. Grinston, the service's top enlisted soldier, said Friday in a statement. "We must have highly trained, disciplined and physically fit soldiers capable of winning on any battlefield. The ACFT, specifically linked to common warfighting tasks, will help us assess and improve the individual readiness of the force."
The Army also unveiled Friday a modified version of the new test for soldiers with permanent profiles for physical issues and injuries. That test would still include the deadlift and the sprint-drag-carry and a third aerobic event — either the two-mile run, a 15,000 meter stationary bike ride, a 5,000 meter row, or a 1,000 meter swim, the service announced in a video.
Service officials have not yet determined point scales for the alternate aerobic events, according to the video.
In fiscal year 2020, which begins Tuesday, the entire Army will begin training specifically for the Army Combat Fitness Test and taking the new evaluation at least once, the Army said. Active-duty soldiers will take the test twice in fiscal year 2020, while National Guard and Reserve soldiers will each take it once. Their scores before October 2020 will not count as their official physical evaluation, Army officials said.
The Army said, based on feedback from those scores, it could adjust the scoring requirements for the ACFT before it is officially implemented at the beginning of fiscal year 2021.
dickstein.corey@stripes.com Twitter: @CDicksteinDC