In wake of Spc. Vanessa Guillen's killing, Army secretary pledges to listen and make changes
by
Rose L. Thayer
August 7, 2020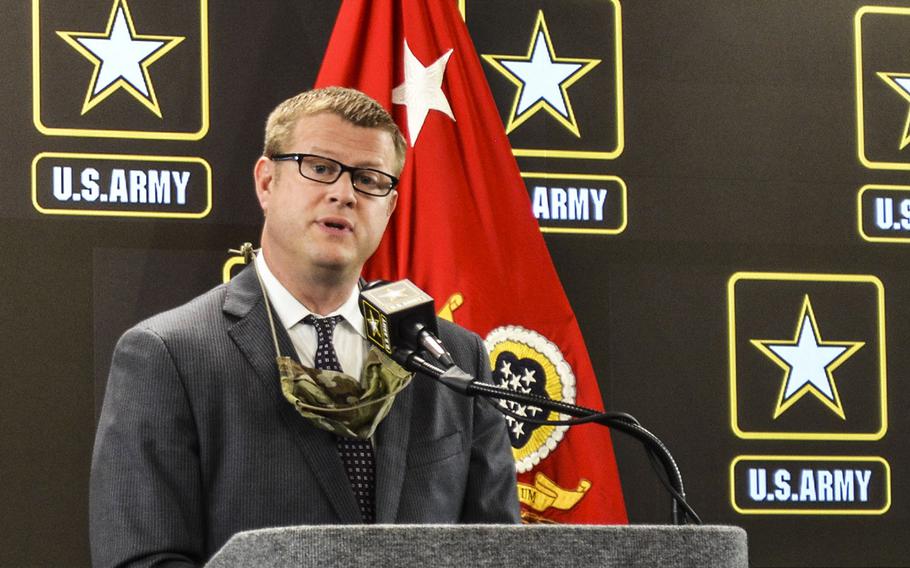 FORT HOOD, Texas – Army Secretary Ryan McCarthy said Thursday that his time spent with members of the Fort Hood community during the week will help determine the changes necessary throughout the service to ensure the recent, highly publicized killings and allegations of sexual harassment at the base do not continue.
McCarthy said the central Texas base has some of highest numbers of sexual assault, harassment and killings "for our entire formation in the U.S. Army," though he rejected calls from critics to shut down Fort Hood, citing the "amazing contributions of men and women" there. Instead, he plans to investigate to determine what is causing the problems and make changes.
"We are sitting down with a group of investigators to understand the root causes associated with the violence, the felonies and violent acts, but better understand why this is happening at this installation," McCarthy said during a news conference at the base's III Corps Headquarters. "The numbers are high here."
He also offered reforms related to missing person policies and to consider implementation of suggestions that could come from a number of ongoing investigations triggered by the disappearance and death of Spc. Vanessa Guillen at the base.
"Anger and frustration in a case like Vanessa's is necessary. I'm angry, frustrated and disappointed. We're heartbroken," McCarthy said. "We rely on these units to protect our way of life. We're going to do everything that we can to prevent these types of things from happening, to learn from this and to move on. But we will do everything we can to protect her legacy by making enduring changes."
Since March, five soldiers assigned to the base have been killed. Four of those occurred off base, but Guillen was killed during the workday in an arms room by fellow soldier Spc. Aaron Robinson, who later killed himself.
Guillen's family has said she faced sexual harassment within her unit, triggering a social media campaign of veterans and service members sharing their own stories of sexual harassment and assault. Many of the hundreds of veterans to speak out mentioned Fort Hood and said the system designed to protect and prosecute perpetrators failed them.
McCarthy said the Army is continuing to investigate any harassment Guillen experienced, though it's clear that her death has "ignited" questions about the program, as well as the challenges faced by soldiers who are a minority in the ranks either by race or gender.
McCarthy said he attended nine listening sessions during his two-day trip to Fort Hood, meeting with soldiers of various ranks as well as community and civic leaders from the surrounding cities, including area mayors, police departments, and organizations for the advancement of minority populations.
The Pentagon is now using "every resource" to root out bad actors from the ranks, he said. At least four investigations are ongoing at Fort Hood following Guillen's death. A command inquiry into Guillen's unit, the 3rd Cavalry Regiment, will review leadership, culture and implementation of the sexual harassment program.
Last month, McCarthy authorized an independent review panel to report to him on the command climate and culture of the base. The inspector general for Army Forces Command is examining Fort Hood's implementation of its sexual harassment and assault program. A criminal investigation also is ongoing and McCarthy declined to answer any questions Thursday related to that aspect of Guillen's case.
The way that the Army determines whether a soldier is absent without leave or legitimately missing is likely to change, McCarthy said. Last year, Pvt. Gregory Wedel-Morales went missing from Fort Hood and was listed as a deserter. His body was found in June in a field in Killeen, the city outside of Fort Hood's gates, and his death is now being investigated as a homicide.
Wedel-Morales's family had to fight to change the deserter designation after his remains were identified in order to bury the soldier at a veterans cemetery in his home state of Oklahoma.
"That is a topic of debate at the highest level for the last several weeks," McCarthy said. "I think we do have to take a very hard look at that. We may make a change later."
Off base, Killeen Mayor Jose Segarra said members of the community used their time with McCarthy to ask how Guillen's death could have been avoided, but also how to better engage with Fort Hood and show support for soldiers and the base.
"One event doesn't define the community," he said. "We all face similar challenges. People forget Fort Hood is a city itself. It doesn't have as many problems because it's more controlled, but it still has them. As a community, we continue to support Fort Hood."
Segarra said he provided a list of local organizations, many that focus on minority communities, that would like to improve their communication with the base. Base commanders, he said, pledged to try and host quarterly meetings with those organizations, as well larger, well-known groups such as the NAACP and the League of United Latin American Citizens.
thayer.rose@stripes.com Twitter: @Rose_Lori
---
---
---