In unanimous vote, Senate confirms Shulkin as VA Secretary
---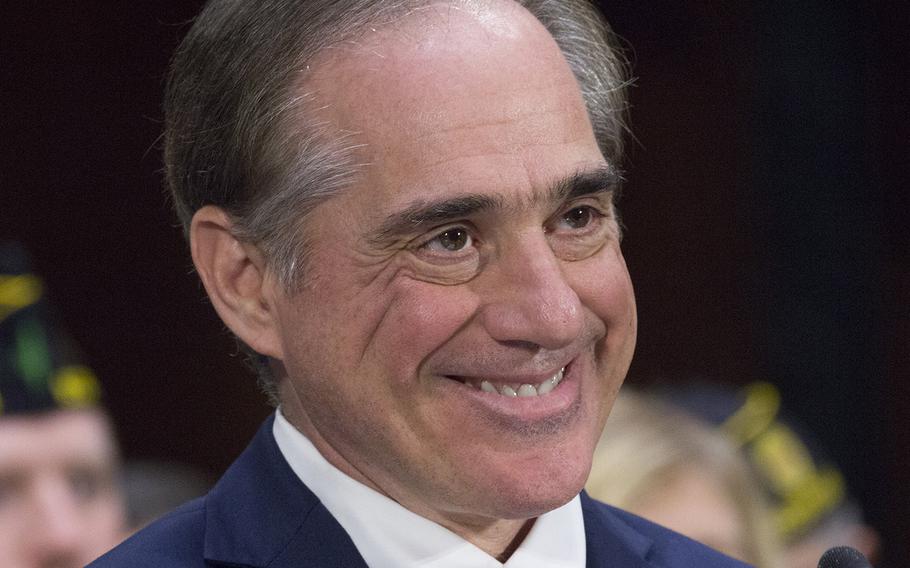 WASHINGTON – In a unanimous vote Monday night, the Senate confirmed David Shulkin as the next secretary of the Department of Veterans Affairs, making him the most easily confirmed of all President Donald Trump's Cabinet nominees.
Shulkin – the first person without military service to run the VA -- was expected to be sworn in Tuesday afternoon. In contrast to many of Trump's Cabinet appointments who faced contested nominations from Democrats, the Senate voted 100-0 to confirm Shulkin after only five minutes of debate.
In a brief speech before the vote, Sen. Jon Tester of Montana, the top Democrat on the Senate Veterans' Affairs Committee, urged other Democrats to support Shulkin. He cited Shulkin's opposition to privatizing the department – an idea that garnered strong objections from Democrats and some veterans organizations.
"The solutions to the VA should be based on common sense rather than partisanship or an extreme agenda, and I think Dr. Shulkin recognizes that," Tester said. "He has assured me he would oppose efforts to privatize the VA. The administration has talked about this extensively, and it's a path that is reckless for our veterans."
Shulkin, 57, also experienced an amiable confirmation hearing Feb. 1 and a quick, unanimous approval from the Senate Veterans' Affairs Committee on Feb. 7.
Shulkin, a physician, previously worked as VA undersecretary for health and oversaw the country's largest health care system, which comprises 1,700 facilities. President Barack Obama appointed him to that position in 2015.
Now in the VA's top spot, he'll take over leadership of its approximately 370,000 employees and an annual budget of nearly $180 billion.
Shulkin's confirmation faced little resistance and drew praise from many veterans groups.
"Veterans are very fortunate to have Dr. Shulkin voluntarily stay in what has evolved into the most scrutinized and criticized position in the country," Brian Duffy, national commander of Veterans of Foreign Wars, said in a prepared statement. "What he brings to the job is… knowing what needs to be done to fix what's broken, to hold employees accountable and to restore the faith of veterans in their VA."
Paul Rieckhoff, founder of Iraq and Afghanistan Veterans of America, said Shulkin is not new to the VA, and veterans expect change immediately.
"We are happy to see such overwhelming, bipartisan support," Rieckhoff said in a written statement. "[B]ut now, the hard work for Shulkin and the president begins. Dr. Shulkin knows the VA and should not require time to learn. We expect and deserve to see results right away."
IAVA has said much of their membership feels "lukewarm" about someone without military service running the VA.
During his confirmation hearing, Shulkin tried to ease any concerns about his lack of military service. He listed his ties to the military, including his father serving as an Army psychiatrist and his grandfather – also an Army veteran -- working as a pharmacist at the VA hospital in Madison, Wisconsin.
"Our country's sacred obligation to fully honor our commitments to our veterans is deeply personal to me," he said.
Dan Caldwell, policy director for Concerned Veterans for America -- a conservative-leaning advocacy group – said he wished Shulkin would've been given more opportunity to outline his plans for VA reform before being confirmed. CVA has pushed for changes to how the VA operates, including significantly expanding a veteran's choice to receive health care in the private market.
"He didn't have the chance during his hearing to really fully expand upon his vision for what VA choice looks like going forward. That's not really his fault, but it's something we'd like to hear more of," Caldwell said. "We're optimistic. The president made clear he wants to go forward with his VA reform plan, and we don't think he would've chosen Dr. Shulkin if he wasn't supportive of implementing that."
Rep. Phil Roe, R-Tenn., chairman of the House Committee on Veterans' Affairs, said he would meet with Shulkin later this week to discuss VA reform.
"As chairman of the House Committee on Veterans' Affairs, I am committed to bringing accountability and reform to the department, and I know incoming Secretary Shulkin is as well," Roe said in a written statement.
As undersecretary of health, Shulkin implemented the Veterans Choice Program, which allows eligible veterans to seek care in the private sector. Some veterans have complained the program is difficult to navigate, and outside providers are fighting to receive timely payments from the VA.
Shulkin has vowed to reform the program, though he says it's improved over time.
He also deflected concerns the VA would become privatized in the Trump administration, saying that would not happen "under my watch."
Before the vote Monday, Sen. Johnny Isakson, R-Ga., chairman of the Senate Veterans' Affairs Committee, said: "We don't want to privatize the VA."
"We don't want to reorganize the VA. We want to make the VA work," he added.
As of Tuesday, Shulkin had yet to name a deputy secretary – a position that includes directing department policy and operations. Sloan Gibson served as deputy secretary under former VA Secretary Bob McDonald.
Wentling.nikki@stripes.com Twitter: @nikkiwentling
---
---
---
---