In 'happy ending' for family, Marine's Medal of Honor returns home to Minnesota
by
Matthew M. Burke
May 22, 2019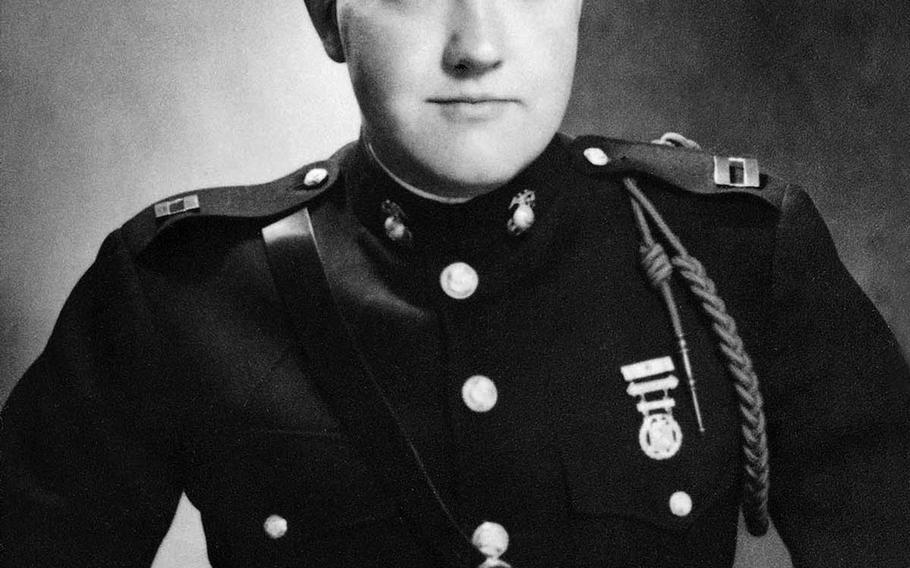 CAMP FOSTER, Okinawa — A Pennsylvania nonprofit dedicated to educating Americans about citizenship and community service has fulfilled a family's wishes and shipped a Marine hero's Medal of Honor home for display.
The medal — earned by Maj. Henry Courtney Jr. on the bloody slopes of Okinawa's Sugar Loaf Hill — arrived in Courtney's hometown of Duluth, Minn., by secure courier shortly before it was announced May 15, according to a statement by the St. Louis County Historical Society and members of Courtney's family.
The society's Veterans Memorial Hall museum will house the award. The medal was loaned to the society by the Valley Forge-based Freedoms Foundation following a request by Courtney's descendants.
The medal for now is in a secure vault, Courtney's nephew Court Storey, who was named for the Medal of Honor recipient, wrote in an email to Stars and Stripes. An installation ceremony and public reception is scheduled May 29 to officially place the medal in the museum gallery.
"Our family is very pleased," Storey said. "We are pleased and gratified that the [Freedoms Foundation] has worked with us to allow the Courtney [Medal of Honor] to return and be displayed in Henry Courtney's home town of Duluth where he was born and raised, where his family lived and was part of the community for more than a half century, where he and his parents are buried, and where his story will continue to be told."
The medal's journey to Veterans Memorial Hall Gallery has been a long one.
Courtney was awarded the Medal of Honor posthumously after leading a daring assault on Sugar Loaf Hill on the night of May 14, 1945, telling his Marines, "I'm going up Sugar Loaf Hill. Who's going with me?" Every man in his charge rose and followed.
An attorney before the war and a Marine reservist, he was killed by Japanese mortar fire after a vicious close-quarters fight, but not before his Marines had inflicted heavy casualties, which ultimately led to taking the strategic position days later.
The medal was accepted by Courtney's parents on Dec. 30, 1947, the historical society's statement said.
It remained under the care of Courtney's family until 1980, when it was gifted to the Freedoms Foundation by his sister Elizabeth Bean, under the condition that Courtney's story be told in a meaningful way.
The family later discovered the foundation had no display honoring Courtney, his story was not being discussed and his medal was kept locked away in a vault with several others.
In 2013, historical society officials in Duluth put on the first of several events honoring Courtney, which have included an exhibit at the memorial hall. Retired Marine Capt. Mike Stainbrook, a Duluth resident, contacted the family on behalf of the society and expressed interest in displaying the medal at the hall's museum.
In November 2015, Storey and seven other Courtney nieces and nephews wrote to the foundation asking that ownership of the medal be transferred to the Duluth museum. The foundation's board of directors balked at first, saying they wanted to honor Bean's intent with her gift.
Stainbrook and Courtney's descendants vowed to see Courtney's medal displayed in his hometown. They wrote letters and rallied support from the public, veterans and members of the U.S. military stationed at home and abroad.
The Veterans Memorial Hall Gallery underwent a $75,000 renovation in 2016 to make housing items like the medal possible, historical society officials said previously. The renovations included increased security for the Medal of Honor display in a section called "Medal of Honor Row," which features exhibits on Duluth Medal of Honor recipients.
A replica of Courtney's medal was installed Nov. 12.
In February, following articles in Stars and Stripes, local publications and an ensuing letter writing campaign, the Freedoms Foundation acquiesced, voting to loan the medal.
The loan agreement is long-term and will be reassessed at various pre-arranged intervals, Storey said. It can be canceled should either party become insolvent or break its stipulations.
Stainbrook said they could not have brought the medal home to Duluth without their vocal supporters, especially those stationed at Marine base Camp Courtney on Okinawa, which was named in honor of Courtney.
"I would very much like to express my sincere gratitude to all of those who took an interest in returning Major Courtney's medal home and supported us in this cause," Stainbrook said. "Thank you all for being a part of bringing a happy ending to this story."
The May 29 ceremony will feature a historian to provide context on the Battle of Okinawa, the society's statement said.
A dinner program honoring all five of northeastern Minnesota's Medal of Honor recipients is scheduled for Nov. 15 and will feature a speech by retired assistant commandant of the Marine Corps Gen. Richard Neal.
—
---
---
---
---