Immigration policies make attaining citizenship arduous, deterring military recruits, lawyer claims
by
Caitlin M. Kenney
November 1, 2019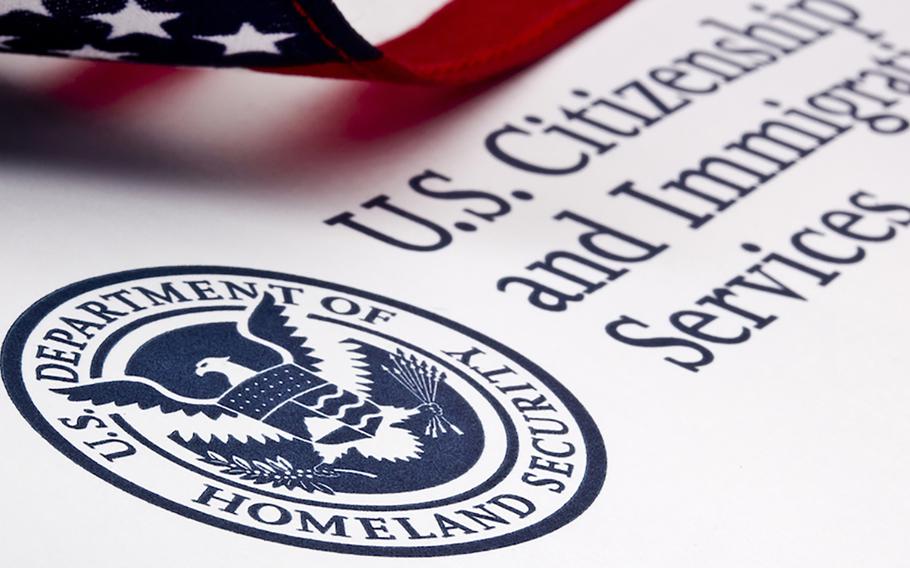 WASHINGTON — Policy changes by the Defense Department during the last few years have made the process of applying for U.S. citizenship more arduous for service members than civilians, and it's deterring people from enlisting, an immigration attorney told House lawmakers.
Margaret Stock, an immigration attorney and retired lieutenant colonel from the Army Reserve, testified at a hearing about her experience working with service members who have struggled to gain citizenship under Defense Department immigration policies.
"The new policies do not make our country safer. They harm military recruiting, they hurt military readiness and they prevent the United States armed forces from utilizing talented immigrants," Stock said Tuesday at a hearing by the Judiciary Committee subpanel on immigration and citizenship.
The hearing followed recent work by Congress to address a new U.S. Citizenship and Immigration Services policy, which went into effect Tuesday, that changed how military children who did not acquire citizenship at birth or while living in America could gain citizenship while living abroad with a U.S. citizen parent.
Bipartisan bills introduced in the House and Senate last week attempt to help these military children acquire citizenship automatically. One of the bills was introduced by Reps. Jerry Nadler, D-N.Y., chairman of the Judiciary Committee, and Doug Collins, R-Ga., the committee's ranking member.
Service members and veterans can be eligible for expedited process to gain American citizenship during times of conflict, according to USCIS. A U.S. Citizenship and Immigration Services program had immigration offices at boot camps and allowed recruits to file for naturalization when they reported for training, according to Stock. Last year, the program ended because of a 2017 Defense Department memorandum that stated service members must serve for at least 180 days before they can apply for expedited citizenship, a period that is longer than their time in training.
Three years ago, service members could take USCIS Form N-426, "Request for Certification of Military or Naval Service," to their local personnel office to be signed in a matter of minutes, Stock said. The form states the service member is serving honorably and it is required for the expedited process. Now, DoD policy states they must find an officer at the rank of O-6, such as a colonel in the Army, willing to sign the form, which can take months and some service members never get an answer on their naturalization paperwork, Stock said.
"It sends a terrible message," she said about the form process. "It's one of the reasons why a lot of [lawful permanent residents] are now contacting me and telling me they've decided not to join the military."
Nadler said the changes from the 2017 DoD policy "are unnecessary and cruel."
"They serve no purpose but to make it harder for individuals serving our country to become citizens," he said during the hearing. "And they've had a measurable impact. The total number of military authorizations declined 44% from 7,360 in fiscal year 2017 to just 4,135 in fiscal year 2018."
Rep. Ken Buck, R-Colo., disagreed.
"This policy is a reasonable requirement to ensure an informed determination that the service member has served honorably as required by statute," he said.
Immigration lawyers are telling green card holders "not to join the military because it will make their naturalization process more difficult," Stock said. "There is no more expedited military naturalization. Today, it takes much longer for a military member to naturalize than his or her civilian counterpart. And a military member's application is much more likely to be denied."
The Pentagon would not comment this week about the hearing discussion on Defense Department immigration policies.
Veterans who do not complete the naturalization process during their military service and find themselves in legal trouble after they transition out could face deportation.
Hector Barajas-Varela, another witness at the hearing, was honorably discharged from the Army in 2001. He struggled after the military and served time for shooting at a car. He was deported in 2004 but reentered the United States illegally and was deported a second time in 2010 for a traffic incident.
From Tijuana, Mexico, Barajas-Varela not only fought his deportation case but also helped other deported veterans after he founded the Deported Veterans Support House in 2013. In 2018, he was pardoned by California Gov. Jerry Brown and naturalized as a U.S. citizen due to his eligibility from his military service, he said during the hearing.
Barajas-Varela repeatedly recommended to the committee that there should be a program in place that essentially walks the service member through the process of applying for citizenship and explains what forms are necessary.
"Being a veteran does not mean that you get a free pass and never have to pay the consequences for your actions," he said Tuesday. "At the same time, it does not make sense to me to deport our veterans after they have completed their sentence and paid for their actions. For veterans, deportation is a double punishment."
kenney.caitlin@stripes.com Twitter: @caitlinmkenney