Ignoring caps, Obama proposes big boost in defense spending
by
Jon Harper
February 2, 2015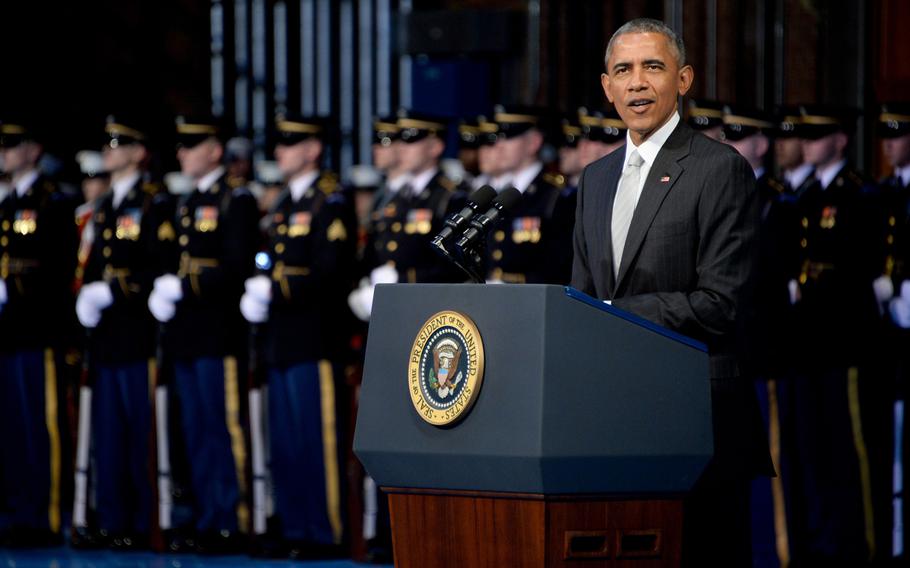 WASHINGTON — President Barack Obama is asking Congress for $585.3 billion in defense spending for fiscal 2016, but doubts remain about whether actual Pentagon funding will come close to that level.
The president's budget request, released Monday, seeks $534.3 billion in base funding for the military, plus $50.9 billion in war funding and other supplemental programs. If enacted, base funding would jump $38.2 billion — nearly 8 percent — while war funding would drop $13.3 billion — about 21 percent — relative to fiscal 2015 levels.
But unless Congress changes the law and lifts spending caps, known as "sequestration," DOD will only receive about $499 billion in base funding for fiscal 2016.
War funding, which the Pentagon refers to as "Overseas Contingency Operations" or "OCO", is not subject to sequestration caps.
Speaker of the House John Boehner, R-Ohio, called the budget more of the same from Obama, criticizing plans for "more taxes, more spending" and more "Washington gridlock."
"Like the president's previous budgets, this plan never balances – ever," he said in a written statement. "While the president's budget is about the past, our budget will be about the future. We will address our government's spending problem and protect our national security."
Rep. Hal Rogers, chairman of the House Appropriations Committee, said the White House proposed tax increases "and other budget gimmicks" knowing full well that they "will never be enacted into law."
"We need a real budget, one that allows responsible investment in critical federal programs – including our national defense – without breaking the bank and pushing our country further into deficits and debt," he said.
Under the White House proposal, the base budget pie would be divvied up among the services: $126.5 billion for the Army, $137 billion for the Navy, $24 billion for the Marine Corps, and $152.9 billion for the Air Force. The other $94.0 billion would fund DOD-wide programs and activities.
There would be a reduction of 11,300 in total force military end strength from current levels. The Army would lose 15,000 active duty soldiers, Air Force and Navy active duty components would see modest increases in troop numbers, and Marine Corps active duty end strength would remain about the same.
Modernization programs would receive $177.5 billion across the department, including about $11 billion for the Joint Strike Fighter, the Pentagon's most expensive acquisition program.
Lifting sequestration would require a budget deal between the White House and a Republican-controlled Congress. The two parties have been at loggerheads since Obama took office in 2009, and many political observers are skeptical that a deal can be reached. While GOP leaders generally support giving DOD budget relief, they are opposed to Obama's proposal to remove budget caps on domestic programs. Obama and other Democratic leaders have suggested that they would oppose efforts to cut domestic programs to pay for higher defense spending.
There "seems to be a broad consensus in both chambers and in the executive [branch] that defense spending, as it has been the last couple years, is too low, given the global threat environment," Kathleen Hicks, a defense analyst at the Center for Strategic and International Studies, told reporters last week. "Tradeoffs between defense and nondefense discretionary spending … will really be the big questions, because that's what's going to be required to increase defense spending above the sequester caps."
In a press release put out Monday, the Pentagon warned that "a return to sequester-level funding would be irresponsible and dangerous, resulting in a force too small and ill-equipped to respond to the full range of potential threats to the nation."
The war funding request remains high, despite the fact that U.S. troop levels in Afghanistan have been slashed to approximately 10,000. The $50.9 billion of proposed OCO money would go toward the ongoing train and assist mission in Afghanistan; training and equipping forces battling the Islamic State group in Iraq and Syria; a Counterterrorism Partnerships Fund; a European Reassurance Initiative to address NATO allies' concerns about Russian activities in Easter Europe; and other programs.
Politically sensitive cost-saving proposals include:
Curbing the growth in personnel costs, including military pay and benefits.
Retiring older weapon systems, such as the A-10 Thunderbolt aircraft.
Eliminating excess infrastructure and facilities, including a request to initiate a new round of Base Realignment and Closure, also known as BRAC, in fiscal 2017.
harper.jon@stripes.com Twitter: @JHarperStripes