Idaho Guard pilots killed in Black Hawk crash were experienced aviators, fathers
by
Corey Dickstein
February 4, 2021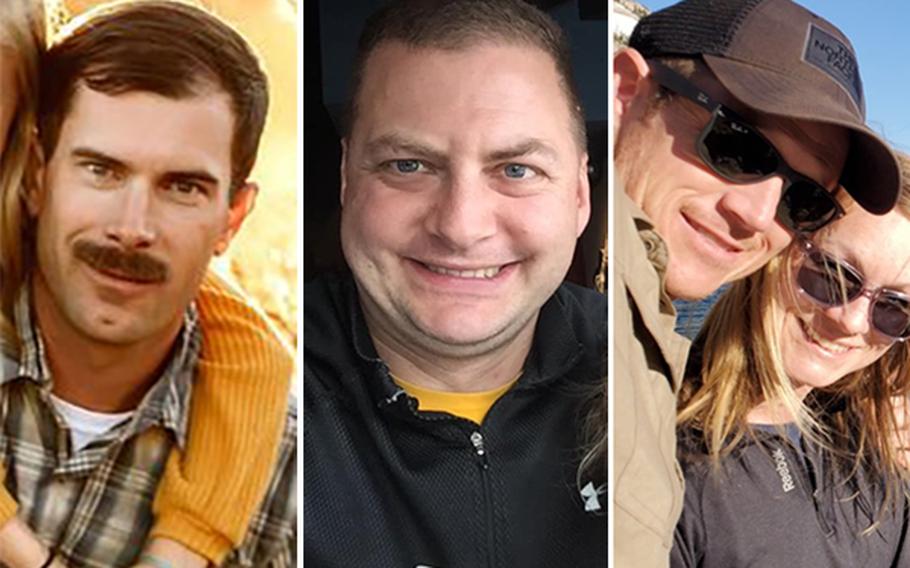 WASHINGTON — The three Idaho Army National Guard pilots killed when their Black Hawk helicopter crashed during a training flight just outside Boise were all seasoned warrant officers and fathers, Guard officials said Thursday.
The Idaho National Guard identified the pilots as Chief Warrant Officer 4 Jesse Anderson, 43; Chief Warrant Officer 3 George "Geoff" Laubhan, 39; and Chief Warrant Officer 3 Matthew Peltzer, 43. Anderson and Laubhan were from Boise, and Peltzer was from Nampa, just west of Idaho's capital, the Guard said.
Idaho Guard officials said Wednesday that the three had signaled about 7:45 p.m. local time Tuesday that they were returning to their Boise base after completing a routine training flight in the mountains near Lucky Peak State Park. Just 15 minutes later Idaho Guard officials were alerted the UH-60 Black Hawk's emergency signal had been activated.
There was no mayday call or other indication of a problem from the pilots, said Army Lt. Col. Nicole Washington, who commands the Idaho Guard's 1st Battalion, 183rd Aviation Regiment.
Guard officials quickly launched a rescue effort. Just after midnight, crews found the wrecked helicopter and the remains of the three pilots just south of Lucky Peak State Park, officials said.
Washington said Wednesday that there was snow falling at the time of the incident, but she said she could not confirm it caused the wreck. Army aviation officials Thursday began an investigation into the crash, the second fatal wreck of a National Guard Black Hawk in recent weeks. A New York Army National Guard UH-60 crashed Jan. 20 near Rochester, also killing all three pilots conducting a training flight.
Anderson was a senior instructor pilot for the Idaho Guard, meaning he was charged with training other instructors. He had served in the Idaho Guard since 2008 and is survived by his wife and four children, the Guard said.
Laubhan was an instructor pilot who had flown with the Idaho Guard since 2010, officials said. He is survived by his wife and two children.
Peltzer had served in the Idaho Guard since 2005, officials said. He is survived by his wife and two children.
"The sudden and tragic loss of three of our fellow guardsmen is extremely heartbreaking to every member of our Idaho National Guard family," said Maj. Gen. Michael Garshak, adjutant general of Idaho and commander of the Idaho National Guard.
Their loss was "extremely heartbreaking" to the entire Idaho National Guard, Garshak said.
"I have received numerous messages of condolence from many people here in Idaho and throughout the nation, and all of your thoughts, prayers and support are sincerely appreciated and much needed," he said in a statement. "It is very comforting, at such a challenging time, to have the care and support of so many."
Idaho Gov. Brad Little on Wednesday ordered flags throughout the state to fly at half-staff after the crash.
"Our hearts are heavy today as we mourn the loss of three brave and talented pilots killed during the service of our state and nation," Little said. "Their tragic deaths leave an emptiness in the lives of their families and loved ones."
dickstein.corey@stripes.com Twitter: @CDicksteinDC