'I have a sense of purpose': How service dogs help veterans cope with PTSD
by
Steve Beynon
January 29, 2020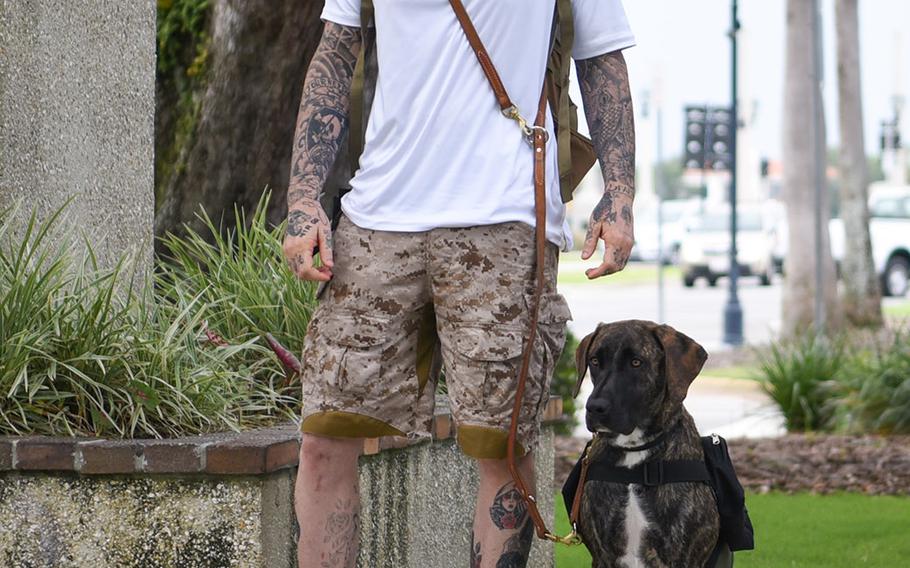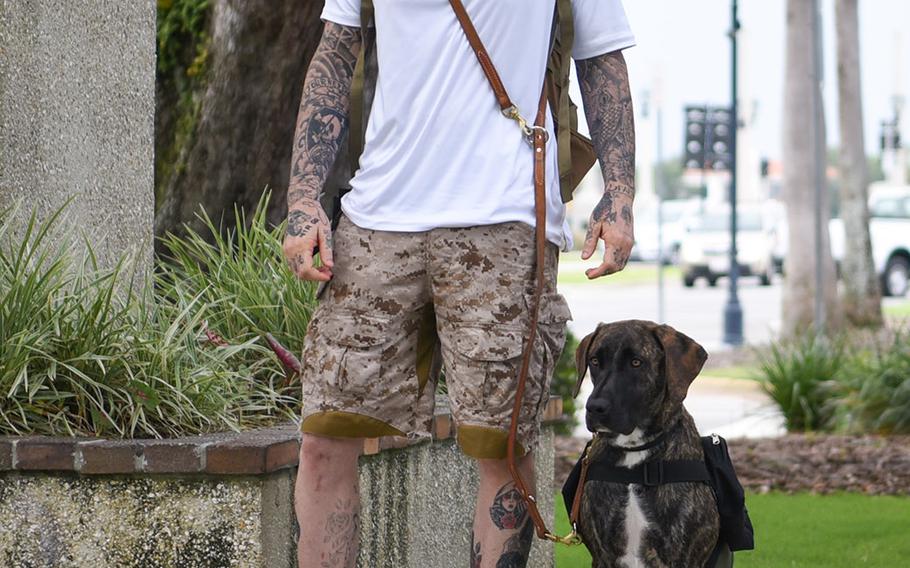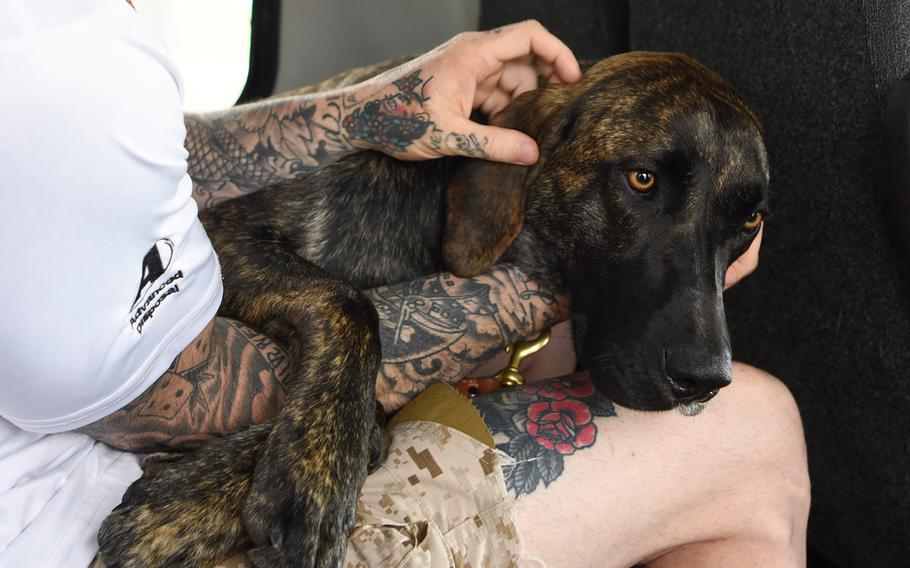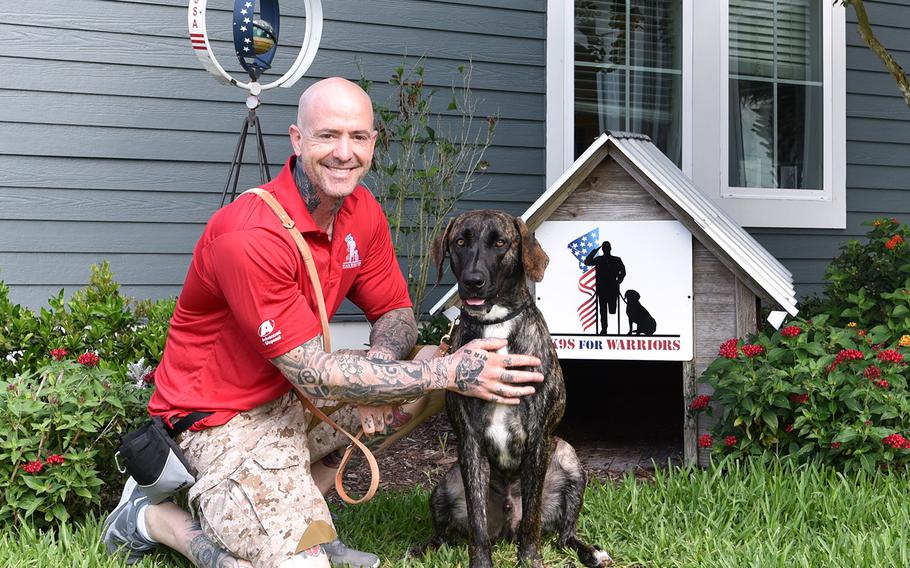 WASHINGTON — Damian Jungermann knows what it's like to experience severely dark moments after multiple combat tours overseas. But he said Shai — a mixed-breed Plott Hound — has been a critical part of his recovery from post-traumatic stress disorder since they met last year.
"When I returned from Afghanistan, I was diagnosed with PTSD and traumatic brain injuries. I wanted to stay in my apartment away from everyone, but now with Shai I'm engaging in the world more. I'm going to the park and sleeping better. Shai has given me a quality of life that I had lost."
Jungermann, 45, was a Naval Explosive Ordnance Disposal Technician and served three deployments to Afghanistan, sometimes working with special operations units such as SEAL Team 3 and 5 and the Third and Seventh Special Forces groups. EOD troops are responsible for disarming and safely removing improvised explosive devices, which are responsible for the majority of combat deaths since 9/11.
"I had issues, but I didn't really know I had issues," he said. "I had huge rage problems, I picked up a grocery cart and threw it and thought it was OK. I wasn't a drinker, but I was super impulsive."
Jungermann medically retired from the military due to his PTSD and TBI as a chief petty officer. While he was still serving, he said he was initially afraid of seeking counseling because of the stigma that can come with it. A 2015 study from the Defense Department, the most recent data, found 35 percent of service members indicated that seeking mental health treatment is damaging to their military career, which makes it a top reason for not seeking care. However, there's little evidence backing those concerns.
But Jungermann finally sought treatment after being implored to do so by a fellow veteran who also sought mental health care.
"There was an officer in my last platoon that did the same number of deployments I had and lost a few partners, and he acknowledged that he had some problems and started going to counseling. He told me I really had to go. The psychologist has been life changing."
During Jungermann's treatment, a friend recommended a service dog, touting the benefits they can provide veterans.
"He said it helped him sleep for the first time and that was something I was having a hard time with," Jungermann said.
Jungermann got Shai, now almost two years old, through K9s For Warriors, one of several groups that train and provide service dogs to veterans. According to a spokeswoman for the nonprofit, all the dogs are rescues and tend to be mixed breeds. However, they occasionally train purebred poodles or doodles for allergy-sensitive veterans.
"We always say that the dogs and warriors rescue each other," said Alana Dole, who works with K9s For Warriors, which has provided more than 600 dogs to veterans. "There are literally thousands of perfect service dog candidates sitting in shelters across the country, hoping for a chance at a better life. Part of our mission is to rescue them to give both the veteran and dog a new 'leash' on life. Furthermore, our veterans are able to bond with shelter dogs more, knowing they both share a painful or trauma-filled past."
Recent studies have found dogs can be a critical coping tool for veterans. A 2018 Purdue University study found veterans with service dogs produced significantly higher levels of cortisol, a hormone involved in processing stress.
"Having a service dog was also associated with less anger, less anxiety, and better sleep," said Kerri Rodriguez, the lead author of the research paper, noting dogs are still not the only solution to combating a mental health crisis. "These findings present exciting initial data regarding the physiological response to living with a service dog. However, the study did not establish a direct correlation, on an individual level, between cortisol levels and levels of PTSD symptoms, and further study is needed. It is important to keep in mind that service dogs do not appear to be a cure for PTSD."
Nonprofits are one of the only avenues for veterans to adopt service dogs. The Department of Veterans Affairs doesn't provide any funds for service or emotional-support animals but concluded a congressionally mandated study on the benefits of dogs for PTSD care in July, according to Christina Mandreucci, a spokeswoman for the department. The results of one part of the study on whether service or emotional-support dogs can help veterans with PTSD is expected to be released in the summer, and the results on whether dogs can lead to overall health care savings with fewer hospital stays and less reliance on medication is expected by the end of the year.
K9s For Warriors trains the dogs and the veterans are responsible for the costs of raising the dogs after adoption. However, the nonprofit has emergency funds available for costly emergency veterinary care. The time between a veteran applying for a dog and finally bringing a four-legged friend home varies, but in Jungermann's case, the entire process took about 14 months, including a three-week training session in Ponte Vedra, Fla.
"Our warriors stay at our campus for three weeks, where we match them with their service dogs upon arrival," Dole said. "The program allows the warriors to learn the commands, bond with their service dogs and benefit from peer support from other warriors in their group."
What helped Jungermann most was Shai gave him something to care about and the dog helped him get out more. He said the two walk 10 miles every day.
"I also have to maintain his training, I have a sense of purpose," Jungermann said. "I'm able to focus on him more than the other variables that would normally bother me. What he's done for me, I sleep better. I'm on almost no sleep meds whatsoever. Better attention span, less irritability and most of all he gets me up and out of the apartment."
K9s For Warriors recommends veterans suffering from PTSD investigate get a service dog.
"Most of our veterans tell us a service dog was the last resort, but it ends up being the only tool that helped them recover from PTSD and suicidal thoughts," Dole said.
beynon.steven@stripes.com Twitter: @StevenBeynon