House, Senate agree on sweeping defense bill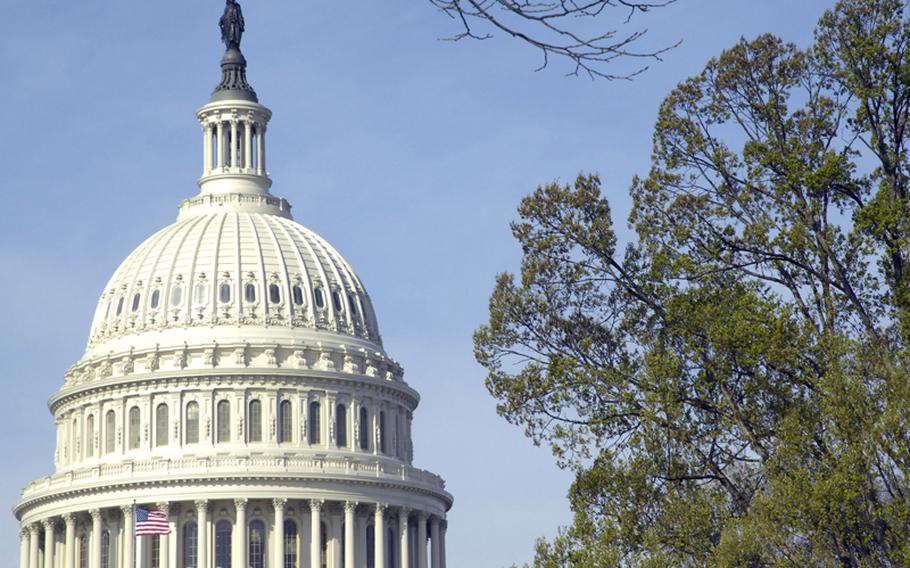 WASHINGTON – After ironing out differences in the House and Senate versions of the bill, congressional negotiators have set the stage for a final vote this week on the National Defense Authorization Act, a sweeping $633.3 billion defense bill that will provide for modest troop pay increases and Tricare fee hikes, insurance coverage for abortions in the case of rape and incest and stepped-up sexual assault, suicide prevention and hazing regulations.
At the same time, it reflects Congress' desire to cut costs, and to respond to evolving global threats while repositioning for the so-called "Pacific Pivot." It includes another round of get-tough sanctions to discourage Iran from building a nuclear bomb and assigns up to 1,000 more Marines to embassy security in the wake of the Benghazi attacks in Libya.
It also drops funding for the $3.4 billion Medium Extended Air Defense System. President Barack Obama threatened to veto the bill if this was included, saying it could jeopardize relationships with allies Italy and Germany.
Considered must-pass legislation every year, the bill provides a blueprint for the national defense priorities for the year. Lawmakers hailed their ability to get the bill passed for the 51st year in a row, a sign of bipartisanship despite the logjam of current fiscal cliff talks.
The bill authorizes Pentagon baseline spending of $527.5 billion, as well as $88.5 billion more for overseas contingency operations, and $17.4 billion for the defense activities of the Department of Energy and the Defense Nuclear Facilities Safety Board.
The bill calls for a 1.7 percent pay raise, starting Jan. 1, for military personnel and "significantly more modest increases" in Tricare co-pays for retail brand-name prescriptions than the Obama administration requested, said Senate Armed Services Committee Chairman Sen. Carl Levin, D-Mich. It raises co-payments from $12 to $16, and makes future hikes that match annual cost-of-living adjustments in military retirement pay.
For the first time, lawmakers added a provision that will provide servicemembers and their dependents insurance coverage for abortion in cases of rape and incest.
And the legislation calls for significantly stepped-up regulations and procedures for combating and prosecuting sexual assault within the military and deterring sexual predators, Levin said. It also requires the Defense Department to develop a comprehensive policy on suicide prevention and deliver reports from each service on hazing.
There is a provision allowing same-sex marriages on bases in states where those ceremonies are legal, but chaplains are not required to participate.
For the ongoing war in Afghanistan, the bill authorizes $5.7 billion to build up local security forces, $1.5 billion for continued work by the Joint Improvised Explosive Device Defeat Organization, $350 million to support infrastructure projects and $200 million for the Commanders' Emergency Response Program, designed to fund small-scale humanitarian projects.
The bill also gives Congress more oversight over any plans to increase the Defense Department's spy network in the Defense Intelligence Agency, and it protects the rights of U.S. citizens suspected of terrorism from indefinite detainment and secures their rights for a civilian trial if they are on U.S. soil. The bill limits the president's authority in handling terror suspects, by prohibiting the transfer of detainees from Guantanamo Bay to the United States. The president last month had threatened to veto the bill if it included these detainee restrictions, arguing that it restricts the executive branch's authority to respond to evolving national security threats. However, Congressional observers say that the president is not likely to follow through on this threat.
Lawmakers said they "didn't see anything in the language that would give the president concern."
If the bill passes both chambers this week, it will be headed to Obama for approval. If he vetoes it, Congress will have to reconsider the bill or garner a two-thirds majority in both chambers for a veto override.
Leo Shane III also contributed to this story.
tsai.joyce@stripes.comTwitter: JoyceTsaiDC