House panel votes to scrap A-10 Warthog
---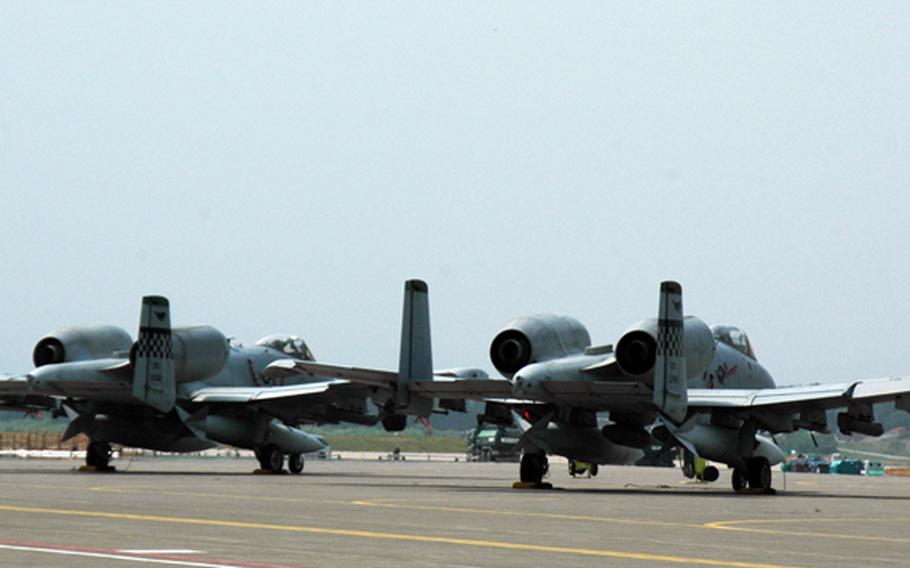 WASHINGTON — The House Appropriations Committee voted Tuesday to retire the popular A-10 Warthog, defying earlier votes in the House and Senate and pleas from infantry troops to save the close-support aircraft.
The committee, which holds the federal purse strings, overwhelmingly rejected a measure in the House's proposed defense budget for 2015 that would have preserved the A-10 from Air Force spending cuts.
The Air Force is under pressure to cut spending due to mandatory budget cuts and had proposed to save about $7 billion by retiring 283 Warthogs. But the aircraft has supporters in the Army and Marines, where it has saved lives during combat operations in Iraq and Afghanistan. Armed services committees in both chambers of Congress voted to keep the Warthog last month.
"Yes, there are Marines and corpsmen alive today because of it," said Rep. Rodney Frelinghuysen, R-N.J., chairman of the Appropriations defense subcommittee. "But there are also troops that owe their lives to 80 percent of other close area support missions."
Funding the Warthog program would suck funding from operations and maintenance at Air Force bases and new, more technologically advanced aircraft procurement programs, Frelinghuysen said.
"The venerable Warthog is a weapons system that served well in the past," he said.
The unsuccessful amendment to fund the A-10 was introduced by Rep. Jack Kingston, R-Ga., saying it is cheaper to fly than other close support aircraft such as the F-15 fighter jet and B-1 bomber.
"The Air Force should be saving money … but going to an aircraft that is one of the least expensive to fly doesn't make any sense," he said.
Rep. Chris Stewart, R-Utah, a former Air Force helicopter pilot, said the A-10 is uniquely qualified to handle the dangerous close-support missions common in the Iraq and Afghanistan wars.
"When you have troops who are in contact with an enemy on the ground, it is a very, very precise mission," Stewart said. "If you get out and frag your own troops, you never forgive yourself and not only that, it will end up in the newspaper."
The panel voted on the same day a B-1 Lancer, which flies higher and faster than the A-10, dropped bombs in Zabul province, Afghanistan, killing five special operators.
The Department of Defense is under intense pressure to cut spending due to the Budget Control Act of 2011, which forces automatic cuts because Congress cannot agree on how to reduce the federal deficit.
The Senate must also pass a defense appropriations bill, which supplies the money for priorities included in the annual National Defense Authorization Act. The two chambers must hold a conference and reconcile what gets funded, so the A-10 may still get another chance at survival.
tritten.travis@stripes.comTwitter: @Travis_Tritten
---
---
---
---