House panel raises the heat on Pentagon border plans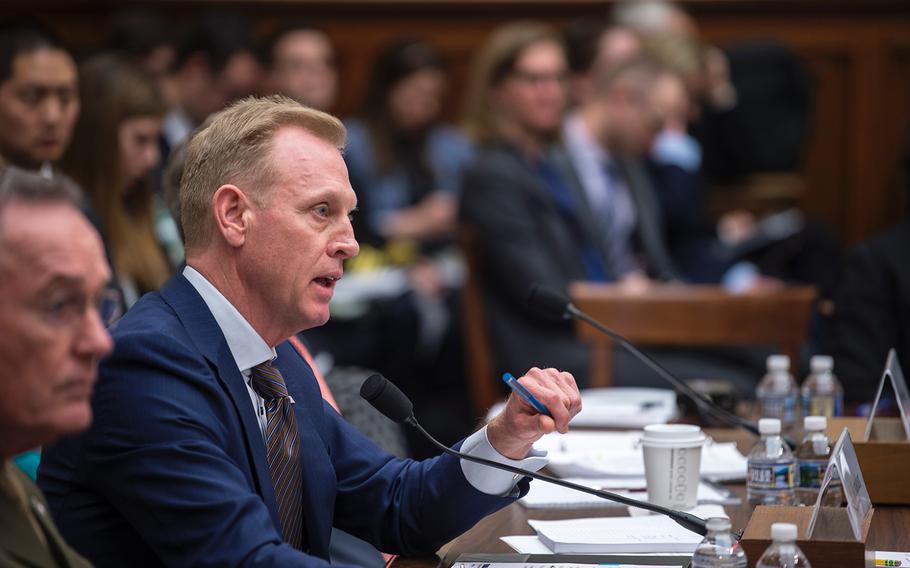 WASHINGTON — Members of the House Armed Services Committee on Tuesday told top Pentagon officials that they are not on board with their plans to divert roughly $1 billion in funding to help build a barrier along the U.S.-Mexico border.
Lawmakers during a congressional hearing also agreed the Pentagon's proposed budget for fiscal year 2020, as structured now, will not be approved.
The messages were two of several observations delivered by Democratic and Republican lawmakers during a hearing with acting Defense Secretary Pat Shanahan and other officials on the Defense Department's $718.3 billion budget for fiscal year 2020, which begins Oct. 1.
"The budget that was submitted by the president and the Department of Defense drastically undercuts our ability to get that deal" for the Pentagon, Rep. Adam Smith, D-Wash., chairman of Armed Services Committee, told the military officials. "That budget is not going to pass. There is bipartisan opposition to it, I can assure you that."
The hearing comes less than two weeks after Shanahan and other officials were hammered for similar concerns during a Republican-led Senate Armed Services Committee hearing.
The lawmakers also grilled Shanahan, Marine Gen. Joseph Dunford, chairman of the Joint Chiefs of Staff, and acting Deputy Defense Secretary David Norquist on concerns facing the Pentagon from its budget proposal to nuclear spending to climate change preparedness.
Lawmakers also hammered military officials on their latest move to reprogram $1 billion in Pentagon funds to support security along the southern border, an effort that was swiftly rejected by the House panel.
"The committee denies this request," Smith wrote in a letter to Norquist. "This committee does not approve the proposed use of Department of Defense funds to construct additional physical barriers and roads or install lighting in the vicinity of the United States border."
Late Monday, Shanahan said he authorized the Army Corps of Engineers to begin plans to install 57 miles of 18-foot-high fencing along the border in Yuma, Ariz., and El Paso, Texas, along with related road and lighting fixes in those areas.
The effort is in support of President Donald Trump's Feb. 15 national emergency declaration to move Pentagon funds to border wall construction.
Trump's national emergency is now the subject of several lawsuits looking to stop the move and Congress also passed a resolution rejecting it. However, Trump vetoed the measure earlier this month and a congressional move to override that rejection seems likely to fail.
"Congress grants the Department of Defense the ability to move a limited amount of appropriated funds through the reprogramming process in order to address emergent, higher-priority needs, subject to specific statutory limitations," Smith said Tuesday in a statement. "Congress has trusted the department with this tool to give them additional flexibility to manage day-to-day operations. DoD's recent notification of its intent to use that process to reprogram $1 billion without congressional approval is a violation of that trust."
Smith also hinted Tuesday that the Pentagon's ability to reprogram funds could be revoked.
"To look at the Pentagon as sort of a piggy bank/slush fund where you can simply go in and grab money for something when you need it really undermines the credibility of the entire DOD budget," Smith said during the hearing. "Because if you've got $5 to $10 to $20 billion just lying around for any particular purpose, than what does it say about whether or not you really need the money that you come up telling us that you need?"
Shanahan acknowledged the Pentagon is taking a risk by reprogramming its funds for border wall purposes and could lose flexibility to make similar decisions in the future. However, he said officials are following a presidential order.
"It's a very difficult discussion and we understand the significant downsides of losing what amounts to a privilege," Shanahan told Smith. But "given a legal order from the commander in chief, we are executing on that order."
Overall, Trump's administration is requesting $750 billion for national security, which includes funding for the Pentagon and other agencies such as the Department of Energy, for fiscal year 2020. Of that, $174 billion is requested for a war fund also known as Overseas Contingency Operations, or OCO.
Funding in the OCO account appears to be a White House-directed strategy to present a base budget that falls under defense budget caps, said Texas Rep. Mac Thornberry, the ranking Republican on the Armed Services Committee. He also said the move was a deal-breaker.
"We are never going to pass a $174 billion OCO," Thornberry said. "But that goes back to decisions that were made somewhere else other than the Department of Defense."
grisales.claudia@stripes.com Twitter: @cgrisales