House lawmakers to hold hearing to review the killing of Army Spc. Vanessa Guillen
by
Rose L. Thayer
July 22, 2020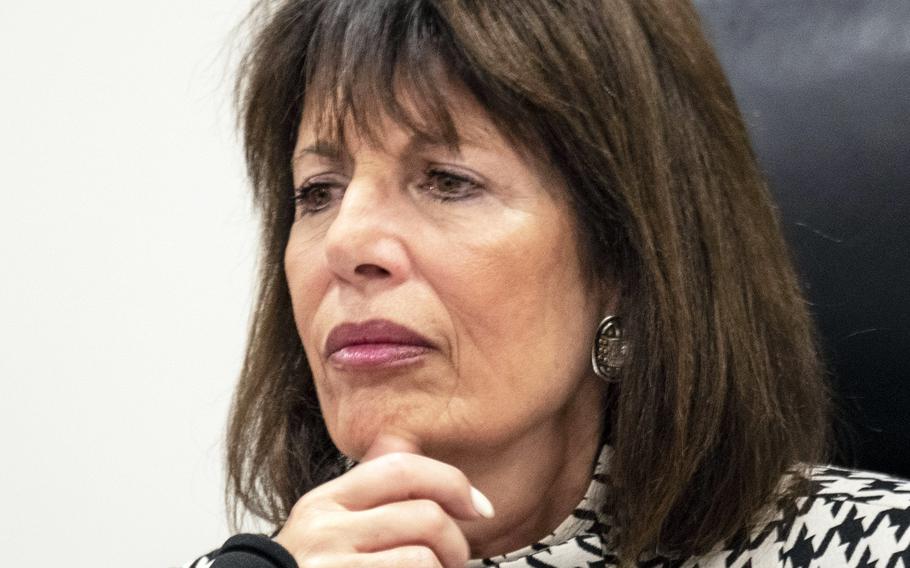 The killing of Army Spc. Vanessa Guillen will be examined next week during a House hearing designed to review sexual harassment and assault in the military and what led to the disappearance and death of the soldier at Fort Hood, Texas.
Members of the House Armed Services Committee's subpanel on military personnel will focus the July 29 hearing on the sexual harassment that Guillen's family has said she faced before her disappearance in April and "will review the lack of reporting of sexual harassment" in the Defense Department due to a "fear of retaliation and history of cover-up," according to a news release from Rep. Jackie Speier, D-Calif., chairwoman of the subpanel.
"The Guillen family and Congress demand and deserve a full account of what the Army knew, when they knew it, and what could have been done to avoid this tragedy," Speier said in a prepared statement. "We must do everything possible so that Vanessa's death will not be in vain. Though she may no longer be with us physically, her legacy and spirit can and will live on as the catalyst for change that all of our service members need and deserve."
Guillen, a 20-year-old small arms repairer assigned the 3rd Cavalry Regiment, went missing April 22 and her remains were found more than two months later buried alongside a river miles from the base. A fellow soldier from her unit, Spc. Aaron Robinson, hit her with a hammer and killed her in an arms room on base, according to court documents. Robinson shot and killed himself June 30 when confronted by civilian law enforcement in Killeen, the town just outside Fort Hood.
Guillen's sister has said the soldier was too afraid to report the harassment, but Army investigators have wavered on confirming the allegations. For the entirety of the two-month search for Guillen, investigators said they interviewed hundreds of people but they could not corroborate the allegations. Following identification of Guillen's remains earlier this month, investigators told The Washington Post that she might have faced harassment, but it was not sexual in nature.
Guillen's story inspired hundreds of veterans to share their own experiences on social media using the hashtag #IamVanessaGuillen. Many of the stories included similar fears of reporting, which has led members of Congress to call for a variety of measures to review and improve the system.
"The death of Spc. Vanessa Guillen is a national tragedy that has triggered rightful outrage but also galvanized Americans across the country in demanding that the military finally be held to account for its history of sexual harassment and assault. This toxic environment means our women service members must be constantly on guard against enemies inside and outside their ranks," Speier said.
The hearing also will examine the results of an inspection by the Army Forces Command Inspector General of Fort Hood's Sexual Harassment/Assault Response and Prevention Program, known as SHARP. Col. Patrick Wemple, the Army Forces Command's inspector general, will testify, according to the news release. He was part of the seven-person team that spent four days at Fort Hood conducting the inspection, said Paul Boyce, spokesman for Army Forces Command.
Other witnesses announced for the hearing include Nate Galbreath, deputy director of the Defense Department sexual assault and prevention response office, and veterans who experienced sexual harassment and assault in the military.
The Guillen family lives in Houston and has repeatedly asked for Congress to intervene and investigate the Army's handling of the case. Speier said she has worked with Rep. Sylvia Garcia, D-Texas, who represents Houston and has supported the family's efforts to expand the ongoing investigation.
Garcia said the hearing next week is another step in congressional oversight and investigative work for the case and one of the "necessary steps to prevent this from ever happening again to another soldier."
"Together with many of our colleagues in the House of Representatives, we are ready to tackle head on sexual assault and harassment in the military," Garcia said in a statement.
The hearing is scheduled for 10 a.m. July 29 and will be available to view online at the committee's website.
Thayer.rose@stripes.com Twitter: @Rose_Lori