House lawmaker calls National Guard border deployment 'nothing more than political show'
by
Claudia Grisales
July 24, 2018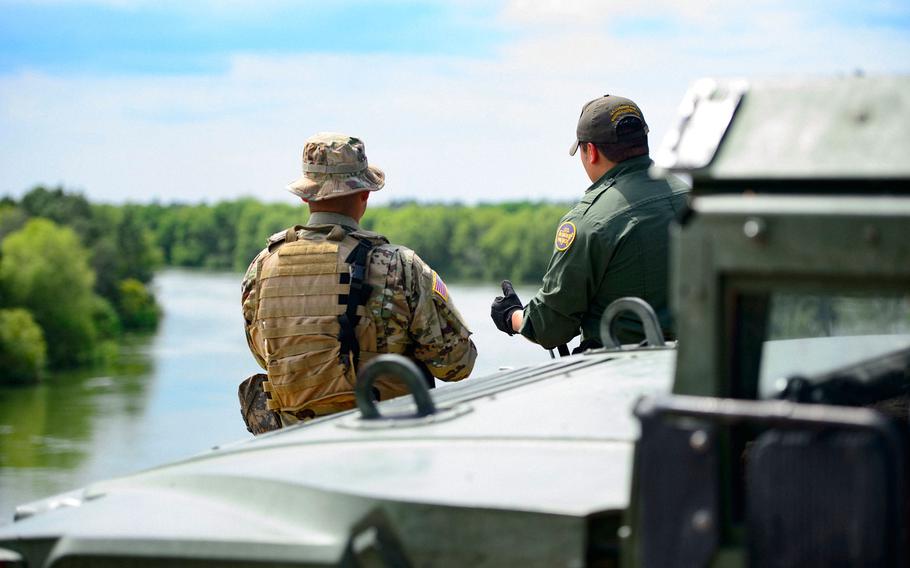 WASHINGTON — A panel of federal and military officials charged with implementing President Donald Trump's directive to boost the number of National Guard troops along the U.S.-Mexico border drew encouragement and criticism from lawmakers during a congressional hearing Tuesday.
The panel comprised of National Guard from Texas and Arizona and U.S. Customs and Border Protection officials said they were pleased with the progress of Operation Guardian Support so far, but it wasn't clear how the effort will reach a "mission accomplished" benchmark or how a new fiscal year starting Oct. 1 could impact the plan.
Rep. Filemon Vela Jr., D-Texas, ranking Democrat for a House Homeland Security subcommittee on border and maritime security and who represents a district along the border region, expressed his continued displeasure at the controversial effort.
"This is a horrendous idea… what chaos we have seen has been created by this administration," Vela told the Texas and Arizona officials during the hearing. Past deployments had a clear purpose and strategy, but "this does not seem to be the case this time around… I fear that your time and resources are being misspent on a deployment that maybe nothing more than political show."
On April 4, Trump, frustrated with inaction over his demands for a southern border wall, issued a memorandum requesting state governors deploy National Guard troops to the border until the wall is built. All four southern border states – Texas, New Mexico, Arizona and California – pledged more than 2,000 troops combined to provide border security assistance. Several other states have also provided support.
Trump's request was issued under Title 32 of the U.S. Code, which designates a state-led operation that is federally funded. It has been used by prior administrations: more than 6,000 National Guard members were deployed in 2006 under former President George W. Bush and 1,200 were dispatched under former President Barack Obama in 2010.
Operation Jump Start under Bush cost an estimated $1.2 billion for two years, while Operation Phalanx under Obama came in at costs of about $110 million in the first year.
The cost of Operation Guardian Support remains to be seen.
"When our borders are not respected, our sovereignty is not respected," Rep. Martha McSally, R-Ariz., chairwoman of the subpanel, told the officials, pointing to an increase in border crossings in March. "That is why we need a multifaceted approach to border security."
However, Vela argued border apprehensions were 70 percent lower in March 2018 compared to the month before Bush's 2006 mobilization. Though apprehension figures did rise in the spring, it's typical in those months and Trump overreacted, he claimed.
"Do we know what mission accomplished looks like?" Rep. Cedric Richmond, D-La., asked the National Guard and U.S. Customs officials, who did not have a response.
And it's unclear where the fiscal year will leave the effort, said Maj. Gen. Michael T. McGuire, adjutant general of the Arizona National Guard.
"Significant challenges as I see going forward is the end of the fiscal year in terms of funding, how the mission will be handled going into the next fiscal year," he said.
However, McGuire, along with Chief Patrol Agent Rodolfo Karisch of the U.S. Border Patrol's Tucson sector, and Maj. Gen. John F. Nichols, adjutant general for the Texas National Guard, who all testified during Tuesday's hearing, told lawmakers that Operation Guardian Support has been worthwhile. The National Guard is providing assistance with aviation operations, logistics, administrative support, aircraft surveillance, camera operation and vegetation removal, Karisch said.
"You're looking at still a war on terror that were fighting," Karisch said. "You've got guns coming across the border, you've got cash, you've got people, you've got violence down there. So any assistance we can get is welcome, whether it is at the federal, state, local or tribal levels."
Air support continues to be a key surveillance asset the National Guard provides at the border, the officials said.
In addition to flying UH-72 Lakota helicopters for air surveillance, Nichols said the National Guard has added RC-26 surveillance planes to the mission. This addition was at the request of the Department of Homeland Security. Nichols, with McGuire in agreement, said he's also let his counterparts there know about the potential of using unmanned aircraft.
"We could do more in the unmanned systems area," McGuire said. Both generals touted the experience and training this mission offers National Guard soldiers.
"Lakota pilots are getting real-world training," Nichols said. So far, Lakota air crews have flown 994 hours in Texas alone.
Nichols said 179 days into their mission, the National Guard will soon be rotating out about 75 percent of their troops, while 25 percent have to return to their regular jobs.
"It's been very positive," he said. "They get to practice some of those military skills."
Stars and Stripes reporter Rose Thayer contributed to this report
grisales.claudia@stripes.com Twitter: @cgrisales
---
---
---
---