House Democrats want Pentagon to ban servicemembers from staying at Trump properties on taxpayers' dime
by
Corey Dickstein
September 10, 2019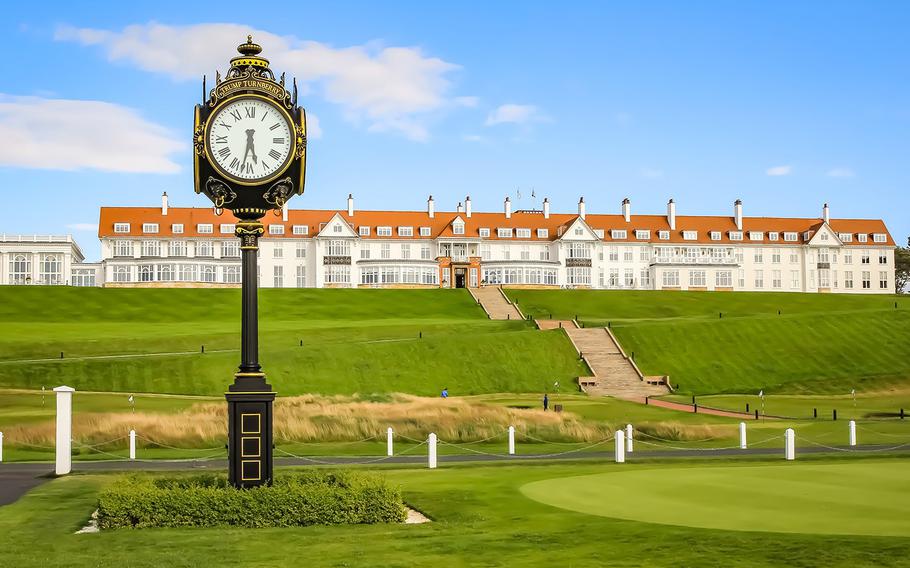 WASHINGTON — Two House Democrats on Tuesday pressed the Pentagon to ban its personnel who travel on taxpayer-funded trips from using accommodations at President Donald Trump's properties amid scrutiny of an Air Force crew's stay in March at a Trump resort in Scotland.
Reps. Elijah Cummings and Jamie Raskin, both Maryland Democrats, threatened to subpoena Pentagon records related to that trip and others in which crews have stayed at Trump's Turnberry resort during flights from the Middle East to the United States. In a letter sent to Defense Secretary Mark Esper on Tuesday, the congressmen said they have sought those records as part of an ongoing House Oversite Committee investigation since June, but the Defense Department has not responded to the request.
Cummings, the chairman of the Oversite Committee, and Raskin, who is the chairman of its subcommittee on civil rights and liberties, gave a Friday deadline to Esper to comply with their request before they would issue a subpoena. They warned the spending of taxpayer dollars at Trump properties could be unconstitutional.
"In order to ensure compliance with the Emoluments Clause of the Constitution, the Department of Defense should not allow any of its officials to stay at Trump properties using taxpayer funds," they wrote. "It does not matter if they pay the government rate or a discounted rate. The Constitution prohibits taxpayer dollars from going to President Trump unless they are for his salary, including when those taxpayer funds are funneled through his businesses."
Air Force and senior Pentagon officials acknowledged on Monday that the C-17 cargo jet crew had stopped at Trump Turnberry, a coastal property billed as a luxury golf resort about 35 miles south of Glasgow. The seven-person crew stayed at the Trump property during a flight between Alaska and Kuwait. Politico on Tuesday reported another such incident of an Air National Guard crew staying at Turnberry during a flight between the United States and al Udeid Air Base in Qatar.
Pentagon officials said the crew did nothing wrong by staying at the resort at a price that was within the allowed Defense Department lodging rate. The Air Force said the Trump property was the "closest available and least expensive accommodations to the airfield" for that particular trip, which was booked through the Defense Travel System.
Nonetheless, Gen. David Golfein, the Air Force chief of staff, directed Air Force Air Mobility Command, which overseas travel worldwide, to conduct a review of its regulations, including whether it was appropriate for troops to stay in luxury accommodations deeply discounted to attract government officials.
"What we need to look at is, even if something falls within the travel regulations, is it appropriate to stay at places that some people may consider a luxury property?" said Jonathan Hoffman, the Pentagon's chief spokesman. "Or do we need to rethink that? And that's something that the Air Force is looking at right now."
Hoffman said the review was not intended to single out Trump-owned properties. An Air Force official, speaking on condition of anonymity, said Tuesday that the service is considering whether it is appropriate for airmen to stay at Trump properties on official travel while Trump remains in the Oval Office, but a decision has not been made.
Among the issues raised by Cummings and Raskin is the Defense Department's increased use in recent years of an airport near Trump Turnberry in which they said Trump has an interest. Defense Department aircrews have stayed at hotels near Prestwick Airport, including but not exclusively Trump Turnberry, 259 times in 2019 compared to only 40 such stays in 2015, according to the Pentagon.
Hoffman defended the increased use of Prestwick. He said the airport is attractive because it conducts refueling 24 hours a day, typically has better weather conditions than other nearby airports and has less parking congestion than other European airports for crews stopping for fuel between the Middle East and the United States.
Trump has denied he has any financial interest or other stake in Prestwick Airport, which is owned by the Scottish government. The president tweeted Monday that he knew nothing of servicemembers staying in hotels that he owned, but he added the airmen who stayed at Turnberry have "good taste" for choosing his resort.
Cummings and Raskin wrote Trump has had "significant, direct, and detailed interactions with Prestwick Airport for years," including attempts to increase traffic to the airport and partnering with it in 2014 to boost tourism in the region.
"Despite the president's support, Prestwick Airport has continued to struggle financially," the congressmen wrote in the letter to Esper. "… The failure of Prestwick Airport, the closest commercial airport to the Turnberry resort, would place further financial pressure on Trump Turnberry, which already operates at a loss."
dickstein.corey@stripes.comTwitter: @CDicksteinDC