Historic first: Female lance corporal joins Marine Corps' elite recon community
by
Carlos M. Vazquez II
December 3, 2019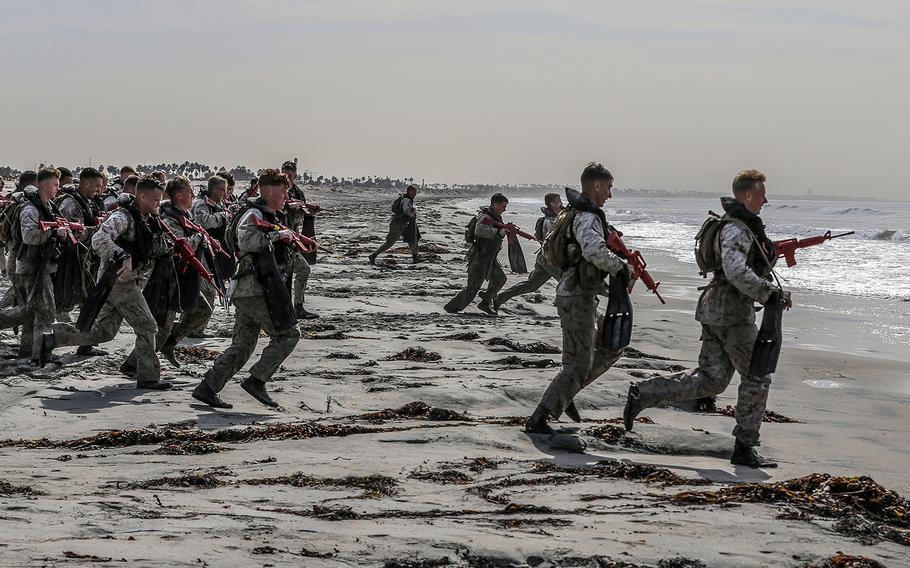 The first female Marine to complete the Marine Corps' rigorous reconnaissance training graduated from the 12-week course at Camp Pendleton, Calif., in early November.
Lance Cpl. Alexa Barth is the only woman accepted into the basic reconnaissance course since the Pentagon lifted a ban on women in combat roles in January 2013, said 1st Lt. Samuel Stephenson, spokesman for Marine Corps Combat Development Command. The course has an average dropout rate of between 25% and 40%, according to Stephenson. From Oct. 1, 2018 to Sept. 30, only 309 of 695 candidates continued the course.
"We are proud to have a Marine as mentally and physically tough as Lance Cpl. Barth in the reconnaissance community," Stephenson told Stars and Stripes via email Nov. 27.
Barth is expected to report to 1st Reconnaissance Battalion at Camp Pendleton after completing secondary schooling in such topics as survival, evasion, resistance and escape and the multi-mission parachute course. The Marine Corps did not make Barth available for an interview or provide other information about her.
Thus far, no other female Marines have volunteered for reconnaissance training, Stephenson said. The Marine Corps did not change the program standards after January 2013, he added.
Marine reconnaissance, or recon, units are specially trained to conduct amphibious reconnaissance, ground reconnaissance, surveillance and specialized raids.
Even before starting the 12-week course, Barth completed a routine five-week screening called the Reconnaissance Training and Assessment Program. Many would-be recon Marines wash out at this stage; the assessment's dropout rate of 50%-60% is higher than reconnaissance training itself, according to Stephenson.
During the assessment stage, students undergo daily physical training and must complete an enhanced physical fitness test, which includes treading water for 30 minutes in their uniforms and two back-to-back runs of the Marine obstacle course in under six minutes.
Candidates then move into reconnaissance training. There they face two to six hours of daily physical training, along with other tests, such as a 12-mile, three-hour march with more than 50-pounds of equipment and an hourlong, 1 ¼-mile open-water swim with fins and a 50-pound pack, Marine Corps Maj. Douglas Price, commander of the Reconnaissance Training Company, said via email Thursday.
The reconnaissance course is divided into three phases: individual skills, ground and amphibious reconnaissance, Price said.
"Due to the nature of reconnaissance operations and special insertion requirements, the training is high risk and you must be a volunteer," he said. "Students that complete the course and choose to remain, demonstrate an uncommon personal resolve from other Marines as a defining character trait."
vazquez.carlos@stripes.com Twitter: @StripesCarlos