Here's where Trump and Biden stand on issues most important to troops and veterans
by
Steve Beynon
September 16, 2020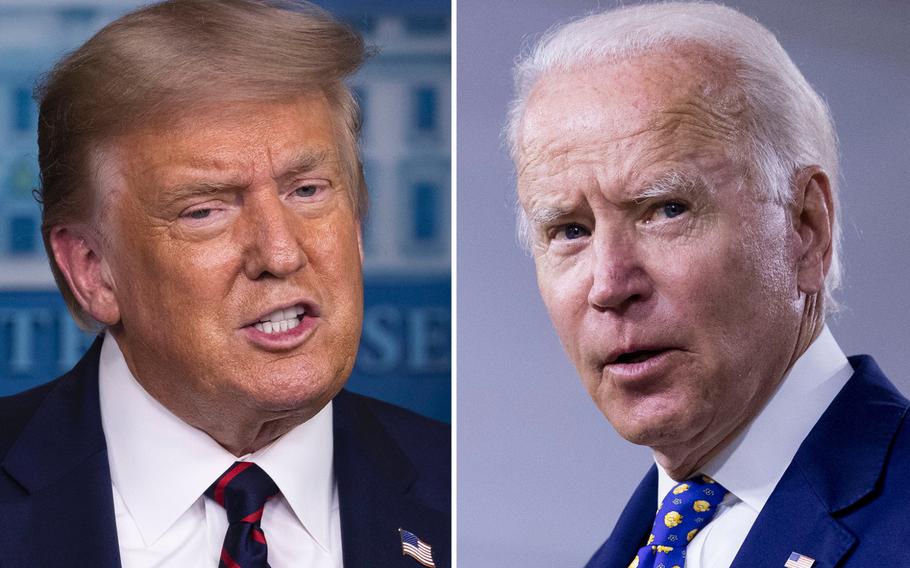 WASHINGTON — President Donald Trump and former Vice President Joe Biden agreed in a questionnaire released Wednesday by a military advocacy group that the Defense Department needs to compete with near-peer military powers and the Department of Veterans Affairs needs to continue investing in private-sector health care.
But the two presidential candidates differed on the details and the extent of where billions of federal dollars should be spent. Trump boasted about "rebuilding the military" and fully embraced private-sector care for VA patients. Biden conceded the military might need a boost but he doesn't back a runaway budget and veterans need access to private care but he wants to lean on the agency itself and caregivers.
In the questionnaire released by Military Officers Association of America on how Trump and Biden would lead the DOD and VA, Trump touted the Pentagon's "largest-ever" budget, writing "our country has rejected a future of American decline and embraced our destiny of American dominance."
The MOAA asked Trump, Biden and Jo Jorgensen, the Libertarian candidate for president, a series of questions on how they will lead the military and improve care for veterans.
In his responses, Trump highlighted his establishing Space Force and authorizing a boost to the military's arsenal including 100 new F-35s, 165 new Abrams tanks, and two new Virginia-class submarines.
Biden slammed Trump for abandoning "all fiscal discipline" and called for a more surgical approach to Defense Department investments that includes reallocating some existing resources to modernize the military.
"His budget is dominated by investments in aging legacy capabilities. At a time when we're winding down our main combat efforts from the last two decades, we need to make smarter investments in our military," Biden wrote to the MOAA, stopping short of committing to any big promises on how he would finance the military. "We have to make smart investments in technologies and innovations — including in cyber, space, unmanned systems, and artificial intelligence — that will be necessary to meet the threats of the future."
In an interview with Stars and Stripes last week, Biden said there is a possibility of a need to boost defense spending — mainly to modernize the force to compete with near-peer threats such as China and Russia.
Trump and Biden in their answers to MOAA's questionnaire agreed near-peer threats pose the greatest long-term security threat to the United States.
"Specifically, we see China as an ever-increasing economic and military threat as they continue to expand their influence throughout the world," Trump wrote also repeating his past critiques of NATO countries not contributing enough to the defense of Europe.
"Relatedly, we continue to ask our NATO allies to fulfill their obligation to provide 2% of their GDP to defense," Trump added. "Several NATO countries have not made that commitment and are not on a glidepath to do so. We remain committed to our friends in liberty but we cannot allow America to be uniquely burdened."
Biden said Russia and China pose "the most distinct and immediate threats from state actors," adding Russia seeks to undermine the United States and democracies in Europe while China is a looming global threat calling it "the greatest strategic challenge."
In the questionnaire, Trump did not make any military commitments in Iraq, Afghanistan, Syria, or Africa, though he has previously made promises to end "forever wars" and has taken steps recently to bring a large number of troops home this year. Biden told Stars and Stripes last week that he intends to keep a small number of troops in the conflict regions to facilitate special operations missions. He told MOAA that he wants a detailed review of a defense strategy in the Global War on Terror to figure out a plan for the military in Afghanistan and the Middle East.
Trump often cites his efforts with the VA as a central achievement of his first term, saying no one has done more for veterans than him, despite the agency charged with caring for more than nine million veterans having an uneven record in lieu of several longstanding issues.
Trump told the MOAA that the VA's biggest accomplishment during his presidency is implementing the Mission Act, which greatly expands eligibility for veterans to seek care outside the federal network.
"Enabling veterans in the VA to receive care in the private community whenever it's in their best interest or when they require urgent care without any prior authorizations," Trump wrote.
Biden said his goal will be to "strike the right balance between VA and community care," suggesting there is room for private care using federal funds, but the VA itself should stay relevant.
He also underscored the importance of expanding the list of presumptive conditions for veterans with traumatic brain injuries or sick from burn pit exposure.
"We must never again have an Agent Orange-like crisis," Biden wrote.
In her responses, Jorgensen wrote she would dramatically scale back military spending. She told MOAA that America should be "one giant Switzerland" with no involvement in foreign wars and focused on defending the country. Jorgensen added, under her presidency, U.S. troops in foreign countries would be brought home.
In a major reversal from Trump and Biden, Jorgensen would dismantle the VA. She said instead of health care, veterans who were wounded in combat would be given direct payments in compensation.
Beynon.Steven@Stripes.com Twitter: @StevenBeynon